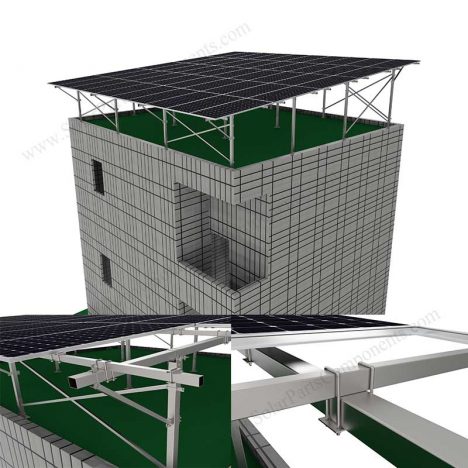 PV Module BIPV Racks
Model: SPC-BIPV-FR1
Installation Site: Concrete Rooftop
Material: Q235 Carbon Steel
Tilt Angle: 0° ~ 30°
PV Module: Framed Solar Panel
PV Orientation: Portrait, Landscape
Contact by Email
Product Description:
BIPV Flat roof solar mounting is a kind of pv racking system install on level concrete roofs.
Nowadays, roof built in photovoltaic is more and more common.
The total system cost goes down and power generation efficiency goes up.
It makes flat roof BIPV can sell more electric to national power grid and more lucrative and money returned.
Our new generation of mounting kits can build one BIPV on flat floor and make it as a GREEN HOUSE.
Gable / shed shape can be optional for solar panel arrays.
Not like traditional installation method, solar panels are sit on roofing which needs penetration, flashing for impermeable.
Quality Guarantee: High quality carbon steel built,Anti-corrosive,25 years up lifespan;
Efficient Installation: Professional design,Pre-assembled packing.
Wide Application: Suits for home / business flat concrete roofing
Features of this BIPV racking system on flat roofing:
1. GREENHOUSE on flat roof;
2. Integrated roof tile with PV modules;
3. Simple, easy installation;
4. Cost-effective, sustainable for more than 25 years;
5. Waterproofing structure design;
Parts and Components for flat roof solar BIPV:
-Purlin Connector;
-Square Tube Base;
-Rectangle Tube Connector;
-Beam Connector;
-Bracing Joiner;
-Fixing Clamp;
-Angle Iron Connector;
-Angle Iron;
-Square Tube;
Welcome to know more details of flat roof BIPV for your residence application, as well as utilize roofing space and cool down in summer season.
SPC solar offer different solutions depends various application whatever for rooftop or ground mounts.
Brief Descriptions:
Solar Rooftop Mounting Systems – BIPV Roofing for Residential
Item type:
Solar BIPV Racking
Type:
SPC-BIPV-FR1
Installation Site:
Concrete Roofing 0 °~30°
Profile Material:
HDG Steel
Fasten Parts:
Stainless Steel
Color:
Silvery
Wind Load:
45 m / s
Snow Load:
1.4 KN / M2
PV Modules:
Framed
Module Orientation:
Portrait and Landscape
Standards:
AS/NZS 1170
DIN 1055
GB50009-2012
IBC2009
TUV
JIS C 8955: 2011
International   Building Code IBC 2009
California   Building Code CBC 2010
Warranty
10 years
Designed Lifespan
25 years
Packing Details:
Inner:
Bubble bag+inner box+Carton
Outer:
Wooden Box, Steel Pallet, MDF, etc
Product Description:

BIPV Flat roof solar mounting is a kind of pv racking system install on level concrete roofs.

Nowadays, roof built in photovoltaic is more and more common.
The total system cost goes down and power generation efficiency goes up.
It makes flat roof BIPV can sell more electric to national power grid and more lucrative and money returned.

Our new generation of mounting kits can build one BIPV on flat floor and make it as a GREEN HOUSE.

Gable / shed shape can be optional for solar panel arrays.

Not like traditional installation method, solar panels are sit on roofing which needs penetration, flashing for impermeable.

Quality Guarantee: High quality carbon steel built,Anti-corrosive,25 years up lifespan;

Efficient Installation: Professional design,Pre-assembled packing.

Wide Application: Suits for home / business flat concrete roofing

Features of this BIPV racking system on flat roofing:

1. GREENHOUSE on flat roof;
2. Integrated roof tile with PV modules;
3. Simple, easy installation;
4. Cost-effective, sustainable for more than 25 years;
5. Waterproofing structure design;

Parts and Components for flat roof solar BIPV:

-Purlin Connector;
-Square Tube Base;
-Rectangle Tube Connector;
-Beam Connector;
-Bracing Joiner;
-Fixing Clamp;
-Angle Iron Connector;
-Angle Iron;
-Square Tube;

Welcome to know more details of flat roof BIPV for your residence application, as well as utilize roofing space and cool down in summer season.

SPC solar offer different solutions depends various application whatever for rooftop or ground mounts.

Brief Descriptions:
Solar Rooftop Mounting Systems – BIPV Roofing for Residential
Item type:
Solar BIPV Racking
Type:
SPC-BIPV-FR1
Installation Site:
Concrete Roofing 0 °~30°
Profile Material:
HDG Steel
Fasten Parts:
Stainless Steel
Color:
Silvery
Wind Load:
45 m / s
Snow Load:
1.4 KN / M2
PV Modules:
Framed
Module Orientation:
Portrait and Landscape
Standards:
AS/NZS 1170
DIN 1055
GB50009-2012
IBC2009
TUV
JIS C 8955: 2011
International   Building Code IBC 2009
California   Building Code CBC 2010
Warranty
10 years
Designed Lifespan
25 years
Packing Details:
Inner:
Bubble bag+inner box+Carton
Outer:
Wooden Box, Steel Pallet, MDF, etc