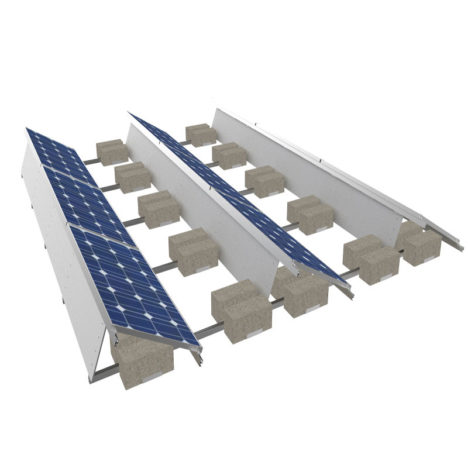 Ballasted flat roofing solar rack Mounting Systems
Product Type: Solar Panel Mounting Systems

Product Model: Ballasted-Flat-Roof-Solar-Mounting-Racks-PV

Material: Aluminium, SUS 304 Steel

Max Wind Load : 60 m/s

Max Snow Load : 1.6 KN / M 2

Solar Module Orientation: Landscape or Portrait

Application: Flat RoofingTop
Contact by Email
Product Description :
This ballasted solar mounting system is designed for flat roofing .
They are made of AL 6005 – T5 aluminum profile with wind shield for optional .
This PV module mounting structure is simple , universal and fast installing for rooftops .
Reliable for long life flat roof energy station project , easy for maintenance .
Our design engineer will assist evaluate whole layout sketch and simulate wind and snow loading according each solar project . Our team will render a complete solution for installers and 7/24 tech supports .
Flat roof ballasted solar racking system can maximize capacity of rooftops with our modular design programme .
Pre-assemble & engineering package for sets can help your solar flat roof mounting project be mounted in several days and accelerating delivery time .
Concrete blocks offer good weight for ballasted material , so that prevent pv modules from destroying .
Simple but study structure design for this ballasted mountng system can be a good choice for flat roofing pv module project .
This install-and-play ballasted solar racks can protect former roofing from drilling & punching holes , with more than 20 years' duration span service .
Advantages :
1. Quick install, flexible for numerous solar panel array base on various sizes and layout ;
2. 24 hours stand-by supports ;
3. Steel wind shield can reduce wind resistance (wind loads) effectively;
4. Tilt angle for this ballasted racks can be adjusted from 5 Degree to 60 Degree ;
5. No need to penetrating and causing damage roof surface ;
Optimized ballasted solar racking components :
(1) Aluminium rails for flat roofing ;
(2) Aluminum rail splice ;
(3) Alum end clamps;
(4) Alum mid clamps;
(5) Alum front leg rotator kits;
(6) Adjustable back leg kits;
(7) Ballasted steel plate;
(8) Steel wind shield;
(9) Bottom Beam;
Installation Guide for ballasted flat roofing solar racks :
1. Fix bottom beam and ballast plate ;
2. Mount front leg and back leg kits ;
3. Installing aluminum rails and splices ;
4. Put on solar panels with mid & end clamps ;
5. Install steel wind shield (Optional).
Ballasted flat roof system is suitable for both landscape & portrait orientation layout , thin film / framed solar panels can be well installed with our ballast racks .
Brief Descriptions :
Ballasted Racking Solar Mounted Systems for roof solar panel installation
Item type:
Flat Roofing Mounting Systems
Technical Parameters :
Type :
Aluminum solar mounting system
Installation Site :
Home / Indurstrial / Commercial Flat Roofs
Installation Angle :
5° ~ 60°
Profile Material :
Aluminum
Fasten Parts :
SUS304 Stainless Steel Screws
Small Components :
AL 6005 – T5 ( Anodized ) / SUS 304
Color :
Silvery or according to customer requirements
Wind Load :
30 m – 60 m / s
Snow Load :
1.6 KN / M2
PV Modules :
Framed, Frameless
Module Orientation :
Portait and Landscape
Standards :
AS / NZS 1170
DIN 1055
GB50009 – 2012
IBC2009
TUV
JIS C 8955 : 2011
International   Building Code IBC 2009
California   Building Code CBC 2010
Warranty
10 years
Designed LifeSpan
25 years
Packing Details :
Inner :
Plastic thin film wrapping
Outer :
Wooden Box, Steel Pallet, MDF, etc
Ballasted Flat Roofing PV Racking for 15 KW HYBRID SOLAR SYSTEM
"
Please design and quote for Ballasted Flat Roofing PV Racking system,
following is our configurations:
1. 15 KW Hybrid Solar System.  (540-WATT OR 610-WATT PV PANEL)
2. Battery Backup (Li-ion or Dry batteries) of 6-7 Hours on 60% Load.
3. Interfacing with 30 KVA Generator ATS Panel.
P.s kindly find attached Roof Picture and Estimated Dimensions as well (1 Kanal House).
Best Regards
Shahmeer Shahid
+92 331 3589 850
"
"
Dear Shahmeer
As professional solar panel sysem supplier,  we recommend as following
(1)15 KW Hybrid Solar System. (540-WATT OR 610-WATT PV PANEL)
28 pieces of 540W solar panel;
(2)Battery Backup (Li-ion or Dry batteries) of 6-7 Hours on 60% Load.
124.8 KWH storage LiFePo4, 26 pieces X 48V 100Ah;
(3)Interfacing with 30 KVA Generator ATS Panel.
3 sets of 3KW hybrid interter;
(4) Ballasted Flat Roofing PV Racking system Mounting structure;
– Design & drawing:
– BOM:
Thank you !
Solar Parts Components Factory
"
How do you secure solar panels on a flat roof with ballasted solar racking?
Q:
"I was interested in your Ballasted flat roofing solar rack Mounting Systems. We are about to add 20 panels to our flat roof where we currently have 80 already installed. We may not go with the racking system we currently have for the other 80 because we are looking for a system that is adjustable, Can you give me an estimate for racking for 20 400W panels? Also a demonstration on how to adjust the angle?Thank you."
A:
"Thank you for your inquiry about our Ballasted solar racking Systems. Yes, it can be design as adjustable solution.As accurate quotation need some further detail about your flat roof mounting system,please kindly fill the checklist as file attached."
Q:
"Please find the attached of our project information."
A:
"Please refer to our design and the price of your ballasted solar mounting system as files attached. Another attached is the installation instruction for the ballasted solar racking. If have any question please do not feel hesitate to contact me."
1x3 Ballasted Flat Roof Mounting Kits
Ballast based solar mounting structure is one kind of non-penetrate solution for concrete flat roofing .
Solar mounting design for flat roofs with our ballasted type PM module installing is available for
power plant project .
The wind defectors on back of each row can help reduce wind loads .
Features of our Ballasted Flat Roof Mounting Kits for 3 PV modules :
– Light in weight ;
– Quick to assembling ;
– Universal solar panels compatible ;
– Fit for both home or business rooftops ;
– Versatile and mounted without penetrating the roof surface ;
Following is one of our full BOM details for 1×3 kits, Landscape orientation :
Ballasted Flat Roof Mounting System -BOM
PV Array:
1×3, Portrait;
Size:
1960×992×40
Name
Item Number
Specification
Qty
Subtotal
2#Rail
11-R2
3100mm
2
US$14.41
Front Leg-adjustable
SPC-BM-FL
L:40mm
2
US$3.01
Rear Leg (adjustable)
SPC-24-BM-RL
L:410mm
2
US$5.99
2# Mid Clamp-40
SPC-17-IC1740-D50
L:40mm
4
US$1.57
1# End Clamp-40
SPC-18-EC4040-D25
L:40mm
4
US$1.50
2# Connect Tube
13-ATW35-BM-CT
1395mm
2
US$4.69
Ballasted Pan
26-BP-200
L:200mm
4
US$0.42
Wind Defection Plate
26-DF-400-WD01-2350
3100mm
1
US$3.63
Welcome to choose ballasted mounting kits to install solar panels on flat roof top .
Ballasted Flat Roof Mounting System Introduction
Ballasted mounting system is a kind of non-penetrating installing solution for flat roofs .
Flat roof PV module mounting with ballast is suitable for both framed or frameless solar panels .
Benefits of this solar panel mounting system :
– Landscape or Portrait module array suitable ;
– Save transport and storage cost for pre-assemblling ;
– Accordance with national standard of wind loads and snow loads ;
– Professional design for project are available ;
Components of Ballasted Flat Roof Solar Mounting System :
Delta triangle brackets, rails, connectors, end / mid clamps, wind shield …
Welcome to know more details of our Flat Roof Ballasted Racking System .
Ballasted flat roof solar mounting System Project - Morocco, 1 MW
Flat Roof Ballasted Solar Mounting Project in Morocco, West Africa
Solar Flat Roof Mounting Ballasted Project - Brazil
Solar Panel Flat Roof  Ballasted Racking Project, Brazil, 900 units of  PV Modules
Solar mounts for flat concrete roofing
Can your Ballasted Flat Roof Solar Mounting system be tilted to a maximum 30 degrees?
QUESTION:
To whom it concerns,
I am hoping you can assist me with a couple of questions relating to your ballasted flat roof solar rack mounting systems. I am working for a company in Ireland, Ethos engineering and we are working on a project which will consist of a number of apartment blocks with flat roofs. We have taken all shading calculations into account and would like to know if we were to use your system how are the concrete ballast blocks fixed to the flat roof and what would be the minimum distance from the bottom of the solar panel when fixed to the rack system and the flat roof surface. I have taken a snip of the system in question about Ballasted Flat Roof Solar Mounting Racking. The panel we are hoping to use is 2.1m in length x 1.05m in width.
One thing though, can this 100mm ballast be used with the particular system shown in snip (see below), the reason being is that this one in snip seems like it can be adjusted to an angle of no more than 10 degrees, as this is what is shown in the data sheet you sent in previous email. We are looking to install a flat roof mounted system which cannot protrude over a 1.1m parapet wall. The panel we intend to use are Canadian Solar 2.1m length x 1.05 width in portrait dimension. We have taken shading factor into account for our latitude in Dublin (53 degrees N). We have calculated that the panels can be tilted to a maximum 30 degrees before the panel height goes over parapet but that is before a ballast and frame is taken into account which we know will decrease the PV panel tilt to keep it within the height of parapet wall. This was the reason for the enquiry and hope this can clarify my question further. I will link a snip of the drawing also and maybe you can suggest a frame system that will use a ballast support but get us the maximum tilt possible.
Kind regards and see below the 2 snips, 1 of the system your company supplies which seems more than a 10 degree tilt and one of the drawing I am working on.
Kind regards
Anthony Clarke
Intern Engineer
ANSWER:
Dear Anthony
Appreciated for your inquiry about our ballasted solar mounting system.
The minimum distance is 100mm from bottom to solar panels.
We can do 30 degree tilt for our ballasted mounting system.
You can send me your roof sketch with sizes, I can let our engineer assit with you.
Please refer to our design base on your requirements.
Do contact me if you need more assists.
Ballasted Flat Roof Solar Mounting System Factory