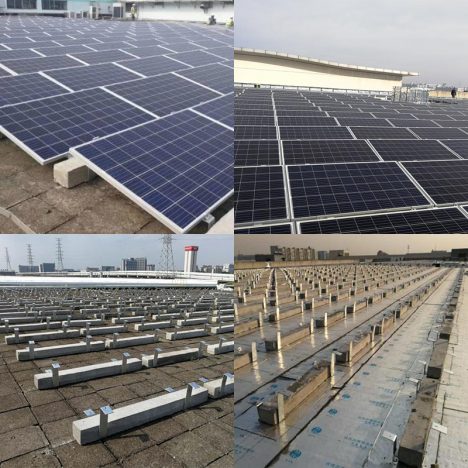 Ballasted flat roof mounting systems
Product Type: ballasted flat roof Mounting Systems

Product Model:solar-ballasted-flat-roof-mounting-system

Material: stainless steel

Max Wind Load : 60 m/s

Max Snow Load : 1.4 KN / M 2

Solar Module Orientation: Landscape

Application: Ground or Roof
Contact by Email
Product Description :
Our installation system is a zigzag ballasted mounting system.
The accessories used only need end clamp and the middle slot of the hook is pressed with heavy objects, quick installation, simple steps.
The roof budget is limited. If the owner wants to install solar energy but feel that the cost is too high, you can choose our ballasted flat roof mounting.
Some cheap roof systems may only have a short service life, don't worry, our new ballasted mounting system has a service life up to 25 years and a 10-year warranty.
Advantages :
1. Cheaper price
2. Fast and comprehensive design support
3. Minimal installation
4. Reduce preparation and installation time
5. Suitable for most ballasted roofs
Parts and Components for this solar mounts system
End Clamp
Solar Pole Mounting Systems Installation Components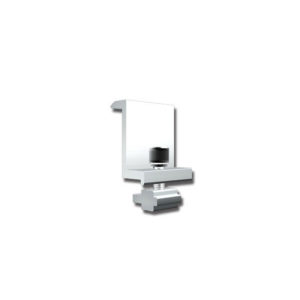 Item type:
Ballasted File Roof Mounting Systems
Installation Site:
Flat roof
Profile Material:
Stainless Steel SUS 304
Small Components :
Stainless Steel 304
Max Wind Load:
60 m / s ( 130 mph )
Max Snow Load :
1.4 KN / M2  ( 30 psf )
Color:
Silvery / Natural / Customized
PV Modules:
Framed
Module Orientation:
Landscape
Warranty
10 years
Designed Lifespan
25 years
Packing Details
Inter:
Carton Box
Outer
Wooden Box, Steel Pallet, MDF, etc
What is Ballasted flat roof mounting systems?
Ballasted flat roof mounting systems is an affordable solar energy installation system with long product life and guaranteed installation quality.
Q:
I am hoping you can assist me with a couple of questions relating to your ballasted flat roof solar rack mounting systems.
I am working for a company in Ireland and we are working on a project which will consist of a number of apartment blocks with flat roofs.
We have taken all shading calculations into account and would like to know if we were to use your system how are the concrete ballast blocks fixed to the flat roof and what would be the minimum distance from the bottom of the solar panel when fixed to the rack system and the flat roof surface.
I have taken a snip of the system in question from your website (see below). The panel we are hoping to use is 2.1m in length x 1.05m in width.
I would really appreciate if you could supply me with this information and hope to hear from you soon.
A:
Appreciated for your inquiry about our ballasted solar mounting system.
Please refer to one design for our clients.
The minimum distance is 100mm from bottom to solar panels.
You can send me your roof sketch with sizes, I can let our engineer assit with you.
Q:
Thank you very much for your swift reply to my enquiry, this answers almost all of my queries.
One thing though, can this 100mm ballast be used with the particular system shown in snip (see below),
the reason being is that this one in snip seems like it can be adjusted to an angle of no more than 10 degrees, as this is what is shown in the data sheet you sent in previous email.
We are looking to install a flat roof mounted system which cannot protrude over a 1.1m parapet wall.
The panel we intend to use are Canadian Solar 2.1m length x 1.05 width in portrait dimension.
We have taken shading factor into account for our latitude in Dublin (53 degrees N).
We have calculated that the panels can be tilted to a maximum 31 degrees before the panel height goes over parapet but that is before a ballast and frame is taken into account which we know will decrease the PV panel tilt to keep it within the height of parapet wall.
This was the reason for the enquiry and hope this can clarify my question further. I will link a snip of the drawing also and maybe you can suggest a frame system that will use a ballast support but get us the maximum tilt possible.
Kind regards and see below the 2 snips, 1 of the system your company supplies which seems more than a 10 degree tilt and one of the drawing I am working on.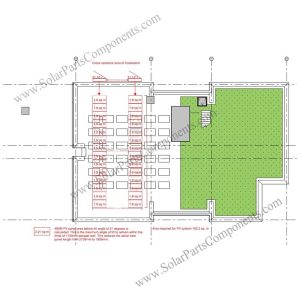 Please refer to our design base on your requirements.
We can do 30 degree tilt for our ballasted mounting system.
Q:
That's great!
Inquiry Of Ballasted Flat Roof Mounting.
Q:
I am interested in your flat roof/ ground mount ballasted racking straps that look almost like they could use old railroad ties for ballast.
I a bidding a 280k ground mount at a quarry/ road material plant and wondered if this would be appropriate and the cost.
Also I see you use some type of ground screws instead of ballast
Thanks for any information or advice on this.
A:
Thank you for your interested in our ballasted flat roof mounting.
The ballasted material can be concrete block / die casting iron / plastic water filled tank …
as well as railroad ties.
Ground screws also can be designed base on different specific installing places.
As project based, our engineer can design and offer competitive mounting solution for our clients.
I am very happy to engage in this  280K ground mount project, if you could offer more details as below.
Q:
Thanks.
But at this point I am only bidding the job and am considering this because it is difficult rocky soil and it looks like a good alternative to other ballast systems.
I would hope to use high wattage (540?) bifacials, but with the market now I would not know what modules until the day I bought them.
It would have to be shipped through some port on the west coast, I assume, but I am not sure how stuff is moving through the ports yet.
Does it come with clips and are the ground screws available as well or is that to be locally sourced?
It appears there are one support per module plus 2 for front and back on each column for calculating how many supports.
Higher ground clearance would be helpful.
By the way, we live in a desert, so vegetation grows slowly.
Angle would hopefully be 10% and snow load is 10 lbs and windspeed 110 mph for this area in Carlsbad, New Mexico, 88220 USA.
Sorry, but not sure what that is in metrics.
About how much are the supports and what are ball parks for shipping.
At this point, I only need ballpark figures to do my bid and any other advice from your experience about  using this as a ground mount.
And does this have any US approved certification yet?
Perhaps it would be better to talk this over on the phone, but I need to reinstall Whats App again.
Thanks,
ballasted flat roof mounting system
It is a common substitute for solar installations that do not need to penetrate the roof or ground, and simple steps can play a good fixing effect.