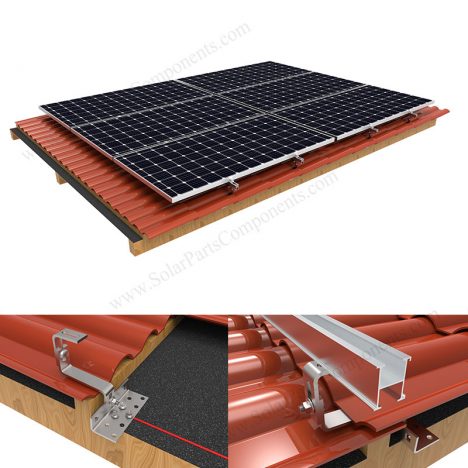 Solar Roof Mounting Systems
Product Type: Roof Mounts with Tile Hooks

Product Model:SPC-RF-IK15-DR

Material: Stainless steel,Aluminium

Max Wind Load : 60 m/s

Max Snow Load : 1.4 KN / M 2

Solar Module Orientation: Portait or Landscape

Application:  Tile Roofing
Contact by Email
Solar tile roof mounts hardware is very sturdy, easy to install, and has a simple one-hand tightening fixture. It is made of a large amount of corrosion-resistant aluminum and stainless steel, which can withstand strong winds and high snow loads. The installation system is equipped with strong hooks and weatherproof seals. Fix the slide rail on the hook, and then fix the solar pv panel on the slide rail.
We design suitable hooks according to different roof structures. We also have a wealth of stainless steel roof hook types. We believe they can meet your needs. Roof hooks are very suitable for roof solar mounting systems. We have a pre-assembled structure, easy to use hook installation, and our solar tile roof installation system can save you a lot of manual installation costs and time.
The solar tile rooftop mounting system is quick and easy to install. Fixing the solar panel on the beam makes the solar structure more stable and wind resistant. Without any roof damage, the sloping roof solar system is perfectly fixed on the roof and has an unparalleled advantage in terms of waterproof performance.
Feature of this Solar Tile Roof Mounts SPC-RF-IK15-DR :
Horizontal and height adjustable hook installation;
The components have the largest carrying capacity and low weight;
It can be adjusted laterally and height, and is easy to install;
Ideal solution for fixing solar panels;
Stable, waterproof and durable;
The solar panel tile roof racking system is designed as a modular assembly system using high-quality materials. This allows the installer to install any module in almost any installation situation or configuration. These components are easy to install and can be used on most tile roofs.
Our PV roof installation kit can fit most tile roof types. We apply and test the selection of multifunctional components as our installation accessories. Lightweight and flexible, it is also easy to install and modular, which means it can be added to the array in the future.
Brief Descriptions:
Solar Panel Mounting System for Tile Rooftop
Item type:
Solar Tile Roofing Mounts
Type:
SPC-RF-IK15-DR
Installation Site:
Tile Roofing 0 °~ 60°
Profile Material:
Aluminum Alloy
Fasten Parts:
Stainless Steel / Aluminum T Sliding Nut
Color:
Anodized Silvery
Wind Load:
60 m / s
Snow Load:
1.4 KN / M2
PV Modules:
Framed, Frameless
Module Orientation:
Portrait and Landscape
Standards:
AS/NZS 1170
DIN 1055
GB50009-2012
IBC2009
TUV
JIS C 8955: 2011
International   Building Code IBC 2009
California   Building Code CBC 2010
Warranty
10 years
Designed Lifespan
25 years
Packing Details:
Inner:
Bubble bag+inner box+Carton
Outer:
Wooden Box, Steel Pallet, MDF, etc
Installation Manual for Solar Tile Roof Hooks SPC-IK-15
Solar Panel Mounting System for Tile Rooftop 5400 panels
Q:
Hi,
We have new strage in 2023, could you quote for full bracket systems for 5,400 pcs panels?
I am interesting in your Solar Panel Mounting System SPC-IK05-DR. Each array willl be 3 x 18 panels, please check the attached CAD dwg.
A:
Dear Irina
Thank you for your inquiry for the tile roof brackets systems for 5400 panels.
Please refer to our initial design for the tile roof mounting, which our engineer assume the array as 3 x 18.Total 100 arrays.
Solar Panel Mounting System for Tile Rooftop BOM List for 54 panels:
Q:
Hi
The drawing is good, pls send us price and indicate the freight to budapest port. Thanks!
A:
I have sent quotation for your Solar Panel Mounting System for Tile Rooftop 5400 panels to your email.
Please kindly check.
Thank you.
Solar Panel Mounting System Manufacture Factory
Solar Roof Mounting System SPC-RF-IK015-DR
Stainless steel hook installation steps
Solar Roof Mounting System Pantile Adjustable Roof Hook
Pantile Adjustable Roof Hook Details
Pantile Adjustable Roof Hook is flexible in adjustment both in height and width, two individual adjustable part in height and one in
width,which make them work in various pantile roof. It is also designed to compatible with diferent brand mounting, it mean you can
order individually.
Adjustable Roof Hook Dimension
Our Standard Adjustable Roof Hook dimension are as below, but we supply OEM service for Adjustable Tile Roof Hook, we also
can design customized roof hook according to your roof tile conditions.
Durability Tile Roof Hook
All the parts of this Adjustable Tile Roof Hook is made of stainless steel 304, it is durable for outdoor solar mounting instllation.
Different Fixing Base Plate Available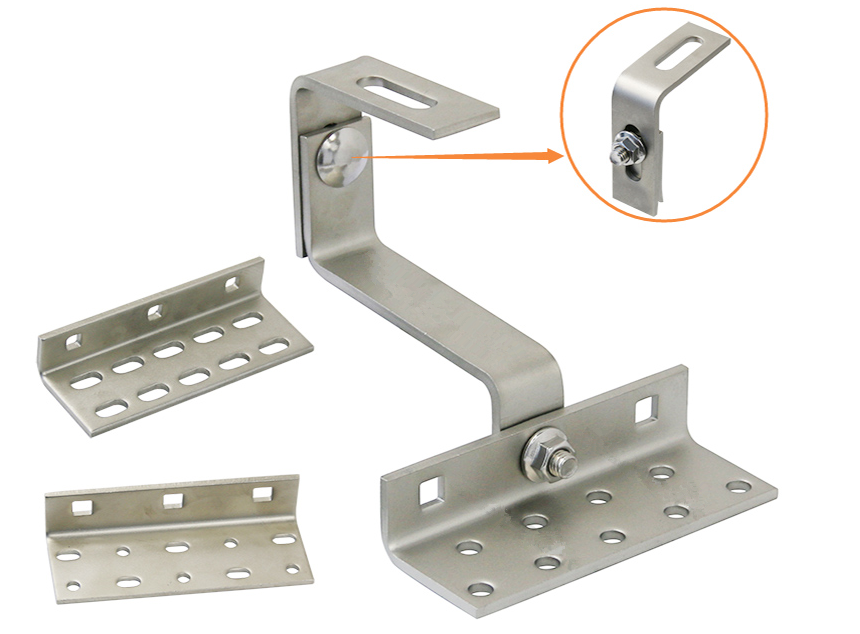 We offer different fixing plates for Ajustable Roof Hook to suit different pantile.
We carry various roof hooks for installation of ceramic tile, pantile roof ,crooked area of roof, monk tile, slate tile and plain tile, we
also offer OEM service to design specific roof hook for different installation, please free to contact us for your requirement.