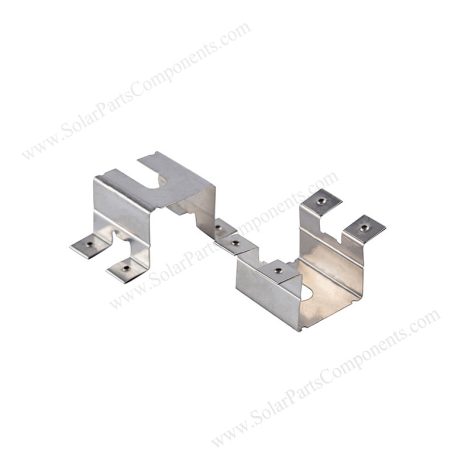 Earthing clip for PV
Product Type: Solar mounting components

Product Model: SPC-GW-22

Material: Stainless steel SUS304

Max Wind Load : 60 m/s

Max Snow Load : 1.4 KN / M 2

Solar Module Orientation: Landscape / Horizontal

Application:  Solar panel mounting
Contact by Email
Product Description:
Model : SPC-GW-22
Earthing clip for solar SPC-GW-22, which has a good performance of electrical conductivity and protect the environment is designed for earthing PV modules to  connect the aluminum rails . The model of SPC-GW-22 is used with mid or end clamps to construct the whole solar mounting system and ensure the electricity worked successfully. The Earthing clip for solar is made of stainless steel, which has good performance of corrosion resistance and improve the durable years. It can be used for more than 20 years and promise the warranty period for 10 years. The earting clip for solar is inserted between PV module and racking rails and the teeth on the plate play an important role to penetrate the surface of the aluminum rail and ensure the electricity flowed for the solar mounting system. It has the advantage of installation, which has an easier and fast method.
Feature of the earting clip for solar:
Be suitable for the majority of the solar mounting system;
With a easier and fast installation method;
Good packing;
Well electrical conductivity:
Can penetrate the anodized surface of the aluminum rail.
If you're interested in solar mounting components or solar system, we'd love to discuss with you about more and answer any questions you might have. As a professional manufacturer of PV mounting system, SPC is a great option for you.
Click here for more details and information:
www.SolarPartsComponents.com
Brief Descriptions:
Solar mounting components- earthing clip for solar
Item type:
Solar mounting components
Type:
SPC-GW-22
Installation Site:
Solar panel
Profile Material:
Stainless steel SUS304
Color:
Natural

Wind Load:
60 m / s
Snow Load:
1.4 KN / M2
PV Modules:
Framed
Module Orientation:
Landscape / Portrait
Standards:
AS/NZS 1170
DIN 1055
GB50009-2012
IBC2009
TUV
JIS C 8955: 2011
International   Building Code IBC 2009
California   Building Code CBC 2010
Warranty
10 years
Designed Lifespan
25 years
Packing Details:
Inner:
Bubble bag+inner box+Carton
Outer:
Wooden Box, Steel Pallet, MDF, etc
Drawing & Size of Earthing clip for solar SPC-GW-22
Product Description:

Model : SPC-GW-22

Earthing clip for solar SPC-GW-22, which has a good performance of electrical conductivity and protect the environment is designed for earthing PV modules to  connect the aluminum rails . The model of SPC-GW-22 is used with mid or end clamps to construct the whole solar mounting system and ensure the electricity worked successfully. The Earthing clip for solar is made of stainless steel, which has good performance of corrosion resistance and improve the durable years. It can be used for more than 20 years and promise the warranty period for 10 years. The earting clip for solar is inserted between PV module and racking rails and the teeth on the plate play an important role to penetrate the surface of the aluminum rail and ensure the electricity flowed for the solar mounting system. It has the advantage of installation, which has an easier and fast method.

Feature of the earting clip for solar:

Be suitable for the majority of the solar mounting system;
With a easier and fast installation method;
Good packing;
Well electrical conductivity:
Can penetrate the anodized surface of the aluminum rail.

If you're interested in solar mounting components or solar system, we'd love to discuss with you about more and answer any questions you might have. As a professional manufacturer of PV mounting system, SPC is a great option for you.

Click here for more details and information:

www.SolarPartsComponents.com

Brief Descriptions:
Solar mounting components- earthing clip for solar
Item type:
Solar mounting components
Type:
SPC-GW-22
Installation Site:
Solar panel
Profile Material:
Stainless steel SUS304
Color:
Natural

Wind Load:
60 m / s
Snow Load:
1.4 KN / M2
PV Modules:
Framed
Module Orientation:
Landscape / Portrait
Standards:
AS/NZS 1170
DIN 1055
GB50009-2012
IBC2009
TUV
JIS C 8955: 2011
International   Building Code IBC 2009
California   Building Code CBC 2010
Warranty
10 years
Designed Lifespan
25 years
Packing Details:
Inner:
Bubble bag+inner box+Carton
Outer:
Wooden Box, Steel Pallet, MDF, etc

Drawing & Size of Earthing clip for solar SPC-GW-22