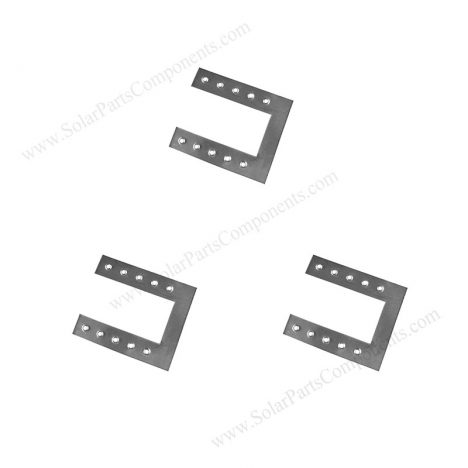 PV Module Grounding WEEBS
Product Type: Grounding Components

Product Model: SPC-GW-24

Material: Stainless Steeel

Max Wind Load : 60 m/s

Max Snow Load : 1.4 KN / M 2

Solar Module Orientation: Landscape / Horizontal

Application:  Framed PV Modules
Contact by Email
Product Description:
Solar grounding weebs, SPC-GW-24 from SPC solar can generate electric path for grounding system.
Sharp teeth from both sides of our grounding weebs washer can piece into rail surface well.;
Use together with mid / internal clamps to bond pv modules to aluminum rails.
Save money comparing traditional bare cooper wire ground method, instead of conducting by aluminum rail systems.
As an important member of pv grounding & bonding hardware, this SPC-GW-24 clip perform well. They can fit for aluminum solar mounting racking system well. Each clip install under each two modules, usually two clips are used for each pv modules, so each module can ground to both rails.
Features for solar panel grounding weebs,SPC-GW-24:
(1) Quick installation design for our grounding components;
(2) Prevent shock & fire hazard;
(3) Compression clip for many of mounting systems;
(4) OEM grounding clips can be customized;
(5) Durable / easy for using / compact sizes;
Appropriately torque should be applied, so that teeth of this solar panel grounding weebs can bite into surface of solar panel frames and anodized aluminum rails.
Welcome to apply our stainless steel solar panel grounding weebs from www.SolarPartsComponents.com, other mounting parts for earthing system can be optional like: copper jumper, ground conductor …
Brief Descriptions:
Solar Grounding Components – solar grounding weebs
Item type:
SPC-GW-24
Type:
Bonding Hardware
Installation Site:
PV solar Panel
Profile Material:
SUS 304 Stainless Steel
Color:
Plain
PV Modules:
Framed Solar Panels
Module Orientation:
Portrait and Landscape
Standards:
AS/NZS 1170
DIN 1055
GB50009-2012
IBC2009
TUV
JIS C 8955 : 2011
International   Building Code IBC 2009
California   Building Code CBC 2010
Warranty
10 years
Designed Lifespan
25 years
Packing Details:
Inner:
Bubble bag+inner box+Carton
Outer:
Wooden Box, Steel Pallet, MDF, etc
Yes, we can custom made base on solar mounting rail structure.
More details, kindly check >>>
Product Description:

Solar grounding weebs, SPC-GW-24 from SPC solar can generate electric path for grounding system.

Sharp teeth from both sides of our grounding weebs washer can piece into rail surface well.;

Use together with mid / internal clamps to bond pv modules to aluminum rails.

Save money comparing traditional bare cooper wire ground method, instead of conducting by aluminum rail systems.

As an important member of pv grounding & bonding hardware, this SPC-GW-24 clip perform well. They can fit for aluminum solar mounting racking system well. Each clip install under each two modules, usually two clips are used for each pv modules, so each module can ground to both rails.

Features for solar panel grounding weebs,SPC-GW-24:

(1) Quick installation design for our grounding components;

(2) Prevent shock & fire hazard;

(3) Compression clip for many of mounting systems;

(4) OEM grounding clips can be customized;

(5) Durable / easy for using / compact sizes;

Appropriately torque should be applied, so that teeth of this solar panel grounding weebs can bite into surface of solar panel frames and anodized aluminum rails.

Welcome to apply our stainless steel solar panel grounding weebs from www.SolarPartsComponents.com, other mounting parts for earthing system can be optional like: copper jumper, ground conductor …

Brief Descriptions:
Solar Grounding Components – solar grounding weebs
Item type:
SPC-GW-24
Type:
Bonding Hardware
Installation Site:
PV solar Panel
Profile Material:
SUS 304 Stainless Steel
Color:
Plain
PV Modules:
Framed Solar Panels
Module Orientation:
Portrait and Landscape
Standards:
AS/NZS 1170
DIN 1055
GB50009-2012
IBC2009
TUV
JIS C 8955 : 2011
International   Building Code IBC 2009
California   Building Code CBC 2010
Warranty
10 years
Designed Lifespan
25 years
Packing Details:
Inner:
Bubble bag+inner box+Carton
Outer:
Wooden Box, Steel Pallet, MDF, etc

Yes, we can custom made base on solar mounting rail structure.

More details, kindly check >>>