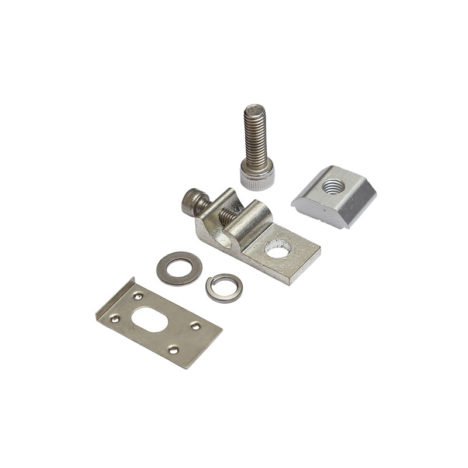 Solar Mounting Components – Solar Grounding Lugs
Product Type: Solar Earthing Kits

Product Model: Solar-Grounding-Lugs-PV-Earthing-Lug

Material: Aluminium, Steel

Max Wind Load : 60 m/s

Max Snow Load : 1.4 KN / M 2

Application: Solar earthing Grounded
Contact by Email
Product Description
PV gounding lug is designed to fit alum rail perfectly , it's a common component for bonding and earthing system.
Solar ground lugs can be made of aluminium in material, located for side of alum rails .
Galvanized grounding lugs are well electric conductive . We don't using bare-copper or low quantity aluminum which can be corroded and cause faulty circuit and fire hazard.
PV grounding clamps is a essential parts for grounding solar panels.
Prevent oxidation by using serrated teeth and ribs .
Advantages
Accelerating installation by pre-assembled grounding lug kits ;
Quick installation prevent damage from rack or panel ;
Electro plated tin finishing solar earthing lug ;
Corrosion resistance, easy torque .
Good performatnce in salty and fog environment like seaside or forest .
This solar grounding clamps can fit aluminum rails firmly , 10 years' warranty .
Material List for solar grounding clamps : anodized AL6005-T5 aliminium clip , stainless steel head screw , SUS 304 bolt .
Including:
1 pcs of lug,
1 pcs of M6X20mm hex socket bolt;
1 pcs of stainless steel grounding clip;
1 pcs of flat washer;
1 pcs of spring washer;
1 pcs of M8X25mm hex socket bolt;
1 pcs of rail nut;
Our SPC offers various solar mounting components for you. There must be one or more satisfied to you.
Click here for more: https://www.SolarPartsComponents.com
Brief Descriptions :
Solar Grounding Lugs for earthing grounded systems
Item type:
Solar Mounting Components
Technical Parameters :
Installation Site :
solar panel mounting
Profile Material :
AL 6005 – T5 ( Anodized )
Fasten Parts :
SUS 304 Steel
Color :
Anodized Silvery
Wind Load :
60 m / s
Snow Load :
1.4 KN/M2
PV Modules :
Framed
Module Orientation :
Portait and Landscape
Standards :
AS/NZS 1170
DIN 1055
GB50009-2012
IBC2009
TUV
JIS C 8955 : 2011
International   Building Code IBC 2009
California   Building Code CBC 2010
Warranty
10 years
Designed LifeSpan
25 years
Packing Details :
Inner :
Bubble bag+inner box+Carton
Outer :
Wooden Box, Steel Pallet, MDF, etc
What are grounding lugs for solar panel SPC-GL-06?
Q:
"Dear sir,
Greeting of the day.
This Siva from Hyderabad India. We have requirement of solar grouding lug SPC-GL-06.
Qty:300 no's.
Kindly send best quote accordingly."
A:
"
Dear Siva Kumar
Good day!
This Peter from SolarPartsComponets.com, which dedicate to manufacturing good quality solar panel mounting kits,accessoruies and more …
Appriciated for your inquiry about our grounding lug modle:SPC-GL-06
This modle can be  fully pre-assembled in our factory before shippment.
Please refer to the quotation for SPC-GL-06 as the file attached.
each set including:
1 pcs of lug,
1 pcs of M6X20mm hex socket bolt;
1 pcs of stainless steel grounding clip;
1 pcs of flat washer;
1 pcs of spring washer;
1 pcs of M8X25mm hex socket bolt;
1 pcs of rail nut;
Please advise.
Thank you!
SPC Team."
Features of Solar Grounding Lugs.
Features of Solar Grounding Lugs:
Good corrosion resistance;
High-quality aluminum;
Convenient grounding system;
Strong strength;
High Pre-assembly;
Factory direct sales, higher cost performance.
Solar PV Earthing lug
Why to choose SPC solar panel grounding lugs?
SPC delivers a new product – solar panels grounding lugs in copper lay in lug, it is a smart design and easy to install.
solar panel grounding lug
Tinned copper lugs are the best choice for grounding solar panels. They can be used in conjunction with grounding clips to achieve better results, allowing the use of a continuous grounding conductor, or as a jumper for multiple locations. No need to thread the connector. Just loosen the set screw, "lay" the wire, and retighten.
Feature:
1. Suitable for most aluminum rails
2. Simple and fast installation
3. Anti-corrosive
4. Materials include aluminum, stainless steel, copper
5. custom designs available upon request
Drawing for this solar grounded lug
Sizes, profile, drawing for this earthing ground lugs
Can I have data sheet for this aluminum solar grounded lug?
CLIENT:
Hello,
This is Alicia from Mondragon assembly,
I have an inquiry about you grounding lug, could I get more information about your product?
it can not be cooper. It has to be made of aluminum
Can you explain a bit how it is installed? We have never used this before
But do you have datasheet of the product?
Dimensions, material, hardness…?
Thanks,
Alicia Jiang
Mondragon Assembly Kunshan Co.Ltd.
[email protected]
www.mondragon-assembly.com
ANSWER:
Hi Alicia
As per communication through email.
We recommend you using our following aluminum grounding lugs:SPC-GL-06
It's pretty simple.
Just install them into frame hole.
Let cables go through as photos below.
datasheet & size of this lugs as below:
Thank you !
Best regards,
PV MODULE GROUNDING KIT FACTORY