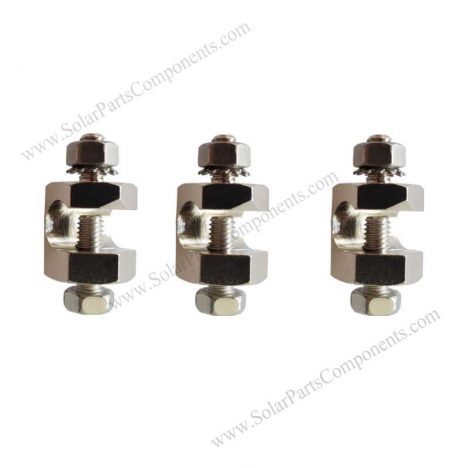 SOLAR EARTHING LUGS
Product Type: electrical solar grounding lugs

Product Model: SPC-GL-07B

Material: Copper

Max Wind Load : 60 m/s

Max Snow Load : 1.4 KN / M 2

Solar Module Orientation: Landscape / Horizontal

Application:  pv power grounding system
Contact by Email
Product Description:
Solar electrical wire lugs are grounding bounding splice lugs that are compatible with all Rack PV mounting system and framed solar modules.
The electrical solar grounding lugs are easy to mount. They are use as ground conductors to combine PV modules to copper rails, make well electric conduction. Order one lug for one module.
Features of this electrical solar grounding lugs,SPC-GL-07B:
(1) Corrosion resistance;
(2) Electrically bond the PV modules together;
(3) Easy mounting and save time;
(4) Flexible and suitable for various place assemble;
(5) Allows the positioning of the grounding conductor along multiple frames prior to securing the wire;
(6) Low profile design;
(7) 25 years warranty.
Electrical solar grounding lugs are important component for ground PV panels mounting. They are made of copper and SUS304 stainless steel(the two bolts), which are both durable and well conductive.
The Electrical solar terminal lugs are generally hardware used for connecting the lug and securing the conductor to simplify mounting, also can be use as a jumper to multiple locations.
With our grounding lugs, you will find only lower cost and faster mounting.
Electrical solar terminal lugs are a ideal choice for fast mount of one continuous grounding conductor or as a jumper to multiple locations. No need to thread the connector.
As a solar parts and components wholesale factory,we dedicate to manufacture good quality PV modules mounting kits, accessiories … provide you best quality and best service. Welcome to our website:www.SolarPartsComponents.com.
Brief Descriptions:
Solar Mounting Components –electrical solar grounding lugs, SPC-GL-07B
Item type:
PV grounding Components
Type:
Grounding lugs for Rack Mount
Installation Site:
PV panels earthing System
Profile Material:
Aluminum Alloy
Color:
Anodized
PV Modules:
Framed
Module Orientation:
Landscape and Portrait
Standards:
AS/NZS 1170
DIN 1055
GB50009-2012
IBC2009
TUV
JIS C 8955: 2011
International   Building Code IBC 2009
California   Building Code CBC 2010
Warranty
10 years
Designed Lifespan
25 years
Packing Details:
Inner:
Bubble bag + inner box + Carton
Outer:
Wooden Box, Steel Pallet, MDF, etc
Product Description:

Solar electrical wire lugs are grounding bounding splice lugs that are compatible with all Rack PV mounting system and framed solar modules.

The electrical solar grounding lugs are easy to mount. They are use as ground conductors to combine PV modules to copper rails, make well electric conduction. Order one lug for one module.

Features of this electrical solar grounding lugs,SPC-GL-07B:

(1) Corrosion resistance;

(2) Electrically bond the PV modules together;

(3) Easy mounting and save time;

(4) Flexible and suitable for various place assemble;

(5) Allows the positioning of the grounding conductor along multiple frames prior to securing the wire;

(6) Low profile design;

(7) 25 years warranty.

Electrical solar grounding lugs are important component for ground PV panels mounting. They are made of copper and SUS304 stainless steel(the two bolts), which are both durable and well conductive.

The Electrical solar terminal lugs are generally hardware used for connecting the lug and securing the conductor to simplify mounting, also can be use as a jumper to multiple locations.

With our grounding lugs, you will find only lower cost and faster mounting.

Electrical solar terminal lugs are a ideal choice for fast mount of one continuous grounding conductor or as a jumper to multiple locations. No need to thread the connector.

As a solar parts and components wholesale factory,we dedicate to manufacture good quality PV modules mounting kits, accessiories … provide you best quality and best service. Welcome to our website:www.SolarPartsComponents.com.

Brief Descriptions:
Solar Mounting Components –electrical solar grounding lugs, SPC-GL-07B
Item type:
PV grounding Components
Type:
Grounding lugs for Rack Mount
Installation Site:
PV panels earthing System
Profile Material:
Aluminum Alloy
Color:
Anodized
PV Modules:
Framed
Module Orientation:
Landscape and Portrait
Standards:
AS/NZS 1170
DIN 1055
GB50009-2012
IBC2009
TUV
JIS C 8955: 2011
International   Building Code IBC 2009
California   Building Code CBC 2010
Warranty
10 years
Designed Lifespan
25 years
Packing Details:
Inner:
Bubble bag + inner box + Carton
Outer:
Wooden Box, Steel Pallet, MDF, etc