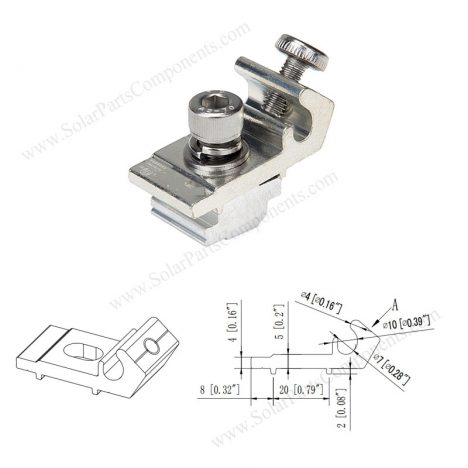 Solar Grounding Components
Product Type: Solar Panel Grounding Systems Hardware

Product Model:SPC-GL-01

Material: Copper

Application: Solar Panels Installation
Contact by Email
The PV module grounding lug for solar panel is a kind of grounding component, light weight, small component, easy to install on the solar panel and solar mounting system. It is an indispensable important component of the mounting system, there is a copper installation hardware, after tightening the hardware, it will conduct electricity the grounding clip dedicated to the board is embedded in anodized aluminum or any conductive metal to establish an airtight electrical connection.
Grounding lugs connect pv module mounting systems to earth by pierce aluminum rails.
It is a grounding piece compatible with all solar rack systems and frame-type solar modules. The cost is lower, the installation speed is faster, and the components that surround the lug with very few groundings provide higher safety and save installation time and hardware costs. The embedded grounding clip must be used in conjunction with an airtight connection to ensure reliable conduction between the devices.
The solar panel mounting component grounding lug is a device used to ground anodized aluminum or other metal components of the PV array. Grounding parts mainly include grounding clip and ground lug, they can provide reliable air-tight electrical connection with anodized aluminum parts.
Feature for SPC-GL-01 earthing lugs:
1. Allow quick and easy installation;
2. There are aluminum alloy and copper materials for customers to choose;
3. Use in conjunction with matching grounding clip;
4. Can be used for almost all module frames and brackets;
5. Reusable hardware;
6. Can be installed on both top / side channel rails;
The grounding lug SPC-GL-01 for solar panel mounting system is the grounding component of solar module and solar mounting system, which can be easily terminated to the ground wire. It has enough universal designs that can be used for commercial or utility scale installations as well as residential installations. It has been certified and can be used with the ground wire to ensure the safety of the device. One of the components required for fast and safe connection to PV modules and brackets.
The ground lugs can be installed in any direction and connect the PV array to the equipment ground. A single ground lug connects the entire row of PV modules to the ground conductor. If you need grounding lug of other materials, please feel free to contact us: www.solarpartscomponents.com.
Brief Descriptions:
Solar Mounting Components – Copper Solar Grounding Lugs
Item type:
SPC-GL-01
Type:
Earthing Hardware
Installation Site:
PV Module Mounting
Profile Material:
Copper
Color:
Plain
PV Modules:
Framed, Frameless
Module Orientation:
Portrait and Landscape
Standards:
AS/NZS 1170
DIN 1055
GB50009-2012
IBC2009
TUV
JIS C 8955 : 2011
International   Building Code IBC 2009
California   Building Code CBC 2010
Warranty
10 years
Designed Lifespan
25 years
Packing Details:
Inner:
Bubble bag+inner box+Carton
Outer:
Wooden Box, Steel Pallet, MDF, etc
How to using this Grounding Lug for Solar Mounting Components ?
More details kindly check >>>
What are the features of this Solar Panel Grounding Lugs?
Features of this SPC-GL-01:
High quality material selection;
Materials are optional;
Easy to install;
Reusable.