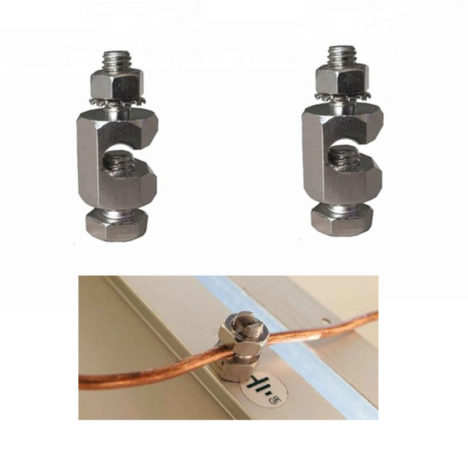 Solar Mounting Components – Solar Panel Grounding Ear Lugs
Product Type: solar panel earth mounting clamps

Product Model: PV-Grounding-Ear-Earth-Lug-for-Solar-Panel

Material: Copper, Stainless Steel

Max Wind Load : 60 m/s

Max Snow Load : 1.4 KN / M 2

Application: Solar Panels Installation
Contact by Email
Product Description
This PV wire terminal lugs are made of copper which is very good for electric conduction .
The grounding lug insterted from outside of closure with nut and washer fastening on inside .
The cable wires go through hole of lugs ( 5mm MAX in diameter ) .
Hex nut screws fasten the cable wires from top .
Washer nuts faston from bottom of aluminum rails .
Solar Panel grounded conductor helps protction whole power plant safety .
Advantages of Copper PV module grounding lugs :
1. Tin-plated copper made with Preminum electrical performance ;
2. Universal application for many models of mounting racks ;
3. Suitable for Solar Cable wire size : 14/12/10/8/6 AWG ;
4. 110 V / 220V / … /1500V Voltage MAX ;
5. 30 years life span ;
6. Comply with IEEE surge protection standard with our equipment grounding conductor lugs ;
Components List of this solar PV earth ears :
– One piece of henagon nut ( SUS304 ) ;
– One piece of wire bolts ( Copper ) ;
– One piece of washer nut ( SUS304 );
Installation Guide for Solar Panel earthing lugs :
<1> Drilling holes from aluminum rail frames (M6 – M8);
<2> Put M5 threaded connector into rail holes ;
<3> Put wire cable through lug holes ;
<4> Fasten wire with hex nuts ;
The keen-edged washer will penetrate surface of aluminum racks and generate grounding path for solar mounting system .
Easy for grounding solution installation with this solar panel earth lugs .
Our factory specializes in solar parts and components manufacturing for more than 10 years. Good quality products and best service for you! Welcome visit our website and inquiry us, website: www.solarpartscomponents.com.
Brief Descriptions :
Solar Panel Earth Terminal Lugs for PV Module grounding systems
Item type:
Solar Grounding Components
Technical Parameters :
Installation Site :
solar panel Earthing Syatem
Profile Material :
Copper
Fasten Parts :
SUS 304 Steel
Color :
Anodized Silvery
Wind Load :
60 m / s
Snow Load :
1.4 KN/M2
PV Modules :
Framed / Frameless
Module Orientation :
Portait and Landscape
Standards :
AS/NZS 1170
DIN 1055
GB50009-2012
IBC2009
TUV
JIS C 8955 : 2011
International   Building Code IBC 2009
California   Building Code CBC 2010
Warranty
10 years
Designed LifeSpan
25 years
Packing Details :
Inner :
Bubble bag+inner box+Carton
Outer :
Wooden Box, Steel Pallet, MDF, etc
PV Module Grounding Earth Lugs factory
Q:
Dear PV Module Grounding Earth Lugs factory,
Please allow me to introduce myself-My name is Gilli and I serve as the Supply Chain Manager for A Solar Company. We are an Israeli company with projects all around the world.
I am liking for grounding clamp for solar panels, with capability of contain 6 AWG cable.
I've seen in your website the following products that might suits me:
PV Module Grounding Earth Lugs, SPC-GL-07
Initial quantity would be ~3,000 pc. With immediate lead time.
Please revert with any question.
I will be honored to have your response.
Regards,
Gilli
Supply Chain Manager
A:
Hi Gilli
Appreciated for inquiry about our grounding earth lug series.
As per 6 AWG cable size, Our model SPC-GL-07 can fit well.
Please refer to your price for 3000 pieces of PV wire terminal lugs.
Q:
Thank you for your prompt response.
I really would like to issue a PO, but we'll need to have a prototype prior of purchasing this initial quantity.
Would you send me a quotation for 10pc. and delivery to Israel in an express shipping?
A:
Sure, please refer to our P.I. for 10pc. of this PV Module Grounding Earth Lugs SPC-GL-07.
.
.
.
Appreicated for your payment.
I will arrange shipment in 2-3 working days.
Please double make sure following delivery address is correct.
Q:
Hi,
Thanks for sending us the PV modules grounding lugs,
We received the shipment.
We would like to order more grounding lugs.
Some questions to clarify:
is the product Standards Institute?
can we get a document to ensure it?
Please send us a catalogue in order to understand the sizes of the clamps you have.
Thank you
A:
We have several sizes for SPC-GL-07 series to meet different cable diameter,
like below:
The most hot sale models are SPC-GL-07 and SPC-GL-07B.
If you also can let me know your own special cable sizes, we'll recommend proper model for you.
solar PV earth ears SPC-GL-07A  is almost same price as 07, so I recommend you buy SPC-GL-07 model directly which can fit wider OD range of cables.
Q:
Thank you.
In that case, we will kindly ask for a quotation for SPC-GL-07.
As I have previously informed, I will handle the shipment.
Regards,
Gilli
A:
Please refer to our factory price for 3000 solar panel earthing lugs.
Q:
Thank you.We will place this order.
Please advise bank information for wire transfer
Regards,
A:
Hi,Please refer to the Invoice with bank info as file attached.
Please let us know when you arrange the payment.
Thank you!
Q:
Payment done.
Please find attached.
Please revert with shipping information.
Regards,
Gilli
A:
Well received,much appreciated for your payment
The are packed and will be shipped today.
Thank you and have a nice day!
Do solar panels need to be grounded?
Do solar panels need to be grounded and How to install them?
"
Hello,
I have an inquiry about you grounding lug, could I get more information about your product?
Do solar panels need to be grounded?
It is made of aluminum or cooper ?
Do you have a datasheet like Dimensions, material, hardness…?
How to use grounding lugs?
Can you explain a bit how it is installed?
Best regards,
Alicia Jiang
"
"
Hi Alicia
Yes, grounding system is very important for solar panel racking systems.
We neet each solar panel be gounded.
Grounding lugs are one of key components.
Base on solar frame sizes given,
We recommend you using our following cooper grounding lugs:SPC-GL-07.
The installation steps are pretty simple.
Just install them into frame hole.
Let cables go through as photos given.
Solar Mounting Parts & Components Factory
Sales Team
"
How can I buy grounding lugs are used for solar panels ?
How can I buy grounding lugs are used for solar panels ?
"
Dear Sir,
I would like to purchase 50 pieces of PV Module Grounding earth Lugs,SPC-GL-07, could you please send me your quotation and payment method , I am living in UAE.
Could you please send me invoice with 50 pieces of grounding ear lug model SPC-GL-07 including DHL cos , I will pay using your bank account , I would like to get it in 7 days.
Thank you,
Best Regards,
Yousif
Al Majaz 3 -Corniche street
Sharjah
UAE
"
"
Dear Yousif
Appreciated for your oreder about our COPPER ear lug model : SPC-GL-07.
As per 50 units in quantity, I just releasd invoice as you required.
Our DHL express is 7 days' rate, door to door service.
You can pay through PAYPAL or our Bank Account.
Thank you for supports.
SPC Solar Sales Team
"
How to using this solar panel grounding clamp ?
Application:
The solar grounding connector is used with metal-framed photovoltaic(solar)panels and related products that require grounding for safety reasons.
Product Technical Parameters:
>Materials:Copper
>Color:White
>Frame Thickness Range:φ5.0mm
>Ambient temperature:-40℃…+90℃
>Cable size(mmsq/AWG):2.5/4/6/10&14/12/10/8/6
For more details,please refer to the picture shown as below:
How can I get 50ea of these 5mm grounding Lug studs ?
"
Hello, I'd like to order some of these parts:
Solar Mounting Components – Solar Panel Grounding Ear Lugs
Product Type: solar panel earth mounting clamps
Product Model: PV-Grounding-Ear-Earth-Lug-for-Solar-Panel
What is the diam of the screw for this part number? I would like the 5mm diam stud version.
Delivery address would be:
5160 Industrial Pl, Suite 101
Ferndale, WA 98248
Please send me a quote and put an order in for these 50ea SPC-GL-07 units.
Thanks,
Spencer Cutsforth​
"
"
Dear Spencer
Appreciated for your inquiry about our COPPER ear lug model : SPC-GL-07.
You can get 50ea of these 5mm grounding lug studs directly from our warehouse.
Yes, 5mm diam as drawing below.
The factory price for unit each of this ear lug model : SPC-GL-07,
Invoice for complete charges which you can pay by credit card or paypal,
has sent email to you.
Quote for FedEx was $55.00, 7-10 days rate and 5% Paypal charge.
We will processed as soon as possible against payment, looking forward to hearing back from you.
Thanks much!
Solar Parts & Components Sales Team
"