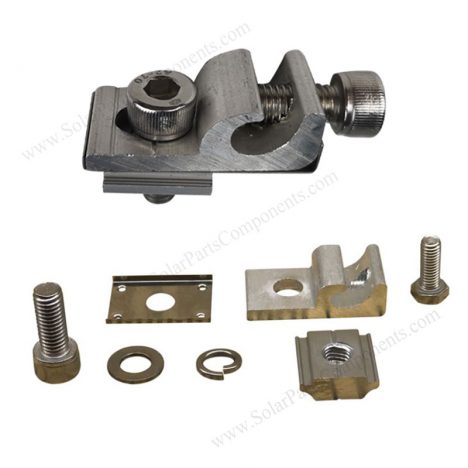 Solar Grounding Lugs, Aluminum
Product Type: Solar Grounding Kits

Product Model: SPC-GL-04

Material: Aluminium, Steel

Application: PV Module Installation
Contact by Email
Product Description:
The solar panel grounding lug for PV mounting of solar panels is a grounding component that is easy to install on solar panels and solar mounting systems, with light weight and small size. It is one of the indispensable important components of the installation system. It is used with stainless steel installation hardware instruments. After tightening the hardware, it will conduct electricity to establish an airtight electrical connection.
It is a grounding piece compatible with most solar modules in solar rack systems to ensure reliable conduction between devices. Low cost, fast installation speed, very few grounding components provide higher safety, and save installation time and cost.
This grounding lugs for solar panels model:SPC-GL-04 is used as earth conductor, contact PV modules to racking rails with good electric conductivity.
The solar mounting component grounding lug is a device used to ground other metal components of the PV array. The grounding components mainly include grounding clamps and grounding sheets, which can provide a reliable airtight electrical connection with anodized aluminum components.
Feature of this solar panel grounding lug for PV mounting SPC-GL-04:
1. It is the most important part of the solar photovoltaic system;
2. The grounding clip is used in conjunction with the grounding clip to ground each module to the rail;
3. Provide aluminum materials for customers to choose;
4. Can be used for all module frames and brackets;
5. Hardware that can be recycled;
Components of this grounding lug for solar mounting system SPC-GL-04:
(1) Aluminum grounding body (6005-T5);
(2) SUS304 stainless steel M6×20, M8×20 bolts;
(3) Sliding nut;
(4) Grounding clips;
The grounding lug for solar mounting system is an important grounding component for solar modules and solar mounting systems, and can be easily connected to the ground wire. It has a perfect universal design and can be used for commercial or residential installations. It has been tested and conforms to the standard and can be used with the ground wire to ensure the safety of the equipment.
Solar grounding straps are ideal for quickly installing a continuous grounding conductor or as a jumper across multiple locations. No need to thread the connector. Just loosen the positioning screw, put it in the cable, and then tighten it again. If you need grounding lugs of other materials, please feel free to contact us: www.solarpartscomponents.com.
Brief Descriptions:
Solar Mounting Components – Aluminum Solar Grounding Lugs
Item type:
SPC-GL-04
Type:
Earthing Hardware
Installation Site:
PV Module Mounting
Profile Material:
Aluminum Alloy
Color:
Anodized
PV Modules:
Framed
Module Orientation:
Portrait and Landscape
Standards:
AS/NZS 1170
DIN 1055
GB50009-2012
IBC2009
TUV
JIS C 8955 : 2011
International   Building Code IBC 2009
California   Building Code CBC 2010
Warranty
10 years
Designed Lifespan
25 years
Packing Details:
Inner:
Bubble bag+inner box+Carton
Outer:
Wooden Box, Steel Pallet, MDF, etc
How do you ground solar panels with SPC-GL-04?
Grounding Lugs for Solar Panel Installation SPC-GL-04 are good for grounding solar panels,
which is the most popular solution for grounding solar systems at the moment.
Simply install the ground disc at the end of each mounting rail and tighten the hexagon bolt.
It connects to the entire system to form a conductive system,
which helps prevent damage caused by lightning.
https://www.solarpartscomponents.com/solar-pv-earthing-lug-spc-gl-04
How do I obtain the Solar Grounding Lugs 600 units?
"
Hi There,
I need to purchase 600 X Grounding Lugs for Solar Panel Installation SPC-GL-04 (Solar Grounding Lugs, Aluminium)
Please let me know if you have 600 instock, and how do I obtain them.
Many  Regards,
Jack Theron
"
"
Hi Jack,
I have sent our quotation for 600 solar grounding lugs SPC-GL-04 to your email.
Please kindly check.
"
How to buy this Solar Grounding Lugs, 1800 units ?
"
We would like to place an order for 1800 ground lugs for a solar panel installation job.
What is the lead time on these electrical grounding lugs ?
Is there any way to pay via credit card?
How do I start this process? Would like to receive these in 7 days at the below address.
776 Bennett Dr
Longwood, FL 32750
Daniel Wagner
Chief Electrician
"
"
Dear Daniel
Nice to receive inquiry about our grounding lugs.
Well understanding credit card is very convenient in USA,
You can pay through your credit card by PAYAPL payment.
I just update an paypal invoice for you.
Just let me know when you arrange PAYMENT for this order.
I will ship them through Fedex / UPS .
Thank you !
SPC Solar Service Team
"
How long would it take to send the Solar Panel Grouding Lugs to Austria ?
Q:
Hi, How long would it take to send 3000 of the Solar Panel Grouding Lugs to Austria?
Please give me your price and shipping cost.
A:
Thank you for your inquiry for our PV Module grounding lugs.
It will cost 5-7 work days from China to Austria by Express delivery.
Please find the attachment for our quotation.