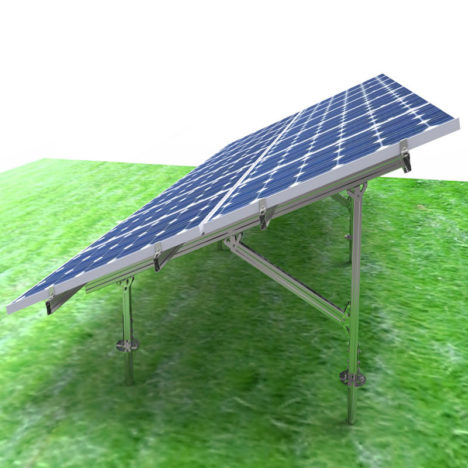 Carbon Steel Solar Ground Mounting Systems
Product Type: Ground Solar Panel Mounting Systems

Product Model: Solar-Ground-Mounting-Systems-Q235-Carbon-Steel-Structure

Material: Aluminium, Steel

Max Wind Load : 60 m/s

Max Snow Load : 1.4 KN / M 2

Solar Module Orientation: Portrait or Landscape

Application: Ground Area
Contact by Email
Product Description :
Our carbon steel solar ground mounting system can apply for PV module installing on the ground.
The main structure are made of Q235 hot dipping galvanized steel which can be anti corrosive in bad weathers .
C steel is a kind of lower cost profile than aluminum rackings . It can give you good investment return for our solar panel
plant project .
Q235 carbon steel with hot dip galvanized treatment can be adapted to extreme bad climate .
Our engineer can design specific your solar mounting project according requirements whatever on ground / roof / carport or
other places .
Advantages :
1. Fits for concrete ground , ballasted base ground, ground screw supporting field / terrain;
2. 80 um up hot dip galvanizing thickness up with good outdoor performance ;
3. Strong racking and cost effective by using this carbon steel ground mounting;
4. Customized solar mounting array design is welcome for quotation ;
5. Economic / Sturdy / Quick mounting structure for our Q235 carbon galvanizing mounting racks ;
Parts and Components for Carbon Q235 Steel Type Solar Ground Mounting Systems :
(1) Base ;
(2) Beam & Rail ;
(3) Connector 1 ;
(4) Connector 2 ;
(5) Mid clamp & End clamp ;
(6) Panel plate ;
Installation Guide for Q235 solar ground mounting structure :
1.install ground base & carbon steel ground screws;
2.install support Q235 beam & legs;
3.install c steel rail;
4.install mid & end clamps.
Brief Descriptions :
Carbon Steel Solar Mounted Systems for ground solar panel installation
Item type:
Ground Mounting Systems
Technical Parameters :
Type :
Q235 ground solar mounting system
Installation Site :
Home / Indurstrial / Commercial
Installation Angle :
0° ~ 30°
Profile Material :
Q235B (Hot-Dip Galvanized)
Fasten Parts :
Carbon Steel Screws
Small Components :
AL 6005 – T5 ( Anodized ) / SUS 304
Color :
Silvery or according to customer requirements
Wind Load :
60 m / s
Snow Load :
1.4 KN / M2
PV Modules :
Framed, Frameless
Module Orientation :
Portait and Landscape
Standards :
AS/NZS 1170
DIN 1055
GB50009-2012
IBC2009
TUV
JIS C 8955 : 2011
International   Building Code IBC 2009
California   Building Code CBC 2010
Warranty
10 years
Designed LifeSpan
25 years
Packing Details :
Inner :
Plastic thin film wrapping
Outer :
Wooden Box, Steel Pallet, MDF, etc
Carbon steel solar ground mounting system
The carbon steel bracket system is a common ground installation system, which is cheaper than the aluminum alloy system. After hot dip galvanizing, the carbon steel can obtain higher hardness and excellent corrosion performance; the raw materials are easy to obtain and the production cost is low. Compared with aluminum profiles, carbon steel has a greater density, greater hardness and higher strength. Simple installation, safety and reliability.
Feature:
High-quality carbon steel, can withstand the strength above 235 MPa;
Economical and easy to install;
Strong compatibility, concrete/spiral pile;
Reduced labor and costs;
Durable and reliable design;
Can Solar Ground Mounting System be used to concrete flat rooftop ?
Yes,
we can regard flat concrete rooftop as flat grounding surface .
Follow is one pv module instillation structure design for Thailand project .
More details, kindly check >>>
Features of Q235 Carbon Steel Solar Ground Mounting System
Preparation for solar panel mounting project
Photovoltaic Modules system should be installed correctly, checklist for solar mounting is a necessary .
following is a form for ground systems :
Quotation For Solar Panel Mounting Project
Company:
Contact person:
Email:
Phone:
System
Ground system
Material
Hot dip galvanized Q235
AL 6005-T5
Mounting address
Max wind speed
Max snow load
Fondation
Concrete block
Ground screw
Concrete block
Distance from ground surface
Ground Screw
Length
Distance from ground surface
Solar panel
Distance from ground surface
Dimension(mm)
Weight(kg)
Quantity
Power(watt)
Array
Panel Toward
Horizontal
Vertical
Installation Angle
Others