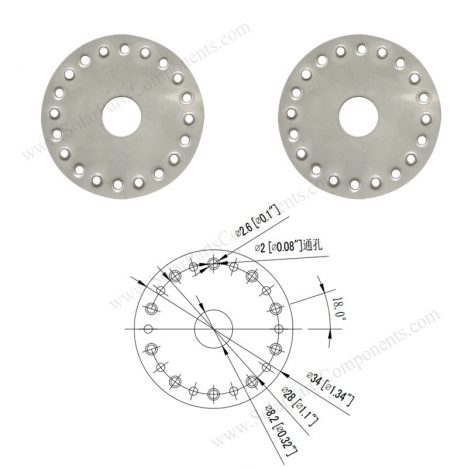 Earthing Clip Solar Mounting Components
Product Type: Solar Panel Mounting Systems Hardware

Product Model:SPC-GW-19

Material: Stainless Steel

Application: Solar Panels Installation
Contact by Email
Product Description:
Ground earthing plate is a kind of essential but easy neglect hardware in solar panel power project.
This solar earthing clips (Model: SPC-GW-19) can create bond between pv module and mounting system.
It's a kind of universal design model which can applied for most of aluminum rail extrusions.
This grounding clip is stainless steel material, durability for long time service.
The teeth of earthing plate can pierce aluminum rail coating and pv frames, generate and electrical path to the ground.
The specification of solar earthing clips are:
(1) Inside Diameter Φ8.1mm [Φ0.31″] – Φ8.2mm [Φ0.32″];
(2) Outside Diameter Φ34mm [Φ1.34″];
(3) Thickness of grounding plate H=1.3mm [0.05″];
(4) Diameter of penetration hole: Φ2.0mm [Φ0.08″]
Features of this #19 stainless steel grounding plates:
1. Prevent rust, stainless steel made;
2. Round shape with symmetrically strength for racking rails;
3. Without oxidation, excellent conductivity;
4. Comply with CSA / ANSI / UL467 / UL 2703 standards;
5. Customized model are available upon drawings and specific solar power project design;
6. High quality, good strength and cost effective;
The general use, SPC-GW-19 earthing clips can be widely used for roof / ground / carport … racking systems.
Xiamen Top Best Tech Co., Ltd can offer several kinds of pv grounding parts and solutions for your options.
Stay connected with SPC grounding components and keep your solar power plant grounded and safe.
For more information:
https://www.SolarPartsComponents.com
Brief Descriptions:
Solar Mounting Components – Universal SUS304 Solar Grounding Clips
Item type:
SPC-GW-19
Type:
Earthing Hardware
Inner Size:
Φ8.1 MM
Outer Size:
Φ34 MM
Thickness:
8.000 MM
Penetration Hole:
Φ2.0 MM
Installation Site:
PV Module Mounting
Profile Material:
SUS 304 Stainless Steel
Color:
Plain
PV Modules:
Framed, Frameless
Module Orientation:
Portrait and Landscape
Standards:
AS/NZS 1170
DIN 1055
GB50009-2012
IBC2009
TUV
JIS C 8955 : 2011
International   Building Code IBC 2009
California   Building Code CBC 2010
Warranty
10 years
Designed Lifespan
25 years
Packing Details:
Inner:
Bubble bag+inner box+Carton
Outer:
Wooden Box, Steel Pallet, MDF, etc
Drawing & Size for SPC-GW-19
What is Solar Pv grounding clip?
Solar earth grounding clips universal
This model of PV earth grounding clip SPC-GW-19 is design for univeral used. Rounded clips can suitable for most types of the mounting rails.The diameter is 34mm (1.339″) and the hole size is design for M8 screw.
This universal type is one of the most hot sale items in our factory, easy and simply to be installed. For more details, welcome contact us.
solar panel mount grounding clip
The grounding clip provides convenience for the solar installation system and is one of the most important accessories.
what is the feature of the Solar earth grounding clips SPC-GW-19?
SPC-GW-19 is a general product suitable for most aluminum rail, the total thickness of the product is only 1.3mm after fine process.
The spikes on the surface of the conductive sheet can pierce the oxide layer on the surface of the aluminum rail and the frame of the PV panel,
forming an air-tight electrical circuit between the components, which can effectively prevent the damage of the solar module by lightning.
Protect the safe use of equipment, but also achieve the effect of extending the service life of equipment.