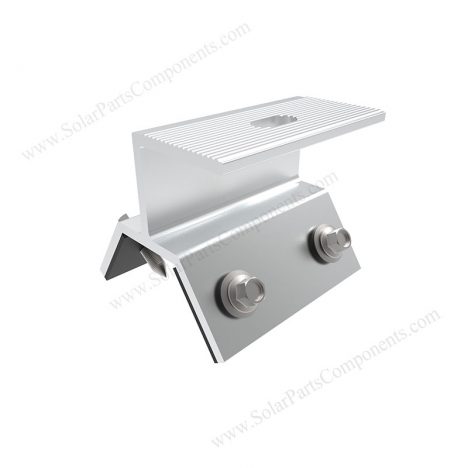 Railless Clamp Solar Mounts
Product Type: Solar Panel Mounting Systems Hardware

Product Model: SPC-CK-05

Material: Aluminium

Max Wind Load : 60 m/s

Max Snow Load : 1.4 KN / M 2

Application: Solar Panels Installation
Contact by Email
Product Description:
Railless solar metal roof clamps are designed for trapezoidal metal roofs and are easy to install. It can be directly fixed on the roof without aluminum rails, saving costs and the steps of rail installation. The clamp is one of the components of the trackless solar installation system, which can be used to install solar modules on the trapezoidal metal roof. It provides a solar installation solution with a roof attachment.
The roof accessory is used for trapezoidal metal roofs without using guide rails, and has a lower cost, and can be installed with familiar components and fewer components while reducing installation time. They are compatible with most solar modules. The design focus of the system is to simplify installation and reduce installation time and cost.
Railless solar panel roof brackets fix the trapezoidal metal roof, and install the first or last solar cell module on each row of the solar cell array on the roof without using any rails. With its new railless mounting, it creates a new solution for solar trapezoidal metal installation. It is a highly adaptable installation system component.
Feature of rail-less solar metal roof clamps, SPC-CK-05:
1. Railless installation is suitable for most solar modules with frames;
2. Reduce costs and reduce installation time;
3. High-quality materials make the installation system have good anti-corrosion performance;
4. Professional design reduces the use of materials;
5. The most economical trapezoidal metal roof installation system;
We quickly installed the rail free solar roof clamp. Designed for the installation of metal roofs without guide rails, it is an ideal solution for trapezoidal metal roofs. The fully pre-assembled components make the product easy to use and quick to install. The unique design can be adapted to specific trapezoidal metal roof types.
Using railless solar metal roof clamps for mounting system to fix the panel to a specific trapezoidal metal roof panel is a cost-effective metal roof installation solution. We will design a plan for your roof that meets the needs of the project. If you have any questions, please feel free to contact us: www.solarpartscomponents.com
Brief Descriptions:
Rail-Less Solar Metal Roof Clamps Bracket, SPC-CK-05
Item type:
Solar Metal Rooftop Mounting Clamps
Type:
SPC-IK-05
Installation Site:
Trapezoidal Roofing Top
Profile Material:
Aluminum
Fasten Parts:
Self-Tapping Screws
Wind Load:
60 m / s
Snow Load:
1.4 KN / M2
PV Modules:
Framed, Frameless
Module Orientation:
Portrait and Landscape
Standards:
AS/NZS 1170
DIN 1055
GB50009-2012
IBC2009
TUV
JIS C 8955: 2011
International   Building Code IBC 2009
California   Building Code CBC 2010
Warranty
10 years
Designed Lifespan
25 years
Packing Details:
Inner:
Bubble bag+inner box+Carton
Outer:
Wooden Box, Steel Pallet, MDF, etc
Installation instructions for trapezoidal roof clamp,SPC-CK-05
Rail-less solar meral roof clamps for trapezoid metal roof.
Q:
I would like to mount 240 x 455w panels to my trapezoid metal roof and want a quote for 800 rail-less solar metal roof clamps SPC-CK-05, complete with 540 end clamps and 260 mid clamps.
A:
Nice to get your inqiry for our railless solar metal roof clamps.
I have sent the quotation to your email, please check.
How to using this rail-less solar panel roof brackets ?
installation instructions for Trapezoidal clamp
Could you please send me more information about solar metal roof clamps?
Hi,
I'm looking for a solar panel mounting system for a trapezoidal ribbed metal roof. I took a quick look at your website, could you please send me more information about Rail-less solar metal roof clamps, SPC-CK-05?
Thank you,
Glen Hansen
Mesa Research and Development LLC
505-252-9514
Dear Glen
Appreciated for your inquiry about our Trapezoidal metal roof solar panel mounting.
Can I know more details of your project as below:
(1)
What is your pv panels dimension?___mm Length x___mm Width x__mm Thickness
(2)
What's the roof profile ?
CAD / PDF file would be favoriable.
(3)
What's the nearest seaport to your company ?
(4)
How is weather there,such as wind speed and snow load?
___m/s wind speed and____KN/m2 snow load.
(5) How about the oriention the solar panels :
(6) How much quantity you will mount ?
Row X Column X Arrays
More details of your project would be favorable for our engineers.
Thank you !
Trapezoidal roof solar panel mounting factory