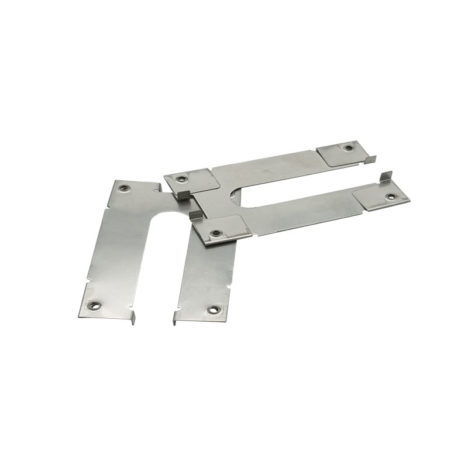 PV panel grounding clips, SUS304
Product Type: Solar Earth Mounting Systems Parts

Product Model:SPC-GW-11

Material: 304 Steel

Max Wind Load : 60 m/s

Max Snow Load : 1.4 KN / M 2

Application: Solar Panels Installation
Contact by Email
Product Description :
Model : PV-Panel-Grounding-Clips-SPC-GW-11
PV panel grounding clips model SPC-GW-11 is designed for integrated equipment grounding .
Good conductive earthing components with our earthing clips can protect PV modules from lightning strike .
This 11K solar grounding clip connect with PV modules and mid / end clamps / lugs to anodized aluminum racking.
They are bonded to ground rods for good lightning protection .
Essential PV (photo-voltaic) panel washer for equipment grounded correctly .
Advantages :
– PV array grounding clips for mounting system ;
– Comply with NEC (National Electrical Code ) / Inverter instructions ;
– SUS 304 equipment ground clips, anti-corrosive ;
– Quick & labor effective for photovoltaic module grounding plates;
– Well & save grounded for entire solar mounting system ;
We carry many different types of grounding clips for different clamps and rails, accept customized. Please do feel free to contact us about your needs. Our website is: www.SolarPartsComponents.com.
Brief Descriptions :
PV Panel Grounding Plates for solar modules earthing kits
Item type:
Solar Panel Grounding Components
Technical Parameters :
Installation Site :
PV Modules Mounting Installation
Profile Material :
SUS 304
Color :
Zinc coating
Wind Load :
60 m / s
Snow Load :
1.4 KN/M2
Module Orientation :
Any Degrees
Standards :
AS/NZS 1170
DIN 1055
GB50009-2012
IBC2009
TUV
JIS C 8955 : 2011
International   Building Code IBC 2009
California   Building Code CBC 2010
Warranty
10 years
Designed Life Span
25 years
Packing Details :
Inner :
Bubble bag+inner box+Carton
Outer :
Wooden Box, Steel Pallet, MDF, etc
Drawing & Size for PV Panel Grounding Clips SPC-GW-11
PV Panel Grounding Clips Supplier
With more than 12 years experience of manufacturing the PV panel grounding clips, we dedicate to manufacture good quantily products with reasonable price.
The size of this model SPC-GW-11 is 50mm x 30.12mm
Grounding Clips is inserted between module frame and mounting rail, the teeth of ground clip pierce the anodized coating well. The result is excellent conductivity without oxidation, which makes the module and rail become one singular piece of metal, creating an electrical path the ground.
Drawing sizes for Solar Module Grounding Clips 11K ?
Solar module grounding clips Size & drawing for model 11K
Our solar module grounding clips model 11K is a new connection solution for ground your solar panels .
– Extremely simple for using ;
– Save time & labor cost ;
– Our teeth points of sus 304 grounding plates can offer gas tight contact well ;
– Can be well compatible using with solar grounding lugs & rail jumpers ;
– Outdoor rated;
Factory direct solar module grounding clips 11K wholesale with size and drawing details
Welcome to purchase our solar module ground clip 11K to bond your solar panels to mounting systems and
generate an electrical way to ground .