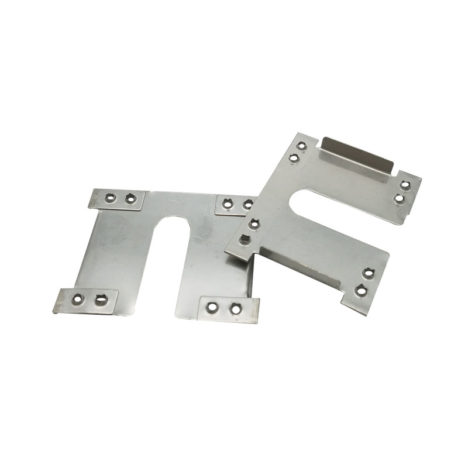 Grounding Clips Mounting Components
Product Type: Solar Panel Mounting Earthing Hardware

Product Model: SPC-GW-05

Material: 304 Steel

Max Wind Load : 60 m/s

Max Snow Load : 1.4 KN / M 2

Application: Solar Panels Grounded
Contact by Email
Product Description :
Model : PV-Modules-Grounding-Clips-SPC-GW-05
This PV modules grounding clips (SPC-GW-05) can be good EGC component ( Equipment Grounding Conductor) for solar panel mounting systems .
5E solar panel grounding clips is bonded between PV module / mid clamps / aluminum rails , this kit can be one whole grounding electrode system .
Grounding electrical clips is essential for each piece of solar panels, it can prevent modules damage from fire / shock hazard .
It's very important to bonding & grounding solar panels when set up mounting rackings , it can ensure safety for installers / field electricians / maintainers .
This grounding clips model 5E is made of SUS 304 stainless steel which is good corrosive resistant , it's qualified to used outdoor and keep good electric path .
Well and firmly penetrating aluminum frames & rails with teeth on anodization surface .
Pre-testing whole mounting system is well bonded and grounded is strongly recommended , so that we can keep good performance during energizing each solar
project .
Advantages :
– Protecting from lightning high voltage imposed ;
– Convenient & quick grounding method ;
– Good electric conductor for SUS304 in matirial ;
– Well expansion & contraction compatible for whole earthing system with PV modules grounding clips – 5E ;
– Gas tight pierce to aluminum racks ;
– Proximity dissimilar metals with other grounding components like lugs, module frames, clamps ;
Our solar earth clamps are designed for different kinds of solar grounding mounting system. We provide several kinds of solar panel earth clamps for your options. All of them are with high quality, high strength and cost effective. Hope that our products will meet your satisfaction.
Click here for more details: https://www.SolarPartsComponents.com
Brief Descriptions :
PV Modules Grounding Clips for solar panel earthing kits
Item type:
Solar Panel Grounding Parts
Technical Parameters :
Installation Site :
solar panel installation
Profile Material :
SUS 304 Stainless Steels
Color :
Zinc coating
Wind Load :
60 m / s
Snow Load :
1.4 KN/M2
Module Orientation :
Flat / Pitched
Standards :
AS/NZS 1170
DIN 1055
GB50009-2012
IBC2009
TUV
JIS C 8955 : 2011
International   Building Code IBC 2009
California   Building Code CBC 2010
Warranty
10 years
Designed Life Span
25 years
Packing Details :
Inner :
Bubble bag+inner box+Carton
Outer :
Wooden Box, Steel Pallet, MDF, etc
Drawing & Size for PV Modules Grounding Clips SPC-GW-05
Solar Panel Grounding Clips
PV Modules Grounding Clips Factory
This model PV mudules grounding clips SPC-GW-05 is applicalbe for most of the solar mounting rails.The dimension is
44mm(1.732″) x 34mm(1.339″).
SPC is specilized in manufacture PV modules grounding clip for more than 12 years experience. Our factory carry
dozens types of solar panel grounding clips to meet different requirement.High quality material, professional
service team, for more details welcome contact us anytime.
Drawing sizes for solar panel grounding plate 5E ?
solar panel grounding plate Size & drawing for model 5E
Solar panel grounding plates are essential components in PV array ground systems .
Our model 5E can establish an effective electrical conducting path for whole solar panel mounting structure .
PV module grounding plates can eliminate potential risk and danger in bad storm surge current .
Our clips are made of SUS304 stainless steel , anti-corrosive , 20 years up warranty . Good conductive status for grounding
components can help prevent insulation, prevent fire / shock hazard .
Eight sharp ribs keep tight contact between rails & PV modules .
By using our solar panel grounding plates 5E can make your Grounded Electrical System in solar installation a success !
Factory direct solar panel grounding plates 5E wholesale with size and drawing details .