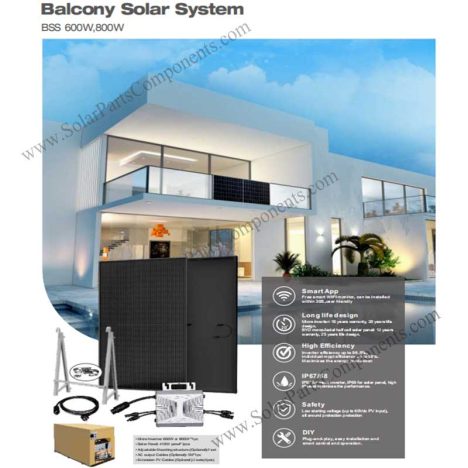 Complete Balcony solar system Kits
Product Type: Unframed Solar Racking

Product Model: SPC-SPCB

Material: ZAM275 & Steel/Aluminum/ Stainless Steel

Max Wind Load : 60 m/s

Max Snow Load : 3.6 KN / M 2

Solar Module Orientation: Landscape / Horizontal

Application:  Unframed / Bifacial / Frameless modules
Contact by Email
Product Description:
Balcony solar system Kits deliver relatively good yields even in winter. This is due to the low sun. We offers these complete packages. These include not only balcony solar systems with one or two solar power modules, but also systems with up to eight panels.
Plug-in solar systems are comparatively more cost-effective to purchase. A Balcony solar system Kits with a 410 watt solar module provides – depending on conditions and location – between 300 and 400 kilowatt hours of electricity per year and relieves a household of 90 to 120 euros annually. With two solar modules, twice as much solar power and savings on the electricity bill can be achieved. Experience from the thousands of systems already installed shows that mini-solar systems pay for themselves after about five years.
The Balcony solar system Kits is a product that is installed on balcony railings and allows for the easy construction of small home PV plants on balconies. Installation and removal are very simple and quick; the installation can be completed by 1-2 people. The system is bolted and fixed, so there is no need for welding or drilling during installation.
With a maximum tilt angle of 30°, the panels' tilt angle can be flexibly adjusted according to the installation site to achieve the best power generation efficiency. The panel's angle can be adjusted at any time thanks to the unique telescopic tube support leg design. Optimized structural design and material selection ensure the system's strength and stability in a variety of climatic environments.
The solar module converts daylight and sunlight into power. As light falls on the module, electricity is fed into the house network. The inverter feeds electricity into the household electricity network via the nearest power socket. Thus, the electrical base load's electricity costs are reduced, and a portion of the household electricity demand is saved.
600W or 800W Balcony solar system Kits made by;
Micro Inverter: 600W or 800W *1pc
Solar Panel: 410W panel"2pcs
Adjustable Mounting structure (Optional):1 set
AC output Cables (Optional): 5M*1pc
Extension PV Cables (Optional):2 sets(4pcs)
Balcony solar system Kits Advantages:
Smart App
Free smar WiF monitoc can be isalled
within 30S,user friendly
Long life design
Micro inverter: 10 yeas warranty. 20 years life
Deign.
EYD mano-facial half cell solar panel 12 years
Warranty.25 years life design.
High Efficiency
Inverter efficiency up to 96.5%.
individual m ppt efficiency up to 99%.
Maximizes the energy production
IP67/68
1P87 for micro inverter IP68 for solar panel, high
IP level optimizes the permanence.
Safety
Low staring voltage (up to 60Vdc PV input,
all around protection production
DIY
Plug-and-play. easy isolation and
smart control and operation.
Welcome to contact us anytime, our company website: www.solarpartscomponents.com
Datasheet
Description:
Balcony solar system Kits
NO.:
SPC-SPCB
Product Type:
Balcony solar system Kits
Installation location:
 Balcony
Installation angle:
5-30 degrees
Material :
ZAM275 & Steel/Aluminum/ Stainless Steel
Module:
Frame/frame less solar Module
Warranty:
10 Years
Lifetime:
20 Years
Orientation:
Landscape,Portrait
Wind speed:
60 M/s
Snow load:
3.6 KN / M2
Standard:
AS/NZS1170 & DIN 1055
[contact-form-7 id="4″]
Product Description:

Balcony solar system Kits deliver relatively good yields even in winter. This is due to the low sun. We offers these complete packages. These include not only balcony solar systems with one or two solar power modules, but also systems with up to eight panels.

Plug-in solar systems are comparatively more cost-effective to purchase. A Balcony solar system Kits with a 410 watt solar module provides – depending on conditions and location – between 300 and 400 kilowatt hours of electricity per year and relieves a household of 90 to 120 euros annually. With two solar modules, twice as much solar power and savings on the electricity bill can be achieved. Experience from the thousands of systems already installed shows that mini-solar systems pay for themselves after about five years.

The Balcony solar system Kits is a product that is installed on balcony railings and allows for the easy construction of small home PV plants on balconies. Installation and removal are very simple and quick; the installation can be completed by 1-2 people. The system is bolted and fixed, so there is no need for welding or drilling during installation.

With a maximum tilt angle of 30°, the panels' tilt angle can be flexibly adjusted according to the installation site to achieve the best power generation efficiency. The panel's angle can be adjusted at any time thanks to the unique telescopic tube support leg design. Optimized structural design and material selection ensure the system's strength and stability in a variety of climatic environments.

The solar module converts daylight and sunlight into power. As light falls on the module, electricity is fed into the house network. The inverter feeds electricity into the household electricity network via the nearest power socket. Thus, the electrical base load's electricity costs are reduced, and a portion of the household electricity demand is saved.

600W or 800W Balcony solar system Kits made by;

Micro Inverter: 600W or 800W *1pc

Solar Panel: 410W panel"2pcs

Adjustable Mounting structure (Optional):1 set

AC output Cables (Optional): 5M*1pc

Extension PV Cables (Optional):2 sets(4pcs)

Balcony solar system Kits Advantages:

Smart App

Free smar WiF monitoc can be isalled

within 30S,user friendly

Long life design

Micro inverter: 10 yeas warranty. 20 years life

Deign.

EYD mano-facial half cell solar panel 12 years

Warranty.25 years life design.

High Efficiency

Inverter efficiency up to 96.5%.

individual m ppt efficiency up to 99%.

Maximizes the energy production

IP67/68

1P87 for micro inverter IP68 for solar panel, high

IP level optimizes the permanence.

Safety

Low staring voltage (up to 60Vdc PV input,

all around protection production

DIY

Plug-and-play. easy isolation and

smart control and operation.

 

Welcome to contact us anytime, our company website: www.solarpartscomponents.com

Datasheet
Description:
Balcony solar system Kits
NO.:
SPC-SPCB
Product Type:
Balcony solar system Kits
Installation location:
 Balcony
Installation angle:
5-30 degrees
Material :
ZAM275 & Steel/Aluminum/ Stainless Steel
Module:
Frame/frame less solar Module
Warranty:
10 Years
Lifetime:
20 Years
Orientation:
Landscape,Portrait
Wind speed:
60 M/s
Snow load:
3.6 KN / M2
Standard:
AS/NZS1170 & DIN 1055

[contact-form-7 id="4″]