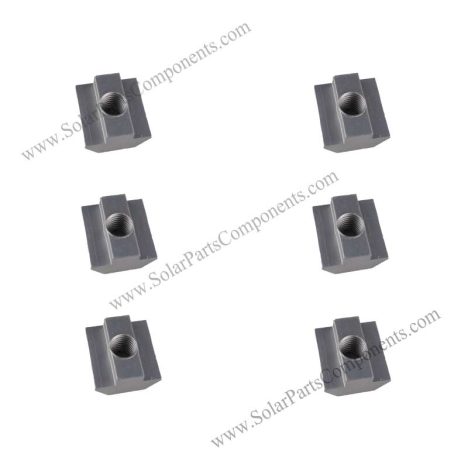 Solar Sliding Nut for 40 Series Aluminum Profile
Product Type: Solar rail nut

Product Model: T sliding nuts for 4040

Material: Aluminum alloy, rubber

Max Wind Load : 60 m/s

Max Snow Load : 1.4 KN / M 2

Solar Module Orientation: Landscape / Horizontal

Application: Soar mounting
Contact by Email
Product Description:
This T sliding nuts for 40 series, 4040 aluminum profile is design for 4040 series aluminum profile T slot extrusions or other similar to fix the components to profile structures. The sliding T nuts can be inserted from the end of the profile grooves or just sliding directly from any point of the T slot profile flexibly. It is very easy and fast for installation.
Solar Sliding Nut for 40 Series Aluminum Profile is fully threaded allow the bolt to extend beyond the bottom of the nut.The extra thickness offer for greater Screw to Thread contact a firmer fastening.It is made of anodized Aluminum, anti-corrosion and long life service.
As a fastening option for 4040 series profile, our T sliding nut for 40 Series Aluminum Profile are available from the size range from M4 to M10, the most used size is M8. SPC is solar rail nuts professional manufacturer, also accept customized. For more details about other rail nut, welcome contact us.
Features of this T sliding nuts for 40 series, 4040 aluminum profile:
Anodized aluminum;
Highly corrosion resistance;
Easy to be installed;
Can fully be customized;
Could be used together with T bolt,hex /socket screw;
Extra threads for strong connection
All the relative accessories of rail nuts 4040 like T bolts and hex bolts also available for our factory. Welcome inquiry from us any time to reach our good quality product with competitive price and professional service. For more information visit our website: www.SolarPartsComponents.com.
Brief Descriptions:
Solar Mounting Components –T Sliding Nut For 40 Series 4040
Item type:
Solar rail mounting accessory
Type:
Solar rail sliding nut
Installation Site:
Racking Modules Mounting
Profile Material:
Aluminum
Color:
Plain
PV Modules:
Framed/frameless
Module Orientation:
Landscape and Portrait
Standards:
AS/NZS 1170
DIN 1055
GB50009-2012
IBC2009
TUV
JIS C 8955: 2011
International   Building Code IBC 2009
California   Building Code CBC 2010
Warranty
10 years
Designed Lifespan
25 years
Packing Details:
Inner:
Bubble bag + inner box + Carton
Outer:
Wooden Box, Steel Pallet, MDF, etc
Product Description:

This T sliding nuts for 40 series, 4040 aluminum profile is design for 4040 series aluminum profile T slot extrusions or other similar to fix the components to profile structures. The sliding T nuts can be inserted from the end of the profile grooves or just sliding directly from any point of the T slot profile flexibly. It is very easy and fast for installation.

Solar Sliding Nut for 40 Series Aluminum Profile is fully threaded allow the bolt to extend beyond the bottom of the nut.The extra thickness offer for greater Screw to Thread contact a firmer fastening.It is made of anodized Aluminum, anti-corrosion and long life service.

As a fastening option for 4040 series profile, our T sliding nut for 40 Series Aluminum Profile are available from the size range from M4 to M10, the most used size is M8. SPC is solar rail nuts professional manufacturer, also accept customized. For more details about other rail nut, welcome contact us.

Features of this T sliding nuts for 40 series, 4040 aluminum profile:

Anodized aluminum;
Highly corrosion resistance;
Easy to be installed;
Can fully be customized;
Could be used together with T bolt,hex /socket screw;
Extra threads for strong connection

All the relative accessories of rail nuts 4040 like T bolts and hex bolts also available for our factory. Welcome inquiry from us any time to reach our good quality product with competitive price and professional service. For more information visit our website: www.SolarPartsComponents.com.

Brief Descriptions:
Solar Mounting Components –T Sliding Nut For 40 Series 4040
Item type:
Solar rail mounting accessory
Type:
Solar rail sliding nut
Installation Site:
Racking Modules Mounting
Profile Material:
Aluminum
Color:
Plain
PV Modules:
Framed/frameless
Module Orientation:
Landscape and Portrait
Standards:
AS/NZS 1170
DIN 1055
GB50009-2012
IBC2009
TUV
JIS C 8955: 2011
International   Building Code IBC 2009
California   Building Code CBC 2010
Warranty
10 years
Designed Lifespan
25 years
Packing Details:
Inner:
Bubble bag + inner box + Carton
Outer:
Wooden Box, Steel Pallet, MDF, etc