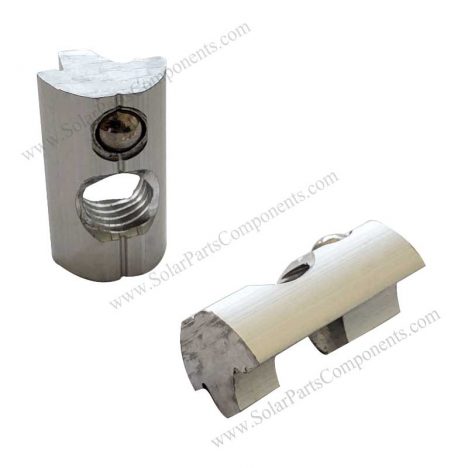 SOLAR SLIDING NUT M8 WITH SPRING BALL
Product Type: PV Mounting Nut

Product Model: SPC-M8-Slid-Nut

Material: Aluminium, Stainless Steel

Max Wind Load : 60 m/s

Max Snow Load : 1.4 KN / M 2

Solar Module Orientation: Landscape / Horizontal

Application:  Solar Rails
Contact by Email
Product Description:
Solar sliding nut M8 with ball is a fasten accessory for PV module installation sliding in aluminum alloy rail.
The roll-in ball with spring loaded can help these nuts stop in any position of rail grooves. This sliding slot nut with spring ball is designed for M8 PV aluminum groove profiles. What ever upper channel or side channel of the mounting rails.
The main body of this nut is made of good quality aluminum(EN AW-6061), the ball and spring inside is made of stainless steel, this M8 sliding nut can offer great stability and long life-span for photovoltaic racking system.
These balled M8 sliding nuts are used together with solar alluminum mount rail clamps.
Features of this sliding nuts M8 with ball for solar mounts:
(1) Corrosion resistance;
(2) Weight: 0.005 KGS;
(3) Individual connection for rails;
(4) Spring ball T Nut ALU 6005-T5 made;
(5) Tightening torque: 15Nm;
(6) Easy to push into rail profil with M8 screw thread sliding Block;
(7) Good hold with mechanics design of spring ball;
Besides M8 bolt size, M4 / M5 / M6 … T slot nuts are also available for these sliding nuts M8 with ball for solar mounts.
More than 10 years experience in the field of solar photovoltaic and pv panels mounting components and installation system.
Welcome to get more details of this Solar Energy Accessories – sliding nut M8 with ball for solar rails from our website:www.SolarPartsComponents.com.
Brief Descriptions:
Solar Mounting Components – sliding nuts M8 with ball
Item type:
PV mounting slip nut component
Type:
Sliding clamp for Rack Mount
Installation Site:
PV panel aluminum rails
Profile Material:
Aluminum Alloy
Color:
Anodized
PV Modules:
Framed / Frameless
Module Orientation:
Landscape and Portrait
Standards:
AS/NZS 1170
DIN 1055
GB50009-2012
IBC2009
TUV
JIS C 8955: 2011
International   Building Code IBC 2009
California   Building Code CBC 2010
Warranty
10 years
Designed Lifespan
25 years
Packing Details:
Inner:
Bubble bag + inner box + Carton
Outer:
Wooden Box, Steel Pallet, MDF, etc
Product Description:

Solar sliding nut M8 with ball is a fasten accessory for PV module installation sliding in aluminum alloy rail.

The roll-in ball with spring loaded can help these nuts stop in any position of rail grooves. This sliding slot nut with spring ball is designed for M8 PV aluminum groove profiles. What ever upper channel or side channel of the mounting rails.

The main body of this nut is made of good quality aluminum(EN AW-6061), the ball and spring inside is made of stainless steel, this M8 sliding nut can offer great stability and long life-span for photovoltaic racking system.

These balled M8 sliding nuts are used together with solar alluminum mount rail clamps.

Features of this sliding nuts M8 with ball for solar mounts:

(1) Corrosion resistance;
(2) Weight: 0.005 KGS;
(3) Individual connection for rails;
(4) Spring ball T Nut ALU 6005-T5 made;
(5) Tightening torque: 15Nm;
(6) Easy to push into rail profil with M8 screw thread sliding Block;
(7) Good hold with mechanics design of spring ball;

Besides M8 bolt size, M4 / M5 / M6 … T slot nuts are also available for these sliding nuts M8 with ball for solar mounts.

More than 10 years experience in the field of solar photovoltaic and pv panels mounting components and installation system.

Welcome to get more details of this Solar Energy Accessories – sliding nut M8 with ball for solar rails from our website:www.SolarPartsComponents.com.

Brief Descriptions:
Solar Mounting Components – sliding nuts M8 with ball
Item type:
PV mounting slip nut component
Type:
Sliding clamp for Rack Mount
Installation Site:
PV panel aluminum rails
Profile Material:
Aluminum Alloy
Color:
Anodized
PV Modules:
Framed / Frameless
Module Orientation:
Landscape and Portrait
Standards:
AS/NZS 1170
DIN 1055
GB50009-2012
IBC2009
TUV
JIS C 8955: 2011
International   Building Code IBC 2009
California   Building Code CBC 2010
Warranty
10 years
Designed Lifespan
25 years
Packing Details:
Inner:
Bubble bag + inner box + Carton
Outer:
Wooden Box, Steel Pallet, MDF, etc