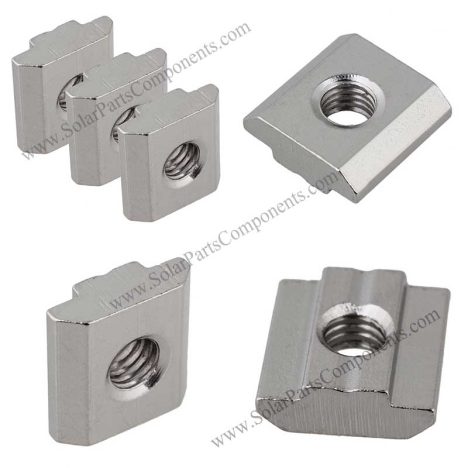 solar 4040 railing nuts
Product Type: solar mounting nuts

Product Model:T sliding nut

Material: Aluminium

Max Wind Load : 60 m/s

Max Snow Load : 1.4 KN / M 2

Solar Module Orientation: Landscape / Horizontal

Application:  solar mounting
Contact by Email
Product Description:
Different rail profiles need different shapes of sliding nuts,as a professional solar components factory, we carry various types of rail nuts to meet different demand.
The rail nuts are made of high quality anodized aluminum AL6005-T5 material,corrosion resistance and lasting performance. Also, they can be easily and fast installed in many types of rails.
This model solar 4040 railing nuts is special designed for 40×40 profile aluminum T-Slot extrusion. They can be suitable for the 40 x 40 fixing rail and other similar. The extra thickness allows for greater Screw to Thread contact a firmer fastening.
Features of this solar 4040 railing nuts:
Anodized aluminum;
Highly corrosion resistance;
Easy to be roll into T slot of aluminum profile;
Can fully be customized;
Could be used together with T bolt,hex /socket screw;
They are sold individually and are available with the following hole sizes:
Thread size:M3/M4/M5/M6/M8/M10
To meet 2020/3030/4040/4545 profile aluminum T-Slot extrusion.
Other size of this nuts: solar nuts for 3030 rail series,soalr rail nuts for 2020 series,4545 rail nuts for solar mounts for your option.
Our engineer can issue proper drawings to match section profile given by clients .
All our products are appreciated for their features like longer life, easy to use, sturdy designs, corrosion resistance, high strength, high functionality, and crack-free nature. For more information visit our website: www.SolarPartsComponents.com.
Brief Descriptions:
Solar Mounting Components –Solar Rail nuts
Item type:
Solar rail mounting accessory
Type:
Solar rail sliding nut
Installation Site:
Racking Modules Mounting
Profile Material:
Aluminum
Color:
Plain
PV Modules:
Framed/frameless
Module Orientation:
Landscape and Portrait
Standards:
AS/NZS 1170
DIN 1055
GB50009-2012
IBC2009
TUV
JIS C 8955: 2011
International   Building Code IBC 2009
California   Building Code CBC 2010
Warranty
10 years
Designed Lifespan
25 years
Packing Details:
Inner:
Bubble bag + inner box + Carton
Outer:
Wooden Box, Steel Pallet, MDF, etc
What is the Solar rail nuts?
Different rail require different shapes of rail nut, which play the same role as nuts in the installation of components.
The above Solar 4040 railing nuts are made of high quality anodized aluminum with high corrosion resistance.
The following is an inquiry about solar railing nuts.
Q:
I am looking to create an upstand/bracket solution for flat roofs that incorporates this fixing clamp between my design and solar panel. Whilst i can reverse engineer from the drawings available, i'd like to avoid any unnecessary mistakes, and wanted to know if cad was available for and of the fixing clamps shown on the page linked above.
If this is something you can assist me with that would be great.
A:
Thank you for your inquiry.
If just need the clamp, please share us the dimension of your solar panel and how many quantity for each of them you would need. So that we can check the right size of the clamp for you
Q:
I am just interested in the Mid and End Clamps, the rest of the mounting system we have CAD data for. We are looking at large solar panels of at least 2400 mm x 1200 mm x ~50 mm.
We would be looking at purchasing in bulk for these parts later on, as the project progresses, but we do not have an idea on numbers yet, or a fixed design.
Any CAD parts you can provide would greatly help, and incentivise it to go with you as a supplier.
A:
Please refer to our drawing size for Mid and End Clamp-50mm.
Hope it would be helpful for you.
Q:
Thank you for your reply, those drawings are great, have you got similar drawings for the base part as well? I'd like to be able to validate the whole assembly.
A:
Do you mean the Solar railing nuts, please check the drawing size of the rail nut as below:
Q:
This is the part I mean. But I was wondering if you had any more details so that I can better model it.
A:
Please refer to the attachment for the CAD & 3D for  this rail nut
Q:
That's great!
Can you customize nuts for solar mounting system?
Client:
Hi
I noticed your image of the solar sliding aluminum nut and your diagram are not show in your web.
It's similiar as your Solar 4040 Aluminum railing nuts but a little changes.
Please confirm with photos and dimensions (using ruler/vernier).
Our application is creating a similar sized slot in a custom extrusion for fixing Underseat Mobile Roller.
Refer to our customized nut dimension details:
-The width 19.5mm requested
-Width of the Stem (i.e 8.0mm)
-Height of the Head (i.e 7.5mm).
If we use a custom mould how long is lead time.
Can we customise the mould to be a slightly different shape to get a perfect fit.
Please quote for the attached drawing with finish Anodised 12um up, QTY x 2000,
posted to Melbourne, Australia.
(including a rough ETA)
Kind Regards,
Alex Kuhrt
Answer:
Dear Alex
Appreciated for inquiry about our rail nuts.
We carry several kinds of nuts and we could customized nuts for your own.
Base on drawing given.
(1) The molding cost ;
(2) The nut price for 2000 units;
(3) TNT freight cost ;
is sent by email for you.
The producing time is 3-4 weeks.
and thank you for place order for us,
– The nut details as below:
– QC size checking for these solar mounting nuts customized:
-Mass 2000 pieces nuts photo detail:
They are on the way to Australia.
Thank you order from us.
Solar railing nuts factory direct!
Client:
Hi SPC team
Thankyou.
Yes this customized solar nut works well in our profile.
Package was received and we have confirmed dimensions to be within tolerance.
Shame the postage was delayed but has been a pleasure working with you
and will let you know when we require our next order.
Kind Regards,
Alex Kuhrt
Product Description:

Different rail profiles need different shapes of sliding nuts,as a professional solar components factory, we carry various types of rail nuts to meet different demand.

The rail nuts are made of high quality anodized aluminum AL6005-T5 material,corrosion resistance and lasting performance. Also, they can be easily and fast installed in many types of rails.

This model solar 4040 railing nuts is special designed for 40×40 profile aluminum T-Slot extrusion. They can be suitable for the 40 x 40 fixing rail and other similar. The extra thickness allows for greater Screw to Thread contact a firmer fastening.

Features of this solar 4040 railing nuts:

Anodized aluminum;
Highly corrosion resistance;
Easy to be roll into T slot of aluminum profile;
Can fully be customized;
Could be used together with T bolt,hex /socket screw;

They are sold individually and are available with the following hole sizes:

Thread size:M3/M4/M5/M6/M8/M10

To meet 2020/3030/4040/4545 profile aluminum T-Slot extrusion.

Other size of this nuts: solar nuts for 3030 rail series,soalr rail nuts for 2020 series,4545 rail nuts for solar mounts for your option.

 

Our engineer can issue proper drawings to match section profile given by clients .

All our products are appreciated for their features like longer life, easy to use, sturdy designs, corrosion resistance, high strength, high functionality, and crack-free nature. For more information visit our website: www.SolarPartsComponents.com.

Brief Descriptions:
Solar Mounting Components –Solar Rail nuts
Item type:
Solar rail mounting accessory
Type:
Solar rail sliding nut
Installation Site:
Racking Modules Mounting
Profile Material:
Aluminum
Color:
Plain
PV Modules:
Framed/frameless
Module Orientation:
Landscape and Portrait
Standards:
AS/NZS 1170
DIN 1055
GB50009-2012
IBC2009
TUV
JIS C 8955: 2011
International   Building Code IBC 2009
California   Building Code CBC 2010
Warranty
10 years
Designed Lifespan
25 years
Packing Details:
Inner:
Bubble bag + inner box + Carton
Outer:
Wooden Box, Steel Pallet, MDF, etc

What is the Solar rail nuts?

Different rail require different shapes of rail nut, which play the same role as nuts in the installation of components.

The above Solar 4040 railing nuts are made of high quality anodized aluminum with high corrosion resistance.

The following is an inquiry about solar railing nuts.

Q:

I am looking to create an upstand/bracket solution for flat roofs that incorporates this fixing clamp between my design and solar panel. Whilst i can reverse engineer from the drawings available, i'd like to avoid any unnecessary mistakes, and wanted to know if cad was available for and of the fixing clamps shown on the page linked above.

If this is something you can assist me with that would be great.

A:

Thank you for your inquiry.

If just need the clamp, please share us the dimension of your solar panel and how many quantity for each of them you would need. So that we can check the right size of the clamp for you

Q:

I am just interested in the Mid and End Clamps, the rest of the mounting system we have CAD data for. We are looking at large solar panels of at least 2400 mm x 1200 mm x ~50 mm.

We would be looking at purchasing in bulk for these parts later on, as the project progresses, but we do not have an idea on numbers yet, or a fixed design.

Any CAD parts you can provide would greatly help, and incentivise it to go with you as a supplier.

A:

Please refer to our drawing size for Mid and End Clamp-50mm.

Hope it would be helpful for you.

Q:

Thank you for your reply, those drawings are great, have you got similar drawings for the base part as well? I'd like to be able to validate the whole assembly.

A:

Do you mean the Solar railing nuts, please check the drawing size of the rail nut as below:

Q:

This is the part I mean. But I was wondering if you had any more details so that I can better model it.

A:

Please refer to the attachment for the CAD & 3D for  this rail nut

Q:

That's great!

Can you customize nuts for solar mounting system?

Client:

Hi

I noticed your image of the solar sliding aluminum nut and your diagram are not show in your web.

It's similiar as your Solar 4040 Aluminum railing nuts but a little changes.

Please confirm with photos and dimensions (using ruler/vernier).

Our application is creating a similar sized slot in a custom extrusion for fixing Underseat Mobile Roller.

Refer to our customized nut dimension details:

-The width 19.5mm requested
-Width of the Stem (i.e 8.0mm)
-Height of the Head (i.e 7.5mm).

If we use a custom mould how long is lead time.

Can we customise the mould to be a slightly different shape to get a perfect fit.

Please quote for the attached drawing with finish Anodised 12um up, QTY x 2000,

posted to Melbourne, Australia.
(including a rough ETA)

Kind Regards,
Alex Kuhrt

Answer:

Dear Alex

Appreciated for inquiry about our rail nuts.

We carry several kinds of nuts and we could customized nuts for your own.

Base on drawing given.

(1) The molding cost ;

(2) The nut price for 2000 units;

(3) TNT freight cost ;

is sent by email for you.

The producing time is 3-4 weeks.

and thank you for place order for us,

– The nut details as below:

– QC size checking for these solar mounting nuts customized:

-Mass 2000 pieces nuts photo detail:

They are on the way to Australia.

Thank you order from us.

Solar railing nuts factory direct!

Client:

Hi SPC team

Thankyou.

Yes this customized solar nut works well in our profile.

Package was received and we have confirmed dimensions to be within tolerance.

Shame the postage was delayed but has been a pleasure working with you

and will let you know when we require our next order.

Kind Regards,
Alex Kuhrt