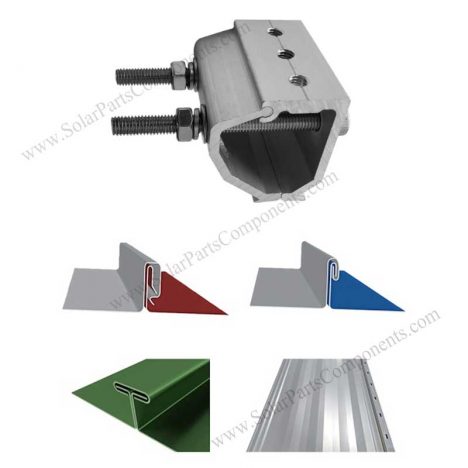 Standing Seam Roof Clamps
Product Type: Metal Roof Racking

Product Model: SPC-CK-27

Material: Aluminum Alloy

Max Wind Load : 60 m/s

Max Snow Load : 1.4 KN / M 2

Solar Module Orientation: Landscape / Horizontal

Application:  Metal Sheet Roofing
Contact by Email
Product Description:
As for metal roofing, clamps are necessary. They can be adjusted width & height according roof ridge profile even pv modules have been installed.
Standing seam roof clamp is one of universal clamps for metal roofing for many types of metal roofs.
Our penetration free design can guarantee whole solar mounting system water-proof without damage previous roof structure.
Standing seam metal roof clamp is designed specifically to secure PV modules without penetrating the roof surface. Comparing some of the clamps, our standing seam roof clamps don't need any screws to piercing the roofing to fasten.
Standing seam roof clamp is a cost-optimized PV installation system suitable for residential and commercial metal roof installation devices.
Features of standing seam roof clamps:
1. Enables simple, fast and cost-effective installation;
2. Al6005-T5, High standard anodized aluminum;
3. Minimal fasteners to save installation time;
4. Universal used on standing seam roofing system;
5. Allow installation at any point on the seam roofing.
SUS304 stainless steel bolts & nuts with good anti-rusty performance for fixing universal installation clamps.
Pre-assembled handful components with carton box packing, help saving labor cost and make whole project efficiently.
Besides the standing seam metal roof clamps, our SPC provides racking solution from round seam roof / profiled sheet metal roof… to the whole solar mounting system of ground, roof, and carport.
Choosing solar component or mounting system from SPC for a correct and professional decision.
Please contact us by our website: www.SolarPartsComponents.com.
Brief Descriptions:
Standing seam roof clamps for PV mounting system, SPC-CK-27
Item type:
Solar universal roofing clamps
Type:
Solar roof clamps
Installation Site:
Roofs except trapezoidal
Profile Material:
Aluminum, stainless steel
Color:
Silvery or customized
PV Modules:
Framed or frameless
Module Orientation:
Portrait and Landscape
Standards:
AS/NZS 1170
DIN 1055
GB50009-2012
IBC2009
TUV
JIS C 8955: 2011
International   Building Code IBC 2009
California   Building Code CBC 2010
Warranty
10 years
Designed Lifespan
25 years
Packing Details:
Inner:
Bubble bag +inner box +Carton
Outer:
Wooden Box, Steel Pallet, MDF, etc
Product Description:

As for metal roofing, clamps are necessary. They can be adjusted width & height according roof ridge profile even pv modules have been installed.

Standing seam roof clamp is one of universal clamps for metal roofing for many types of metal roofs.

Our penetration free design can guarantee whole solar mounting system water-proof without damage previous roof structure.

Standing seam metal roof clamp is designed specifically to secure PV modules without penetrating the roof surface. Comparing some of the clamps, our standing seam roof clamps don't need any screws to piercing the roofing to fasten.

Standing seam roof clamp is a cost-optimized PV installation system suitable for residential and commercial metal roof installation devices.

Features of standing seam roof clamps:

1. Enables simple, fast and cost-effective installation;
2. Al6005-T5, High standard anodized aluminum;
3. Minimal fasteners to save installation time;
4. Universal used on standing seam roofing system;
5. Allow installation at any point on the seam roofing.

SUS304 stainless steel bolts & nuts with good anti-rusty performance for fixing universal installation clamps.

Pre-assembled handful components with carton box packing, help saving labor cost and make whole project efficiently.

Besides the standing seam metal roof clamps, our SPC provides racking solution from round seam roof / profiled sheet metal roof… to the whole solar mounting system of ground, roof, and carport.

Choosing solar component or mounting system from SPC for a correct and professional decision.

Please contact us by our website: www.SolarPartsComponents.com.

Brief Descriptions:
Standing seam roof clamps for PV mounting system, SPC-CK-27
Item type:
Solar universal roofing clamps
Type:
Solar roof clamps
Installation Site:
Roofs except trapezoidal
Profile Material:
Aluminum, stainless steel
Color:
Silvery or customized
PV Modules:
Framed or frameless
Module Orientation:
Portrait and Landscape
Standards:
AS/NZS 1170
DIN 1055
GB50009-2012
IBC2009
TUV
JIS C 8955: 2011
International   Building Code IBC 2009
California   Building Code CBC 2010
Warranty
10 years
Designed Lifespan
25 years
Packing Details:
Inner:
Bubble bag +inner box +Carton
Outer:
Wooden Box, Steel Pallet, MDF, etc