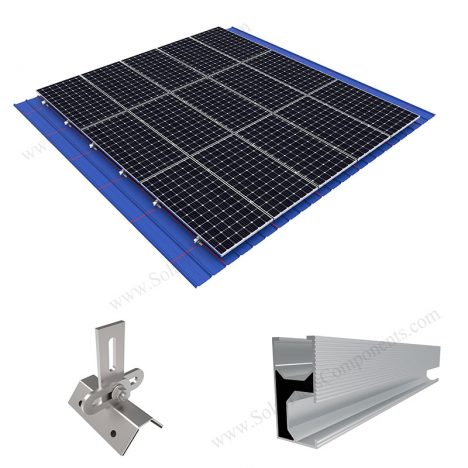 Solar Rooftop Mounting Systems
Product Type: Metal Roof Racking Systems

Product Model: SPC-RF-CK02A-HR

Material: Stainless steel,Aluminium

Max Wind Load : 60 m/s

Max Snow Load : 1.4 KN / M 2

Solar Module Orientation: Portait or Landscape

Application:  Roofing
Contact by Email
Product Description :
The universal metal roof mounting system is suitable for most trapezoidal metal roofs, easy to install and stable on the roof. The standard stainless steel self-tapping screws provide convenience for installation, and can be installed quickly without additional tools. The standard screws of our components are equipped with spring washers, which are highly waterproof and have a good waterproof effect to prevent screw corrosion.
The universal fixture provides a unique solution for installing solar panels on a trapezoidal metal roof. Due to its multifunctional design, it can be widely used in most trapezoidal metal roofs. The system is watertight, thanks to the pre-applied gasket tape and 4 fixing points with self-tapping sheet metal screws and sealing EPDM washers.
For the connection with the universal metal roof racking system, we provide you with the solution of this universal clamp according to the type of roof and the position of the module. The universal clamp can be pre-installed at the factory, making installation quick and easy.
Feature of universal metal roof racking system:
1. General trapezoidal metal roof solar installation system;
2. Widely used in trapezoidal metal roofs;
3. Wind speed and snow load complying with international standards;
4. Easy and quick installation, factory pre-assembled;
5. Made of high-quality corrosion-resistant stainless steel;
Our metal roof bracket system has a variety of tin roof brackets, which can meet the needs of trapezoidal/corrugated metal roofs and vertical joint roofs. Universal metal rooftop mounts and corrugated metal roofs usually need to be directly connected to the roof structure, so waterproofing is particularly important, and we have solved the waterproofing problem well.
Our company has an excellent engineering team and quality management system to provide perfect services. If you need other installation systems or accessories, please feel free to contact us: www.solarpartscomponents.com.
Brief Descriptions:
Universal Metal Roof Mounting System, SPC-RF-CK02A-HR
Item type:
PV Panel Mounts On Metal Rooftop
Type:
SPC-RF-CK02A-HR
Installation Site:
Tile Roofing 0 °~ 60°
Profile Material:
SUS304 Stainless Steel, Aluminum Rail
Fasten Parts:
Stainless Steel / Aluminum T Sliding Nut
Color:
Sand blasting
Wind Load:
60 m / s
Snow Load:
1.4 KN / M2
PV Modules:
Framed, Frameless
Module Orientation:
Portrait and Landscape
Standards:
AS/NZS 1170
DIN 1055
GB50009-2012
IBC2009
TUV
JIS C 8955: 2011
International   Building Code IBC 2009
California   Building Code CBC 2010
Warranty
10 years
Designed Lifespan
25 years
Packing Details:
Inner:
Bubble bag+inner box+Carton
Outer:
Wooden Box, Steel Pallet, MDF, etc
Metal Roof Mounting System Installation, SPC-RF-CK02A-HR
Parts and components for SPC-RF-CK02A-DR racking system
following are what universal metal roof mounting system consist of :
Model: SPC-RF-CK02A-HR
(1) solar-universal-metal-roof-mounting-system-SPC-RF-CK02A-HR-1, Raking Rails;
(2) solar-universal-metal-roof-mounting-system, Panel Mounting Bracket (SPC-IK-S08A);
(3) Mid Clamps for Solar panel installation;
(4) End Clamps for Solar panel installation;
(5) Self-tapping screws;
(6) Rubber pads – EPDM;
Solar multifunctional roof clamp side mounting system -SPC-RF-CK02A-DR
Need Universal Trapezoidal Metal Roof Brackets
"
Hi,
I have a steal shed with a trapezoid Steal ridges in the roof. I need to install 4 panels and your brackets look good but I need some pricing on the brackets and the rails. Please let me know if you can help.
I am interested in the cost of the Universal Trapezoidal Metal Roof Brackets (I need 8 of them)
I'm also interested in the Trapezoid Solar Metal Roof Mounting System I have 4 Panels and would need 2 of the Rails that are 16' long and the appropriate amount of brackets to mount them.
Thanks /Dan
"
"
Dear Dan
Nice to get your inquiry to mounting on your metal roofs.
The mounting bracket price has replied through email.
Can I know delivery address ? I will come back to you with express cost in the next email.
Tks,
SPC sales team
"