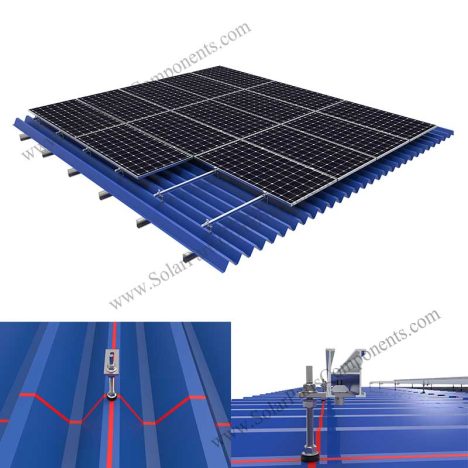 metal roof solar mounting systems with hanger bolts
Product Type:PV Metal Roof Installation

Product Model:SPC-RF-FB-H020

Material: Stainless Steel,Aluminum alloy

Max Wind Load : 60 m/s

Max Snow Load : 1.4 KN / M 2

Solar Module Orientation: Landscape / Horizontal

Application:  Unframed / Bifacial / Frameless modules
Contact by Email
Product Description:
Metal roof solar mounts with hanger bolts is a turn-key solution for solar metal roof mounting system. It suitable for most of the metal tin roof.This model SPC-RF-FB-H020 is designed for steel purlin or steel structure beam.
Use our hanger bolt SPC-FB-H020, the metal roof solar mounting systems with hanger bolts provide more simple and easy to install solar panel on metal trapezoidal roof.The hanger bolt is made of high quality stainless steel 304 material,highly anti-rust and durable.
Each of the hanger bolt math with four flange nuts and a EPDM gasket which can prevent the water leakage cause by drilling.
Trapezoidal metal roof solar mounts with hanger bolts is easy to be installed.The hanger bolt is fixed to the steel purlin through the metal roofing.And the hanger bolt connect the aluminum rails with the connecting plate and fastened by bolt and nut.
Features of this Metal roof solar mounts with hanger bolts:
Cost effective and quick installation;
SUS304 and aluminum material,strong and durable;
MAX Wind load can up to 80m/s and Snow load 1.4 KN/㎡;
EPDM rubber can be effective waterproofing.
Metal roof solar mounts with hanger bolts professional manufacture factory, we provide good quality hanger bolts solar metal roof mounting system for both wood rafter and steel purlin. They are effective and all-round solution for solar modules metal roof installation.We adopt state-of-the-art production and testing equipment, which has exquisite workmanship, reliable quality, standardized service, as well as complete varieties.  We will recommend the most suitable products for customers through efficient team collaboration.For more details welcome contact us from: www.solarpartscomponents.com/
Brief Descriptions:
Solar Mounting system –Metal roof solar mounts with hanger bolts
Item type:
PV Metal Roof Installation
Type:
SPC-RF-FB-H020
Installation Site:
Metal Roof
Profile Material:
SUS304
Fasten Parts:
Stainless Steel
Color:
Plain
PV Modules:
Framed or frameless
Module Orientation:
Landscape and Portrait
Snow Load:
60m/s
Wind Load:
1.4KN/M2
Standards:
AS/NZS 1170
DIN 1055
GB50009-2012
IBC2009
TUV
JIS C 8955: 2011
International   Building Code IBC 2009
California   Building Code CBC 2010
Warranty
10 years
Designed Lifespan
25 years
Packing Details:
Inner:
Bubble bag + inner box + Carton
Outer:
Wooden Box, Steel Pallet, MDF, etc
Product Description:

Metal roof solar mounts with hanger bolts is a turn-key solution for solar metal roof mounting system. It suitable for most of the metal tin roof.This model SPC-RF-FB-H020 is designed for steel purlin or steel structure beam.

Use our hanger bolt SPC-FB-H020, the metal roof solar mounting systems with hanger bolts provide more simple and easy to install solar panel on metal trapezoidal roof.The hanger bolt is made of high quality stainless steel 304 material,highly anti-rust and durable.

Each of the hanger bolt math with four flange nuts and a EPDM gasket which can prevent the water leakage cause by drilling.

Trapezoidal metal roof solar mounts with hanger bolts is easy to be installed.The hanger bolt is fixed to the steel purlin through the metal roofing.And the hanger bolt connect the aluminum rails with the connecting plate and fastened by bolt and nut.

Features of this Metal roof solar mounts with hanger bolts:

 

Cost effective and quick installation;

SUS304 and aluminum material,strong and durable;

MAX Wind load can up to 80m/s and Snow load 1.4 KN/㎡;

EPDM rubber can be effective waterproofing.

Metal roof solar mounts with hanger bolts professional manufacture factory, we provide good quality hanger bolts solar metal roof mounting system for both wood rafter and steel purlin. They are effective and all-round solution for solar modules metal roof installation.We adopt state-of-the-art production and testing equipment, which has exquisite workmanship, reliable quality, standardized service, as well as complete varieties.  We will recommend the most suitable products for customers through efficient team collaboration.For more details welcome contact us from: www.solarpartscomponents.com/

Brief Descriptions:
Solar Mounting system –Metal roof solar mounts with hanger bolts
Item type:
PV Metal Roof Installation
Type:
SPC-RF-FB-H020
Installation Site:
Metal Roof
Profile Material:
SUS304
Fasten Parts:
Stainless Steel
Color:
Plain
PV Modules:
Framed or frameless
Module Orientation:
Landscape and Portrait
Snow Load:
60m/s
Wind Load:
1.4KN/M2
Standards:
AS/NZS 1170
DIN 1055
GB50009-2012
IBC2009
TUV
JIS C 8955: 2011
International   Building Code IBC 2009
California   Building Code CBC 2010
Warranty
10 years
Designed Lifespan
25 years
Packing Details:
Inner:
Bubble bag + inner box + Carton
Outer:
Wooden Box, Steel Pallet, MDF, etc