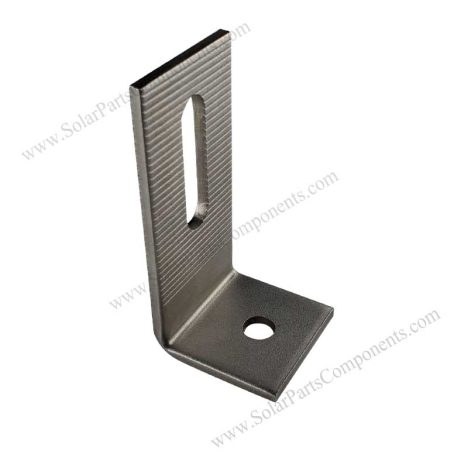 Solar Stainless Steel L Foot Bracket for panel installation
Product Type: Roof Mounting Racking

Product Model: SPC-CK-11

Material: Stainless steel

Max Wind Load : 60 m/s

Max Snow Load : 1.4 KN / M 2

Solar Module Orientation: Landscape / Horizontal

Application: Metal Roofing
Contact by Email
Product Description:
Solar stainless steel L foot bracket are simple in structure for metal roofing, sturdy, durable. There is no pressure to install solar module on the metal roof due to the lightweight components. The L foot is made of good quality material of stainless steel, which has a superiority of corrosion resistance compared to other L feet with the material of aluminum.Solar stainless steel L foot is one kind of universal solar mounting components for metal roofing and is frequently-used with a simple and easier method to be installed. There is one hole on the bottom and another one on the arm of the component. The hole on the bottom is used to insert the wood screws to fasten on the metal roof. And the another one, which is oval on the arm is equipped with bolts and nuts permitted a fine adjustment to tighten the rails to construct the whole solar mounting system perfectly. The installers will drill holes in the roof so that they can install brackets for solar panels. If solar stainless steel L foot bracket
is installed improperly, the system will cause leakage or other roof problems. To enhance the performance of waterproof, it is better to add the rubber gasket. Therefor, the whole system can be protected from damage. The advantage of easy installation, durability and anti corrosion are the choice for L foot for your metal roofing.
Features of stainless steel L foot bracket for solar:
Good anti-rust and anti-corrosion due to the material of stainless steel;
With a simpleand fast installationmethod;
Wood screwsor other componentsfor L feet for quick mounting;
High quality and long lifespan;
Widely application for metal roof system of commercial and industrial;
Have a good performance for waterproof.
Our SPC offer solar products vary from kits,components to the mounting structure. All of the products are with material of good quality. We provide for 10 years guarantee for them. Welcome to buy you need and you want from our company with factory price.
Contact with us and we will reply to you immediately.
Brief Descriptions:
Solar mounting component – Solar Stainless Steel L Foot Bracket
Item type:
Solar metal roofing mounting
Type:
SPC-CK-11
Installation Site:
Metal roofing system
Profile Material:
Stainless steel
Fasten Parts:
Stainless Steel,Aluminum
Color:
Natural
Wind Load:
60 m / s
Snow Load:
1.4 KN / M2
PV Modules:
Framed, Frameless
Module Orientation:
Landscape / Portrait
Standards:
AS/NZS 1170
DIN 1055
GB50009-2012
IBC2009
TUV
JIS C 8955: 2011
International   Building Code IBC 2009
California   Building Code CBC 2010
Warranty
10 years
Designed Lifespan
25 years
Packing Details:
Inner:
Bubble bag+inner box+Carton
Outer:
Wooden Box, Steel Pallet, MDF, etc
Product Description:

Solar stainless steel L foot bracket are simple in structure for metal roofing, sturdy, durable. There is no pressure to install solar module on the metal roof due to the lightweight components. The L foot is made of good quality material of stainless steel, which has a superiority of corrosion resistance compared to other L feet with the material of aluminum.Solar stainless steel L foot is one kind of universal solar mounting components for metal roofing and is frequently-used with a simple and easier method to be installed. There is one hole on the bottom and another one on the arm of the component. The hole on the bottom is used to insert the wood screws to fasten on the metal roof. And the another one, which is oval on the arm is equipped with bolts and nuts permitted a fine adjustment to tighten the rails to construct the whole solar mounting system perfectly. The installers will drill holes in the roof so that they can install brackets for solar panels. If solar stainless steel L foot bracket

is installed improperly, the system will cause leakage or other roof problems. To enhance the performance of waterproof, it is better to add the rubber gasket. Therefor, the whole system can be protected from damage. The advantage of easy installation, durability and anti corrosion are the choice for L foot for your metal roofing.

Features of stainless steel L foot bracket for solar:

Good anti-rust and anti-corrosion due to the material of stainless steel;
With a simpleand fast installationmethod;
Wood screwsor other componentsfor L feet for quick mounting;
High quality and long lifespan;
Widely application for metal roof system of commercial and industrial;
Have a good performance for waterproof.

Our SPC offer solar products vary from kits,components to the mounting structure. All of the products are with material of good quality. We provide for 10 years guarantee for them. Welcome to buy you need and you want from our company with factory price.

Contact with us and we will reply to you immediately.

Brief Descriptions:
Solar mounting component – Solar Stainless Steel L Foot Bracket
Item type:
Solar metal roofing mounting
Type:
SPC-CK-11
Installation Site:
Metal roofing system
Profile Material:
Stainless steel
Fasten Parts:
Stainless Steel,Aluminum
Color:
Natural
Wind Load:
60 m / s
Snow Load:
1.4 KN / M2
PV Modules:
Framed, Frameless
Module Orientation:
Landscape / Portrait
Standards:
AS/NZS 1170
DIN 1055
GB50009-2012
IBC2009
TUV
JIS C 8955: 2011
International   Building Code IBC 2009
California   Building Code CBC 2010
Warranty
10 years
Designed Lifespan
25 years
Packing Details:
Inner:
Bubble bag+inner box+Carton
Outer:
Wooden Box, Steel Pallet, MDF, etc