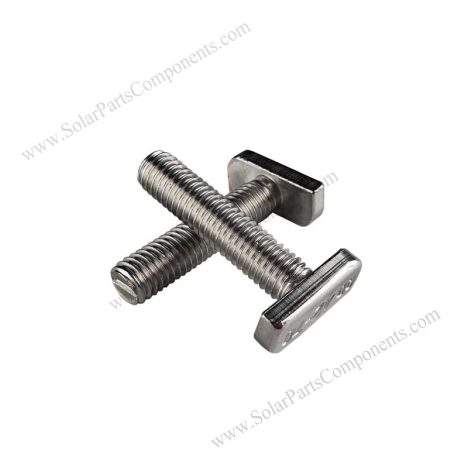 solar T bolts, good anti-corrosion
Product Type: Solar mounting component

Product Model: SPC-FT23-835

Material: Stainless Steel

Max Wind Load : 60 m/s

Max Snow Load : 1.4 KN / M 2

Solar Module Orientation: Landscape / Horizontal

Application:  Solar panel installation
Contact by Email
Product Description:
Product Description:
Our solar T bolts are used to connect some uniquely designed aluminum solar brackets and solar panels. The components have been pre-assembled and optimized to reduce installation steps and save labor cost and time. Solar T bolts are used with middle or end clamps, and usually used to fix the middle or end clamps of solar photovoltaic panels to the solar photovoltaic mounting rail. The operation is simple. When fixing the middle or end clamps, make sure that the mark parallel to the bottom is parallel to the edge of the solar module. And we should use flange nuts to fasten. The flange nuts are made of stainless steel for connecting the solar roof brackets to rails for security. Solar T bolts and flange nuts can be used for a long time and have a good corrosion resistance because of the material of stainless steel.The head's specification of the component is length (23mm)*width (10mm)*height (4mm).
Features of solar T bolts:
High quality material (SUS304) with good rust-resistance;
Our T-Bolt and nut can be preassembled;
Fasten the solar panel and make racking structure stronger;
Flexibility and convenient for installation;
25 Years up in life;
Various T bolts for optimize;
Factory produced directly and competitive price;
SPC not only provides you with many kinds of T bolts but also other useful solar components and mounting systems in a high quality, high strength and high cost effective.
If you have any questions or suggestions, please leave us a message, we will reply you as soon as possible.
Click here for more information:
www.SolarPartsComponents.com
Brief Descriptions:

Solar Mounting Components-Solar T Bolts
Item type:
Solar Panel T Bolts
Type:
SPC-FT23-835
Installation Site:
Aluminum Rails
Profile Material:
SUS304 stainless steel

Fasten Parts:
Stainless Steel
Color:
Natural
Wind Load:
60 m / s
Snow Load:
1.4 KN / M2
PV Modules:
Framed, Frameless
Module Orientation:
Landscape / Portrait
Standards:
AS/NZS 1170
DIN 1055
GB50009-2012
IBC2009
TUV
JIS C 8955: 2011
International   Building Code IBC 2009
California   Building Code CBC 2010
Warranty
10 years
Designed Lifespan
25 years
Packing Details:
Inner:
Bubble bag+inner box+Carton
Outer:
Wooden Box, Steel Pallet, MDF, etc
Do you M8 nuts for solar t bolts?
Q:
Do you have the same type of M8 t-nut as for this M8 t-bolt?
So that would be the same shape head (bevelled rectangular), but has an M8 tapped thread hole instead of the 35mm bolt?
These nuts for T-bolt needs to be more than 23mm wide in order to turn and lock into the rail securely.
regards
Cameron
A:
Dear Cameron
May you and your whole family be safe & happy everyday.
Great to let you know that we have this kind of nuts can slid in your rail groove.
The internal dimensions of the groove are 23mm wide, 6 mm deep and 10mm opening hole.
They can use with our 35mm solar T bolts and match your aluminum rails well.
Please refer to our M8 nut size photo detail below:
Please advise.
Thank you !
Solar Mounting Parts & Components Factory
Product Description:

Product Description:

Our solar T bolts are used to connect some uniquely designed aluminum solar brackets and solar panels. The components have been pre-assembled and optimized to reduce installation steps and save labor cost and time. Solar T bolts are used with middle or end clamps, and usually used to fix the middle or end clamps of solar photovoltaic panels to the solar photovoltaic mounting rail. The operation is simple. When fixing the middle or end clamps, make sure that the mark parallel to the bottom is parallel to the edge of the solar module. And we should use flange nuts to fasten. The flange nuts are made of stainless steel for connecting the solar roof brackets to rails for security. Solar T bolts and flange nuts can be used for a long time and have a good corrosion resistance because of the material of stainless steel.The head's specification of the component is length (23mm)*width (10mm)*height (4mm).

Features of solar T bolts:

High quality material (SUS304) with good rust-resistance;
Our T-Bolt and nut can be preassembled;
Fasten the solar panel and make racking structure stronger;
Flexibility and convenient for installation;
25 Years up in life;
Various T bolts for optimize;
Factory produced directly and competitive price;

SPC not only provides you with many kinds of T bolts but also other useful solar components and mounting systems in a high quality, high strength and high cost effective.

If you have any questions or suggestions, please leave us a message, we will reply you as soon as possible.

Click here for more information:

www.SolarPartsComponents.com

Brief Descriptions:

Solar Mounting Components-Solar T Bolts
Item type:
Solar Panel T Bolts
Type:
SPC-FT23-835
Installation Site:
Aluminum Rails
Profile Material:
SUS304 stainless steel

Fasten Parts:
Stainless Steel
Color:
Natural
Wind Load:
60 m / s
Snow Load:
1.4 KN / M2
PV Modules:
Framed, Frameless
Module Orientation:
Landscape / Portrait
Standards:
AS/NZS 1170
DIN 1055
GB50009-2012
IBC2009
TUV
JIS C 8955: 2011
International   Building Code IBC 2009
California   Building Code CBC 2010
Warranty
10 years
Designed Lifespan
25 years
Packing Details:
Inner:
Bubble bag+inner box+Carton
Outer:
Wooden Box, Steel Pallet, MDF, etc

Do you M8 nuts for solar t bolts?

Q:

Do you have the same type of M8 t-nut as for this M8 t-bolt?

So that would be the same shape head (bevelled rectangular), but has an M8 tapped thread hole instead of the 35mm bolt?

These nuts for T-bolt needs to be more than 23mm wide in order to turn and lock into the rail securely.

regards
Cameron

A:

Dear Cameron

May you and your whole family be safe & happy everyday.

Great to let you know that we have this kind of nuts can slid in your rail groove.

The internal dimensions of the groove are 23mm wide, 6 mm deep and 10mm opening hole.

They can use with our 35mm solar T bolts and match your aluminum rails well.

Please refer to our M8 nut size photo detail below:

Please advise.

Thank you !

Solar Mounting Parts & Components Factory