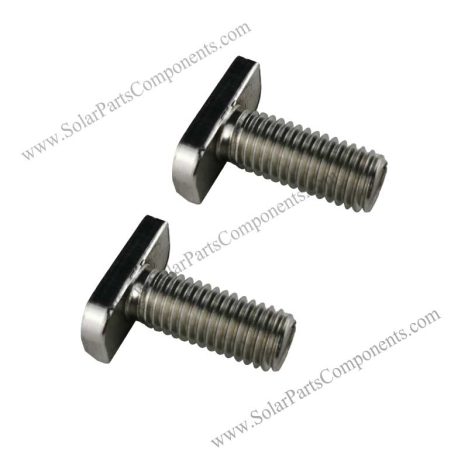 M10 T Bolts for solar
Product Type:Solar Mounting Components

Product Model:Solar M10 T Bolts

Material: A2-70

Max Wind Load : 60 m/s

Max Snow Load : 1.4 KN / M 2

Solar Module Orientation: Landscape / Horizontal

Application: Solar panels mounting
Contact by Email
Product Description:
Most integral fasten part M10 T Bolts for Solar Mounts is designed for holding PV rail and bracket assemblies in place permanently,there are different length to meet various fixing requirement.
This M10 T Bolts for solar is made of high quality stainless steel A2-70,anti-rust and reusable. The T bolt can be used with mid and end clamps to the rails and fix the solar panel,also can be used with metal roof clamp, L feet to connect the aluminum profile. It can be placed and slide to any where into the slot of the rail, makes the solar mounting more easy and fast.
M10 T Bolt for solar panel can work with both common nut and flange nut to conjunction with other parts of the universal mounting components, offered to create an effortless and quick assembly for PV modules mounting.
Features of this M10 T Bolts for Solar Mounts:
Stainless steel, high durability;
Highly corrosion resistance;
Effortless and quick assembly ;
Sturdy construction and long service life;
Both Metric and British standard thread are available;
Various bolt length.
Solar T bolt wholesale factory with more than 10 years experience.All the bolts and screws are made of high quality materials.All our products are appreciated for their features like longer life, easy to use, sturdy designs, corrosion resistance, high strength, high functionality, and crack-free nature. For more information visit our website: www.SolarPartsComponents.com.
Brief Descriptions:
Solar Mounting Components –M10 T bolts for solar mounts
Item type:
Solar rail mounting accessory
Type:
Solar M10 T bolts
Installation Site:
PV Modules Mounting
Profile Material:
Stainless steel
Color:
Plain
PV Modules:
Framed/frameless
Module Orientation:
Landscape and Portrait
Standards:
AS/NZS 1170
DIN 1055
GB50009-2012
IBC2009
TUV
JIS C 8955: 2011
International   Building Code IBC 2009
California   Building Code CBC 2010
Warranty
10 years
Designed Lifespan
25 years
Packing Details:
Inner:
Bubble bag + inner box + Carton
Outer:
Wooden Box, Steel Pallet, MDF, etc
M10 T Bolts for Solar Mounts 3/8"-16 x 1"
Q:
Hi, I am interested in some M10 T Bolts for Solar Mounts you have on your website. I see you have 8mm bolts on your site, but I was wondering if you could get them in 3/8″-16 x 1″?Thank You,
Chad Zachmeier
A:
Dear Chad Zachmeier
Thank you for your inquiry for our M10 T Bolts for Solar Mounts 3/8″-16 x 1″.
May I know how many quantity would you need?
Please refer to our drawing for our M10 T Bolts
Let me know if it is workable for you.
Q:
It looks good to me. Please quote best price for 100,000 for this M10 T bolts.
A:
Please check our quotation for 100,000 T bolt as file attached.
Thank you.
T Bolts for Solar Mounts Factory
Product Description:

Most integral fasten part M10 T Bolts for Solar Mounts is designed for holding PV rail and bracket assemblies in place permanently,there are different length to meet various fixing requirement.

This M10 T Bolts for solar is made of high quality stainless steel A2-70,anti-rust and reusable. The T bolt can be used with mid and end clamps to the rails and fix the solar panel,also can be used with metal roof clamp, L feet to connect the aluminum profile. It can be placed and slide to any where into the slot of the rail, makes the solar mounting more easy and fast.

M10 T Bolt for solar panel can work with both common nut and flange nut to conjunction with other parts of the universal mounting components, offered to create an effortless and quick assembly for PV modules mounting.

 

 

Features of this M10 T Bolts for Solar Mounts:

Stainless steel, high durability;
Highly corrosion resistance;
Effortless and quick assembly ;
Sturdy construction and long service life;
Both Metric and British standard thread are available;
Various bolt length.

Solar T bolt wholesale factory with more than 10 years experience.All the bolts and screws are made of high quality materials.All our products are appreciated for their features like longer life, easy to use, sturdy designs, corrosion resistance, high strength, high functionality, and crack-free nature. For more information visit our website: www.SolarPartsComponents.com.

Brief Descriptions:
Solar Mounting Components –M10 T bolts for solar mounts
Item type:
Solar rail mounting accessory
Type:
Solar M10 T bolts
Installation Site:
PV Modules Mounting
Profile Material:
Stainless steel
Color:
Plain
PV Modules:
Framed/frameless
Module Orientation:
Landscape and Portrait
Standards:
AS/NZS 1170
DIN 1055
GB50009-2012
IBC2009
TUV
JIS C 8955: 2011
International   Building Code IBC 2009
California   Building Code CBC 2010
Warranty
10 years
Designed Lifespan
25 years
Packing Details:
Inner:
Bubble bag + inner box + Carton
Outer:
Wooden Box, Steel Pallet, MDF, etc

M10 T Bolts for Solar Mounts 3/8"-16 x 1"

Q:

Hi, I am interested in some M10 T Bolts for Solar Mounts you have on your website. I see you have 8mm bolts on your site, but I was wondering if you could get them in 3/8″-16 x 1″?Thank You,

Chad Zachmeier

A:

Dear Chad Zachmeier

Thank you for your inquiry for our M10 T Bolts for Solar Mounts 3/8″-16 x 1″.

May I know how many quantity would you need?

Please refer to our drawing for our M10 T Bolts

Let me know if it is workable for you.

Q:

It looks good to me. Please quote best price for 100,000 for this M10 T bolts.

A:

Please check our quotation for 100,000 T bolt as file attached.

Thank you.

T Bolts for Solar Mounts Factory