8 KW off-grid solar power system with Battery is very suitable for residential area .
Off grid means there is no access to utility grid, self-sufficient energy system, un-interrupted power supply .
PV SYSTEM DESIGN CRITERIA
– 8kW Standalone system, shipped to Majuro, Marshall Islands;
– All PV system components purchased must be under 10 year warranty and include the following:
(1)Panels:
peak capacity with international certification, rated at 600V when combined along a string and with allowable +/- 3% peak power calibration.
Must be installed on two different roof pitches to help spread the energy delivery over the day and year.
Must be installed on a roof with a 10 to 25 degree slope, so panels are not installed at less than a 10 degree angle.
Should include internal by-pass diodes in each panel with the number depending on the size of the module proposed.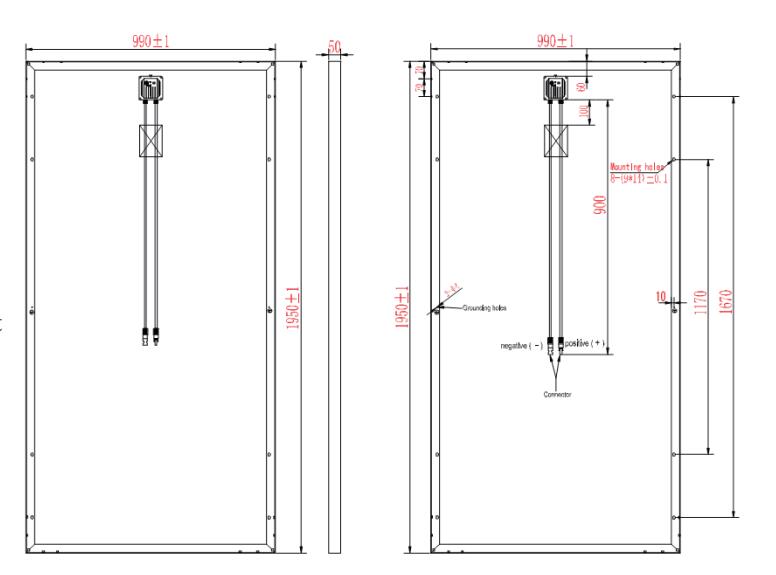 Model No.: MUL-6M-320P-72
• Performance
polysilicon
costs and maximizing the KWH output of your system per unit area
Tight positive power tolerance of 0W to +5W ensures you receive modules at or above nameplate power and contributes to minimizing module mismatch losses leading to improved system yield
Top ranking in the TUV rheinland energy yield test and the PHOTON test demonstrates high performance and annual energy production
• Reliability
Tests by independent laboratories prove that Solar modules:
Successfully endure ammonia and slat-mist exposure at the highest severity level.ensuring their performance in adverse conditions Junction box and bypass diodes guarantee the modules free of overheating and Hot spot effect
ISO14001:2004 and BS OHSAS 18001:2007
• The Features of the solar cell Homogeneours acid or caustic soda Enhanced blu-ray spectral response
The Highest standards of the positive silver electrode Silver aluminum negative electrode
• Warranties
10-Year limited product warranty
Limited power warranty:10 years at 91.5% of the minimal rated power output 25 years at 81% of the minimal rated power output
In compliance with our warranty terms and conditions
Electrical Parameter of at stand test condtions(STC)
Module type
MUL-6M-320P-72
Power output(W)
320W
Power output tolerances(w)
0/5
15.30
Voltage at Pmax V
36.04V
Current at Pmax A
8.38A
Open-Circuit Voltage(V)
45.08V
Short-Circuit current(A)
8.68A
STC:1000W/m² irradiance.25℃ 200W/ m² according to EN60904-1
Thermal Characteristics
Nominal operating cell temperature
45+-2℃
-0.45
-0.33
0.06
-0.45
Operating Conditions
Max.system voltage
1000V DC
Max series fuse rating
15A
Limiting reverse current
15A
Operating temperature range
-40℃ to 85℃
Max static load.front(e.g snow and wind)
5400pa
Max.static load.back(e.g wind)
2400pa
Max.hailstone impact(diameter/velocity)
25mm/23m/s)
Construction Materials
Front cover(material/thickness)
Low-iron tempered glass/4.0mm
Cell(quantity/material/dimensions/number of busbars
72/polycrystalline silicon/156mm×156mm/2 or 3
Encapsulant(material)
Ethylene vinyl acetate(EVA)
Frame(material/color/anodizatin color/edge sealing
Anodizedaluminum alloy/silver/clear/silicone or tape
Junction box(protection degree)
≥ IP65
Cable(Length/cross-sectional area)
1200mm /4 mm²
Plug connector(type/protection degree)
MC4/IP67
Package size
1965×1100×1000mm
30 pcs/carton 1 cartons/pallet
Packing Weight
560KG
The data do not refer to single module of contract and they are not part of the offer.they only serve for comparison to different module type
(2)Batteries:
Gel type preferred, Sealed type acceptable. System DC voltage to be 48V
(3) Inverter:
model and make with proven experience and use in the Marshall Islands.
Must be capable of inverting from panel generated DC to sync with the Majuro utility grid (i.e. frequency = 60Hz, voltage = 120V/220V USA style electricity);
Must include at least two MPPT inputs (one for each slope installed). A single inverter with two MPPT inputs is preferred but two separate inverters are acceptable.
Must be rated at least 80% of the rated wattage of the panel array.
Must include a passive protection system capability to prevent islanding in case of power outage, irregularities in the grid due to under/over voltage or under/over frequency of 60hZ, etc.) as well as an active protection system to prevent synchronization with other solar installations on the grid if there is a failure of grid power.
Must include AC isolator and solar array (DC) isolator and surge protection devices for lightning protection.
(4)Solar Mounting System:
Aluminium or Aluminium alloy with stainless steel fixings only. Galvanized metal mounting systems will not be acceptable.
(5)Cables:
Double insulated UV resistant solar wiring – cables able to stay in the sun all the time and sized to <3% voltage drop at full power from the solar array.
Must include grounding with all earth cables interconnected and leading to a common earthing system that is also the earthing system for the inverters and all other system components using at least 4 mm copper wire. No daisy chaining of module grounds allowed.
(6)Switch/connection/combining/junction boxes:
to consolidate the string wires into a single stream that go to the inverter inputs.
Each string must be capable of being isolated for individual testing using fuses or appropriate DC switches.
3-way pole switch (transfer switch) to be included to switch from solar power input to utility input in case solar system needs to be turned off for maintenance purposes.
(7)Solar output meter:
installed from the combined solar outputs to the building and block extra energy from the standalone solar grid so it does not go into the grid.
Preliminary effects for this 8KW solar power systems on metal roof as below :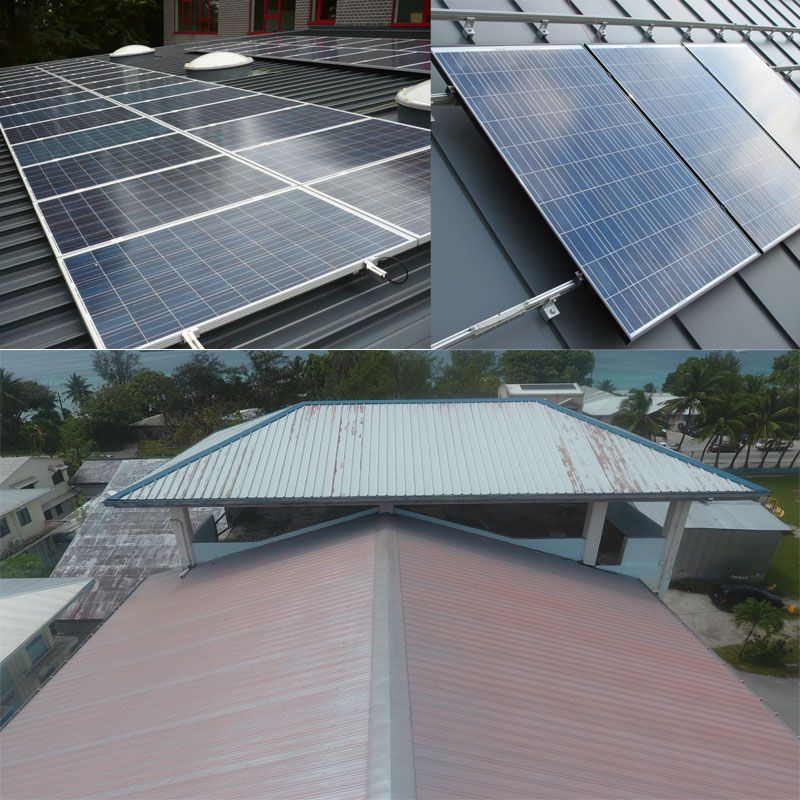 General BOM for this 8KW solar power plant system as below :
8KW Solar system
Product name
Goods Description
Quantity    (pcs)
Solar panel
Model size: 1650*990*40   mm, 320W
Type:  polycrystalline
PV input voltage: 144V
PV input current: 80-90A
32
mounting bracket
Material: stainless steel and all the accessories
32
Combiner box
Type: 4strings input, 1string output                                       with SPD, fuse, breaker
2
4KW Inverter
Power size: 4KW
48V 60A MPPT controller build in
2
Battery
Model size: 12V  200Ah
Type:   AGM
Working time: 4.8hours/day
16
PV cable
Red30M+Black 30M
4
Welcome get more details from www.SolarPartsComponents.com for this off-grid solar power storage systems 8KW.