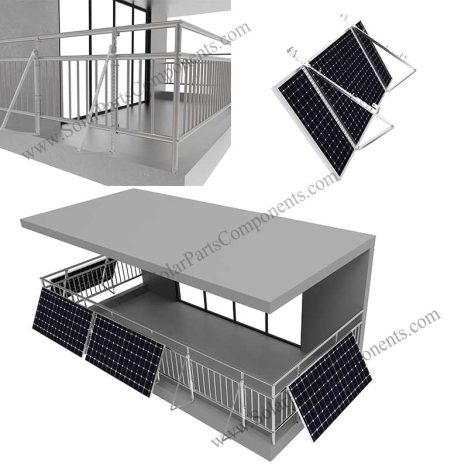 solar panel balcony mount
Product Type: Solar Mounting Components

Product Model: SPC-YT-01

Material: Aluminum and Stainless Steel

Max Wind Load : 60 m/s

Max Snow Load : 1.4 KN / M 2

Solar Module Orientation: Landscape / Horizontal

Application:  Unframed / Bifacial / Frameless modules
Contact by Email
Details:
Solar panel balcony mount is made for balcony. High-quality aluminum and stainless steel, light weight, corrosion resistance, and beautiful appearance. Anodized surface, accordance with industry standards, more than 25 years life. The whole set of brackets includes hooks, triangle structure, bolts, stainless steel clamps, M8*80 bolts, M8*25 bolts. Pre-assembled, saving a lot of assembly time and labor costs. The fold design convenient to transportation and installation.
This product of the solar panel balcony mount manufacturer can adjust the angle according to different situations. Since every season and regions the distance and angle of sun rays vary, the angle can be adjusted according to the actual situation on the triangle structure, and the solar panel can be adjusted on site to avoid shadow effects, so as to find a fixed or adjustable Angled to help the solar panels capture more of the energy as the sun's altitude changes, while cleverly using the space to install more panels.
This triangle produced by the solar panel balcony mount support has a wide applicability. As long as it is equipped with railings, it can be meeted. When installing, only to hanging the hook on the balcony railing. The distance between the hooks can be determined according to the height of the railing. Use stainless steel clamps to tie the triangle structure and the railing for reinforcement. Two triangle can support a solar panel, and fixing by M8*25 bolts. The installation method is simple and easy.
Features of this Solar panel balcony mount:
Wide applicability;
Nice appearance;
Pre-assembled design;
Angle and height can be adjusted;
Simpleto installationand needn't to drill holes;
High-quality material , light weight and corrosion resistance.
To offer an integral and quality service, our products are designed and installed by a team of professional and experienced installers. With them, you will not have to worry about the quality and services, and will be more satisfied with your purchase than ever. We can provide you with all the advice and assistance you need to choose solar mounting brackets. In addition, our products are directly produced and sold by manufacturers throughout the process, eliminating a lot of intermediate links, guaranteed quality and competitive price advantages, and sufficient inventory. Welcome Contact us anytime! Our company website is as follows: https://www.solarpartscomponents.com/
Brief Descriptions:
Solar Mounting Components – solar panel solar panel balcony mount mount
Item type:
Solar Mounting Components
Type:
SPC-YT-01
Installation Site:
balcony solar panels installation
Profile Material:
Aluminum and Stainless Steel
PV Modules:
Framed, unframed
Color:
Silver
Module Orientation:
Landscape/Portrait
Standards:
AS/NZS 1170
DIN 1055
GB50009-2012
IBC2009
TUV
JIS C 8955:2011
International   Building Code IBC 2009
California   Building Code CBC 2010
Warranty
10 years
Designed Lifespan
25 years
Packing Details:
Inner:
Bubble bag + inner box + Carton
Outer:
Wooden Box, Steel Pallet, MDF, etc
[contact-form-7 id="4″]
Details:

Solar panel balcony mount is made for balcony. High-quality aluminum and stainless steel, light weight, corrosion resistance, and beautiful appearance. Anodized surface, accordance with industry standards, more than 25 years life. The whole set of brackets includes hooks, triangle structure, bolts, stainless steel clamps, M8*80 bolts, M8*25 bolts. Pre-assembled, saving a lot of assembly time and labor costs. The fold design convenient to transportation and installation.

This product of the solar panel balcony mount manufacturer can adjust the angle according to different situations. Since every season and regions the distance and angle of sun rays vary, the angle can be adjusted according to the actual situation on the triangle structure, and the solar panel can be adjusted on site to avoid shadow effects, so as to find a fixed or adjustable Angled to help the solar panels capture more of the energy as the sun's altitude changes, while cleverly using the space to install more panels.

This triangle produced by the solar panel balcony mount support has a wide applicability. As long as it is equipped with railings, it can be meeted. When installing, only to hanging the hook on the balcony railing. The distance between the hooks can be determined according to the height of the railing. Use stainless steel clamps to tie the triangle structure and the railing for reinforcement. Two triangle can support a solar panel, and fixing by M8*25 bolts. The installation method is simple and easy.

Features of this Solar panel balcony mount:

Wide applicability;
Nice appearance;
Pre-assembled design;
Angle and height can be adjusted;
Simpleto installationand needn't to drill holes;
High-quality material , light weight and corrosion resistance.

To offer an integral and quality service, our products are designed and installed by a team of professional and experienced installers. With them, you will not have to worry about the quality and services, and will be more satisfied with your purchase than ever. We can provide you with all the advice and assistance you need to choose solar mounting brackets. In addition, our products are directly produced and sold by manufacturers throughout the process, eliminating a lot of intermediate links, guaranteed quality and competitive price advantages, and sufficient inventory. Welcome Contact us anytime! Our company website is as follows: https://www.solarpartscomponents.com/

Brief Descriptions:
Solar Mounting Components – solar panel solar panel balcony mount mount
Item type:
Solar Mounting Components
Type:
SPC-YT-01
Installation Site:
balcony solar panels installation
Profile Material:
Aluminum and Stainless Steel
PV Modules:
Framed, unframed
Color:
Silver
Module Orientation:
Landscape/Portrait
Standards:
AS/NZS 1170
DIN 1055
GB50009-2012
IBC2009
TUV
JIS C 8955:2011
International   Building Code IBC 2009
California   Building Code CBC 2010
Warranty
10 years
Designed Lifespan
25 years
Packing Details:
Inner:
Bubble bag + inner box + Carton
Outer:
Wooden Box, Steel Pallet, MDF, etc

[contact-form-7 id="4″]