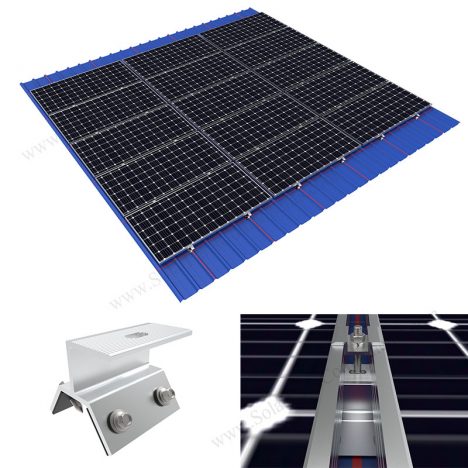 Solar Roof Mounting Systems
Product Type: Rooftop Mounting Systems with Rail-less Clamps

Product Model:SPC-RF-CK05-HR

Material: Aluminium Alloy

Max Wind Load : 60 m/s

Max Snow Load : 1.4 KN / M 2

Solar Module Orientation: Portait or Landscape

Application:  Metal Roofing
Contact by Email
Product Content:
The rail-less solar roof mounting system is designed for specific trapezoidal metal roofs without rail installation, which simplifies the application of rails and is easy to install and apply. It can directly fix the solar panel on the clamp without the need of aluminum rail, thus saving cost and rail installation steps. This installation system is one of the ideal solutions for trackless solar installation systems, which can be used to install solar modules on a trapezoidal metal roof and save costs. It provides a solution for solar installation without rails.
The rail-free installation cost is lower, which can reduce installation components, reduce installation time, and save cost and installation time. The installation system has good compatibility and is compatible with most solar modules. The design focus of the system is to remove the rail application and simplify installation.
Do I have to use rail to fix a trapezoidal metal roof? Of course not, our new railless pv roof mounting system does not use guide rails and can install solar cell modules on the roof. With its new trackless installation, it creates a new installation solution for solar trapezoidal metal installation. It is a highly adaptable installation system.
Features of railless pv roof mounting system, SPC-RF-CK05-HR:
1. Simplify system installation, save installation cost and time;
2. The rail-less mounting system uses fewer components for installation, but with higher accuracy;
3. Strong compatibility and strong anti-corrosion performance;
4. The simplest and most efficient metal roof installation system;
5. It provides a guide-free solar installation solution;
The rail-less solar roof racking system is a trackless solar roof racking system. Its installation method is to use its metal clamps instead of rails. It provides a complete solar installation solution for most specific trapezoidal roofs, with a lower cost and reduced installation time, as well as fewer familiar parts. The system does not require guide rails and has strong compatibility.
Rail-less installation system for installing solar modules on specific metal roofs. It provides a solar installation solution with clamps and free rails, which simplifies installation and improves efficiency.
We are committed to meeting the needs of customers. If you have a project that needs to be designed or installed, please feel free to contact us: www.solarpartscomponents.com
Brief Descriptions:
Rail-less Solar Roof Racking System With Clamps, SPC-RF-CK05-HR
Item type:
PV Module Mounts on Metal Rooftop
Type:
SPC-RF-CK05-HR
Installation Site:
Tile Roofing 0 °~ 60°
Profile Material:
Aluminum alloy 6005-T5
Fasten Parts:
Stainless Steel
Color:
Silvery
Wind Load:
60 m / s
Snow Load:
1.4 KN / M2
PV Modules:
Framed, Frameless
Module Orientation:
Portrait and Landscape
Standards:
AS/NZS 1170
DIN 1055
GB50009-2012
IBC2009
TUV
JIS C 8955: 2011
International   Building Code IBC 2009
California   Building Code CBC 2010
Warranty
10 years
Designed Lifespan
25 years
Packing Details:
Inner:
Bubble bag+inner box+Carton
Outer:
Wooden Box, Steel Pallet, MDF, etc
Installation Manual for Solar Roof Mounts SPC-RF-CK05-HR
What is the Rail-less solar roof mounting system?
Rail-less solar roof mounting system is one of the ways to install solar panels on the roof. There is no need for track support during the installation process, which can save material costs to a certain extent. Below is a related inquiry.
Q:
"I am interested in Rail-less solar roof mounting system.SPC-RF-CK05-HR but. I need the spes n the trapezoid roof dimensions, My ros too dimension is 1″ at the too and3″ at the bottom. 1″ of height Also is it possible to have the I bracket taller off the roof for clearance?
A:
Thank you for your email and nice to know you are interested in our railless solar roof mounting system SPC-RF-CK05-HR.
Base on your roofing dimension 1″ at the top and 3″ at the bottom. 1″ of height
We recommend you our another universal railless solution-Trapezodized metal roof clamp
Stainless steel 304 material, more strong and anti-rust.
May I know how much quantity would you need?
What is your delivery address?
I will come back to you price with freight cost for your reference.
Looking forward to your kind reply.
Q:
Thank you for your early reply.
My order see as attached.
How do solar panels get attached to a roof with Rail-less Model:SPC-RF-CK05-HR
Q:
"Hello, how do solar panels get attached to roof with Rail-less solar roof mounting system,SPC-RF-CK05-HR. We need 13 for the edge and 40 to join panels. We have a total of 16 panels(15 in a landscape array with one portrait mounted panel on the end). Can you give me a price and lead time."
A:
"Appreciated for your inquiry about our rail-less solar roof mounting system.
Please kindly check the price list for your 16 panels metal roof mounting system as attached."
Our produce time is about 5-7 days against payment.
Or if you can share me more details about your rooftop.
I will also let our engineer check it out for you.
If I can get your delivery address, I will also come back to you with freight info too.
Yours promote reply would be much appreciated."
Q:
"Courtleigh Kellaton Kingsbridge Devon Tq72es Great Britain"
A:
"Dear, please kindly find the P.I. with freight cost as file attached.
It is very simple to attach solar panel to your metal roof with our rail-less solar roof mounting system.
First, Put the trapezoidal clamp SPC-CK-05 on the installation position of the tin roof, the rubber washer is attached to the side of the tin roof wave crest, as picture shows.
And fix the trapezoidal clamp with four self-tapping screw (ST6.3 * 25).
And then, our metal roof clamp SPC-CK-05 attach to the solar panels directly with our mid clamps and end clamps.
Rail-less solar roof mounting system SPC-RF-CK-05-HR
Q:
Hi,I would like to install 300 panels on trapezoidal metal roof, I like your rail-less solar roof mounting system SPC-RF-CK-05-HR,
Please send me your quotation. Thanks!
A:
Nice to receive your inquiry for our railless PV roof mounting system.
I have sent our design and price to your email.
Q:
Thank you, could you please send me Invoice include shipping cost.
Contact person-Raya Vezenkova
Add:Mladost 1,Sofia city,Bulgaria
I will process the payment, thanks!
rail-less solar roof mounting system
solar metal roof clamp SPC-CK-05 installation steps