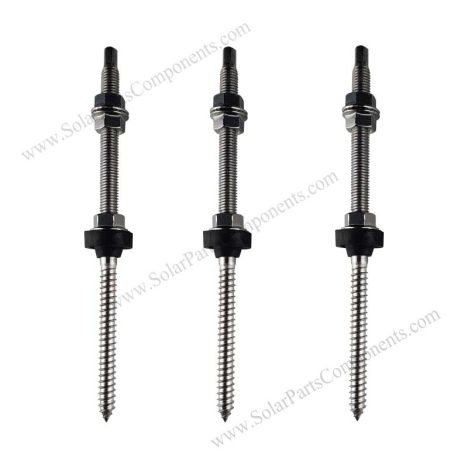 solar hanger bolts, good quality of SUS 304
Product Type: Solar mounting component

Product Model: SPC-FA-H020

Material: Stainless steel

Max Wind Load : 60 m/s

Max Snow Load : 1.4 KN / M 2

Solar Module Orientation: Landscape / Horizontal

Application:  Roof installation
Contact by Email
Product Description:
Solar hanger bolts are one of common components for solar panel mounting installation especially for metal roof mountings. There are two kinds of solar panel hanger bolts. The one is pointed head, which is for wooden rafter. The other is flat head for steel purlin. Flange nuts and EPDM must be assembled with the solar hanger bolts (separate nuts and screws are not accepted).  PV module hanger bolts always are used with L-feet. There are several general specifications for the hanger bolts-M10* 150mm/ 200mm / 250mm / 300mm / 350mm…The solar panel hanger bolts are suitable for metal or seam roof mounting systems.
Features of solar panel hanger bolts:
EPDM rubber can be effective with waterproofing;
Wooden beam and steel beam both are available;
Solar hanger bolts can be adjusted.
Widely application in the solar mounting system;
Have a good perform with firmness due to the material;
Be suitable with the L feet.
If you're interested in solar mounting system, we'd love to discuss with you about more and answer any questions you might have. As a professional manufacturer of PV mounting system, SPC is a great option for you.
Click here for more details and information:
www.SolarPartsComponents.com
Brief Descriptions:
Solar Hanger Bolt – SPC-FA-H020
Item type:
Photovoltaic Metal Roof Mounting
Type:
SPC-FA-H020
Installation Site:
Roofing top
Profile Material:
SUS 304
Fasten Parts:
Stainless Steel
Color:
Silvery
Wind Load:
60 m / s
Snow Load:
1.4 KN / M2
PV Modules:
Framed
Module Orientation:
Landscape / Portrait
Standards:
AS/NZS 1170
DIN 1055
GB50009-2012
IBC2009
TUV
JIS C 8955: 2011
International   Building Code IBC 2009
California   Building Code CBC 2010
Warranty
10 years
Designed Lifespan
25 years
Packing Details:
Inner:
Bubble bag+inner box+Carton
Outer:
Wooden Box, Steel Pallet, MDF, etc
Can Hanger bolts be used for solar PV concrete roof tile mount system?
Q:
Hi,
I'm looking for a solar PV mount system which I can use on my concrete roof tiles. Unfortunately the tiles cannot be lifted or moved because they have had Spray Foam Insulation sprayed directly onto the backs of the tiles without a membrane in between. This has made the tiles very stable, but un-moveable.
So I'm expecting we'll probably need to drill them and use some sort of self flashing fixing. I'm confident we can drill with diamond hole saw without splitting the tiles, but I just need a kit which will seal around the holes we've drilled.
We can probably install flashing that goes up to the top of the tile we've drilled (underneath the one above), but not passed the back face which is exposed on the inside to the spray foam insulation.
Please could you recommend something?
If you cannot recommend something which would be guaranteed for my circumstance, I'd be happy with something that you would have off-the-record confidence in, even if it didn't come with a warranty.
What are the mounting components that I need to work with this kind of concrete tile rooftop, and are your recommended racking parts universal for my tile roof panel?
Attached is my sketch for panel configuration. We have two velux windows to negotiate!
Option-9 12 panels landscape.
After all get organised, and I'll come back to you if your pv mounting components are workable.
All the best!
Simon Neaves
Elmhurst Estate
Batheaston
Bath
Somerset
BA17NU
United Kingdom
A:
Dear Simon
Appreciated for your inquiry about our solar mounting kits.
Well understanding our traditional mounting brackets would not work for your current project,
since the tiles could not be uncovered or moved.
Yes, our solar hanger bolts can be used for concrete roof tiles like your current project.
Our hanger bolts for this situation,they can fix to wood beams after hole drilling.
Our EPDM rubber ring would help anti-water-leaking.
You can buy 84 units of these hanger bolts for these 12 pieces of solar panels +2 windows.
Thank you !
Best regards,
Solar Racking Parts & Components Factory Direct
What is cost for SUS 304 Stainless Steel Hanger Bolts?
Hello! What is cost for SUS 304 Stainless Steel Hanger Bolts?
I would need one palet of solar panels first.
Thank you!
Saulius
Hi Mr. Saulius
Appreciated for inquiry about our hanger bolts, we have several models with different length:
(1) 200 length hanger bolts with Nuts and EPDM pre-assembled;
(2) 250 length hanger bolts with Nuts and EPDM pre-assembled;
…
Please advise which model you need.
If it's not the right model, please share me weblink / picture /technical drawing for my checking.
We can ship directly from our factory,
Could I have your delivery address / company details?
so that I will aslo come back to you freight cost if needed.
Yours early reply would be much appreciated.
Tks,
Stainless Steel Hanger Bolts Wholesaler
Product Description:

Solar hanger bolts are one of common components for solar panel mounting installation especially for metal roof mountings. There are two kinds of solar panel hanger bolts. The one is pointed head, which is for wooden rafter. The other is flat head for steel purlin. Flange nuts and EPDM must be assembled with the solar hanger bolts (separate nuts and screws are not accepted).  PV module hanger bolts always are used with L-feet. There are several general specifications for the hanger bolts-M10* 150mm/ 200mm / 250mm / 300mm / 350mm…The solar panel hanger bolts are suitable for metal or seam roof mounting systems.

Features of solar panel hanger bolts:

EPDM rubber can be effective with waterproofing;
Wooden beam and steel beam both are available;
Solar hanger bolts can be adjusted.
Widely application in the solar mounting system;
Have a good perform with firmness due to the material;
Be suitable with the L feet.

If you're interested in solar mounting system, we'd love to discuss with you about more and answer any questions you might have. As a professional manufacturer of PV mounting system, SPC is a great option for you.

Click here for more details and information:

www.SolarPartsComponents.com

Brief Descriptions:
Solar Hanger Bolt – SPC-FA-H020
Item type:
Photovoltaic Metal Roof Mounting
Type:
SPC-FA-H020
Installation Site:
Roofing top
Profile Material:
SUS 304
Fasten Parts:
Stainless Steel
Color:
Silvery
Wind Load:
60 m / s
Snow Load:
1.4 KN / M2
PV Modules:
Framed
Module Orientation:
Landscape / Portrait
Standards:
AS/NZS 1170
DIN 1055
GB50009-2012
IBC2009
TUV
JIS C 8955: 2011
International   Building Code IBC 2009
California   Building Code CBC 2010
Warranty
10 years
Designed Lifespan
25 years
Packing Details:
Inner:
Bubble bag+inner box+Carton
Outer:
Wooden Box, Steel Pallet, MDF, etc

Can Hanger bolts be used for solar PV concrete roof tile mount system?

Q:

Hi,

I'm looking for a solar PV mount system which I can use on my concrete roof tiles. Unfortunately the tiles cannot be lifted or moved because they have had Spray Foam Insulation sprayed directly onto the backs of the tiles without a membrane in between. This has made the tiles very stable, but un-moveable.

So I'm expecting we'll probably need to drill them and use some sort of self flashing fixing. I'm confident we can drill with diamond hole saw without splitting the tiles, but I just need a kit which will seal around the holes we've drilled.

We can probably install flashing that goes up to the top of the tile we've drilled (underneath the one above), but not passed the back face which is exposed on the inside to the spray foam insulation.

Please could you recommend something?

If you cannot recommend something which would be guaranteed for my circumstance, I'd be happy with something that you would have off-the-record confidence in, even if it didn't come with a warranty.

What are the mounting components that I need to work with this kind of concrete tile rooftop, and are your recommended racking parts universal for my tile roof panel?

Attached is my sketch for panel configuration. We have two velux windows to negotiate!

Option-9 12 panels landscape.

After all get organised, and I'll come back to you if your pv mounting components are workable.

All the best!

Simon Neaves

Elmhurst Estate

Batheaston

Bath

Somerset

BA17NU

United Kingdom

A:

Dear Simon

Appreciated for your inquiry about our solar mounting kits.

Well understanding our traditional mounting brackets would not work for your current project,

since the tiles could not be uncovered or moved.

Yes, our solar hanger bolts can be used for concrete roof tiles like your current project.

Our hanger bolts for this situation,they can fix to wood beams after hole drilling.

Our EPDM rubber ring would help anti-water-leaking.

You can buy 84 units of these hanger bolts for these 12 pieces of solar panels +2 windows.

Thank you !

Best regards,

Solar Racking Parts & Components Factory Direct

What is cost for SUS 304 Stainless Steel Hanger Bolts?

Hello! What is cost for SUS 304 Stainless Steel Hanger Bolts?

I would need one palet of solar panels first.

Thank you!

Saulius

Hi Mr. Saulius

Appreciated for inquiry about our hanger bolts, we have several models with different length:

(1) 200 length hanger bolts with Nuts and EPDM pre-assembled;

(2) 250 length hanger bolts with Nuts and EPDM pre-assembled;
…

Please advise which model you need.

If it's not the right model, please share me weblink / picture /technical drawing for my checking.

We can ship directly from our factory,

Could I have your delivery address / company details?

so that I will aslo come back to you freight cost if needed.

Yours early reply would be much appreciated.

Tks,

Stainless Steel Hanger Bolts Wholesaler