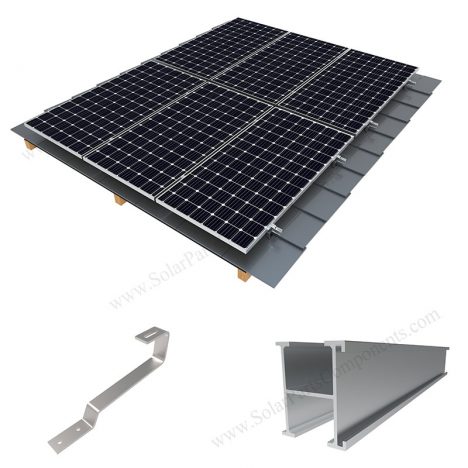 Solar flat tile roof mounting system
Product Type: Solar Panel Mounting Systems for flat tile roof

Product Model:SPC-RF-IK11-DR

Material: Aluminium, Steel

Max Wind Load : 60 m/s

Max Snow Load : 1.4 KN / M 2

Solar Module Orientation: Portait or Landscape

Application: Flat tile roof
Contact by Email
Product Description :
Solar flat tile roof mounting system provides a perfect solution for tile roof installation.
The installation system is usually made of aluminum and stainless steel and provides architectural support.
The system fully complies with international standards for wind speed and snow load, making it suitable for various climate zones To protect your solar panels from malfunctions of strong winds and blizzards and other potential weather hazards.
Advantages :
1. Strong corrosion resistance
2. Accessories are made of aluminum and stainless steel
3.Quickly installation, simply steps
4. Standard strength
5. Extensive roof hooks for practical use
Accessories for this file tile roof mounting system:
1.Tile roof hook #02-B
2.Aluminum H-rail
3.Mid clamp
4.End clamp
5.Rail splice
Installation instruction for this file tile roof mounting system:
1.Remove roof tiles;
2.Install tile hooks;
3.Cover tiles;
4.Connect the slide rail and tile hook with bolts and nuts;
5. Fix PV modules with mid clamps and end clamps;
6.Use aluminum connectors to extend the length of the rail.
Item type:
File Tile Roof Mounting Systems, SPC-RF-IK11-DR
Installation Site:
Flat tile roof
Installation Angle:
Pitched Roof 5° ~ 45°
Profile Material:
Aluminum Alloy AL6005-T5
Fasten Parts :
Stainless Steel 304
Small Components :
Alum & Stainless Steel
Max Wind Load:
60 m / s ( 130 mph )
Max Snow Load :
1.4 KN / M2  ( 30 psf )
Color:
Silvery / Natural / Customized
PV Modules:
Framed or Thin film modules
Module Orientation:
Portrait and Landscape
Warranty
10 years
Designed Lifespan
25 years
Packing Details
Inter:
Carton Box
Outer
Wooden Box, Steel Pallet, MDF, etc
Installation Manual for Solar Flat Tile Roof Mounting System, SPC-RF-IK11-DR
Can you put solar panels on concrete tiles?
Can you put solar panels on concrete tiles?
"
Dear Solar Parts Components Factory,
I am in the process of purchasing the following product but it does not come with mountings.
COMPLETE OFF-GRID SYSTEMS
600W 24V COMPLETE OFF-GRID SOLAR POWER SYSTEM WITH 2 X 300W SOLAR PANELS, 2.4KW HYBRID INVERTER AND 2 X 100AH BATTERIES
The sales people at SOLAR POWER SET SUPPLIER recommended yourselves and I need some advice as to what I will need to install these panels on the roof of my garage.
Your help in recommending the appropriate products would be greatly appreciated.
The attached photo shows the roof. It is a tile roof on top of wooden beams. I believe they are concrete tiles.
There are panels in this array so it is just those that will need mounting.
I do not have a diagram of the roof, but it is a standard A frame wooden construction with tiles on top.
Kind regards,
Ian "
Dear Ian
Appreciated for your kind inquiry about our solar roof mounting kits.
Just look throught your link and info given,
Our recommendation mounting kits includes:
(1) flat tile hooks,
(2)end clamps,
(3) mid clamps,
(4) "H" shape aluminum rails.
If you can let me know your delivery address, I will also calculate freight info too.
Thank you !
Solar Parts & Components Sales Team
Features of Flat Tile Solar Mounting System,SPC-RF-IK11-DR
Flat Tile Solar Mounting System,SPC-RF-IK11-DR
The photovoltaic panels on flat tile solar mount is suitable for the installation of solar panels on most roofs.
Solar Roof Mounting System-SPC-RF-IK11-DR
Stainless steel hook installation steps
solar roof hooks for flat tile roofing installation
SPC provides a series line of solar hooks for all types of pitched roofs, surely including flat tile roofing. SPC solar roof hook is the most universal and strongest. Flat tile roof mounting offers a professional solution for residential and commercial application.
Solar flat tile roof mounting system
The material of the installation system is made of high-quality aluminum and stainless steel, and the strength of other accessories has been tested to meet the standards. Protect your solar panel from strong winds and snowstorms and other potential weather hazards.
Feature:
1.quick Installation
2.Cost-effective solar mounting system;
3.Multiple choices to meet customer needs;
4.Suitable for flat tile roof
5.Durable and reliable, low cost