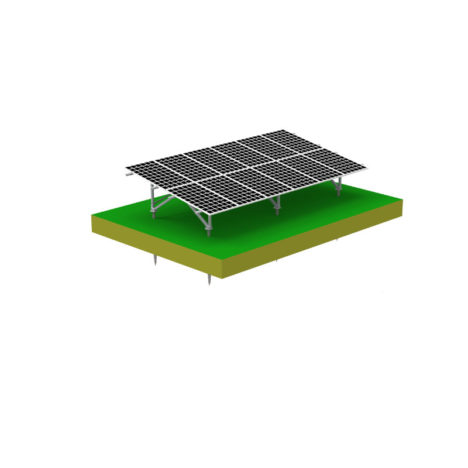 " W " Type Solar Mounting Systems
Product Type: Ground Solar Panel Mounting System

Product Model: Solar-Ground-Mounting-Systems-W-Type

Material: Aluminium, Carbon Steel

Max Wind Load : 60 m/s

Max Snow Load : 1.4 KN / M 2

Solar Module Orientation: Portait or Landscape

Application: Ground field / Flat Roof
Contact by Email
Product Description :
This W type aliminum mounting systems for solar panels are designed for ground area with easy and quick installing .
The so called "W" type means we using two pieces of  the lateral braces accross mounting structure .
These two support braces together with frong column and back column make a shape like letter " W " .
By using flange plate, thise alum mounting racking can be connected on ground screws or concrete piers .
This beautiful and sturdy W type PV solar panel ground mounts is light weight and anti-rust , suitable in desert , sea side , grassland …
With pure alum " W " type mounted system can have excellent anti-corrosive in bad weather condition on concrete block / screw pile ground area .
Customized aluminum extrusion available for our ground mounting system, just send me profile details, we'll do rest for client ;
anodized / powder coating / electrophoreis  treatment can be tailored ;
Milling, chamfer, welding, drilling deep procession can be required for producing ;
We use AL6005-T5 for this "W" type  solar parts and components , chemical composion as following:
Al 6005 Alloy
Si : 0.6-0.9 ;
Fe : 0.35 ;
Cu : <0.1 ;
Mn :  <0.1 ;
Mg :0.4-0.6 ;
Cr :  <0.1 ;
Zn :<0.1 ;
Ti :  <0.1 ;
Impurity :<0.15 ;
AL: Rest
Advantages :
Suitable for soil conditions with C-Steel screw piles or on cement plinth ;
Fasten parts : SUS 304 screws, bolts, nuts can be included as required ;
OEM service is acceptable for our mounting kits ;
Optimized engineer design with reasonable structure and cost budget ;
More than 8 years producing experience .
Parts and Components for " W " Type Solar Ground Mounting Systems :
Alum rails, Splice, pre-assembled support , inter clamps, end clamps , beams, screws …
Solar Panel Ground Mounting Systems "W" Type , With Ground Screws Installation Components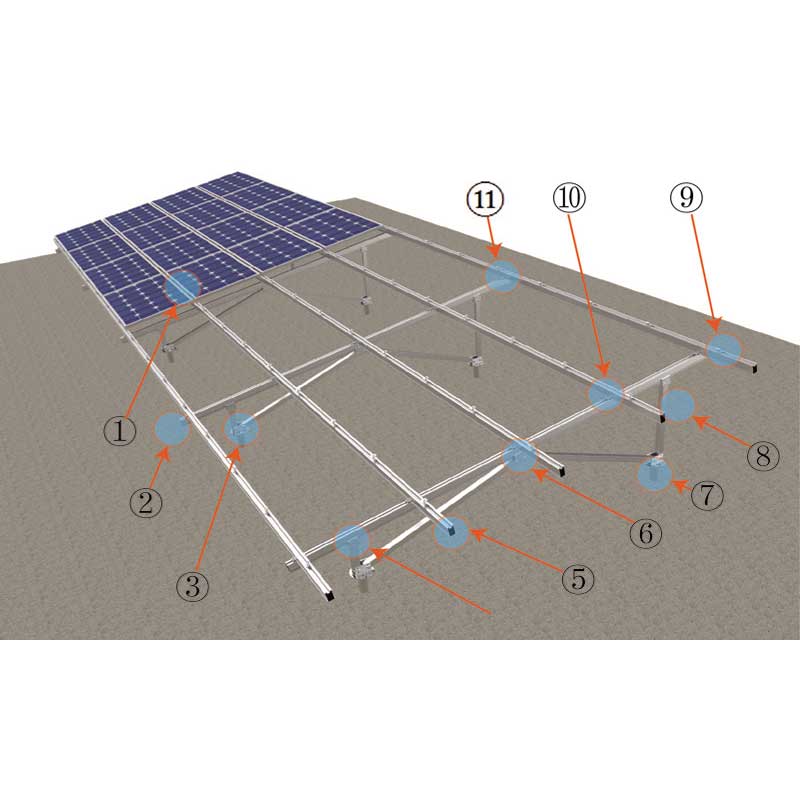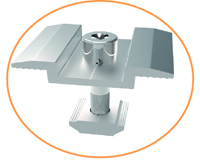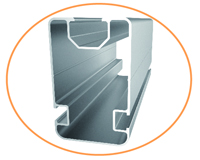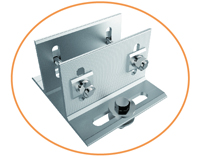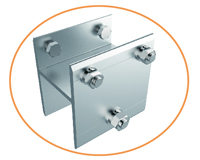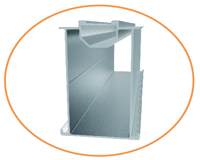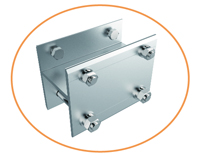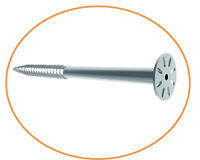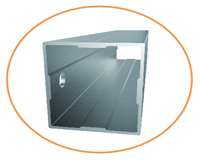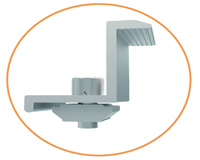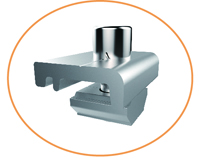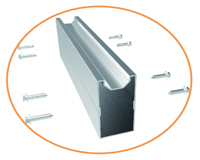 Solar Panel Mounting Systems W Type Installation :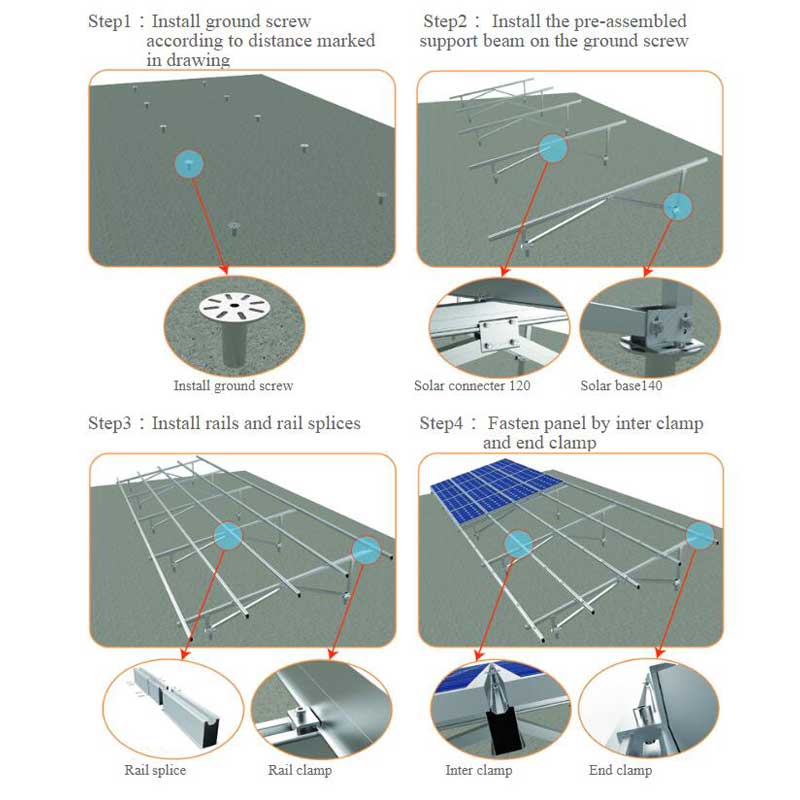 (1) Install ground screws and fasten the base ;
(2) Fasten 1# H shape connector ;
(3) Fasten 2# H shape connector and pre-assembled support beams ;
(4) Fasten the rail clamps / rails / rail splices ;
(5) Fasten Mid / End clamps ;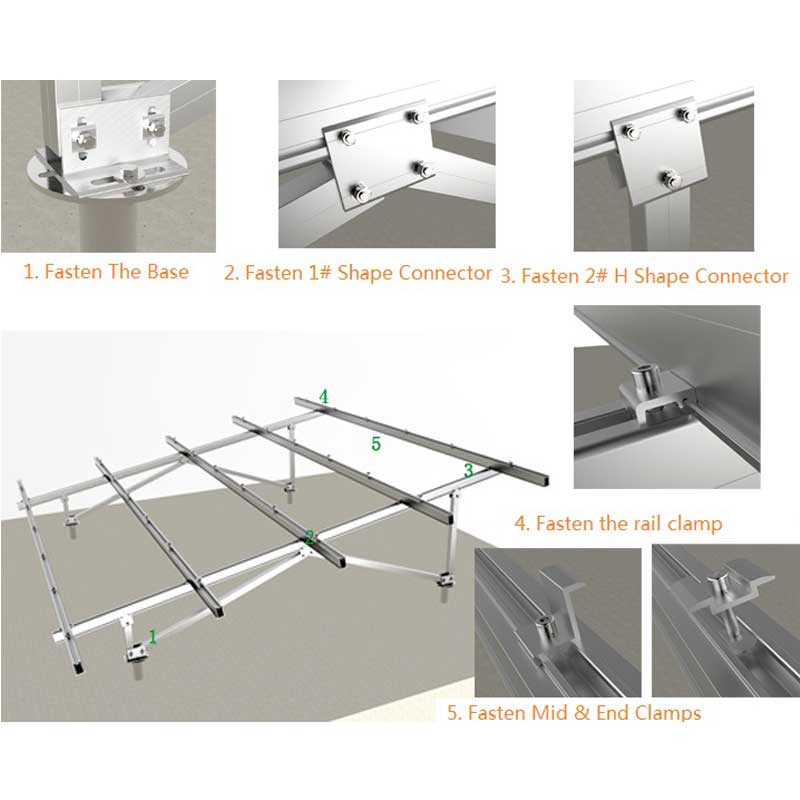 Brief Descriptions :
"W" Type Solar Ground Mounting Systems for ground solar panel installation
Item type:
Ground Mount Systems
Technical Parameters :
Type :
ground solar mounting system
Installation Site :
Ground / Flat Roofs
Installation Angle :
0° ~ 30°
Profile Material :
AL 6005 – T5 ( Anodized ) / Hot-Dip Galvanized Steel
Fasten Parts :
Aluminum / Stainless Steel
Small Components :
AL 6005 – T5 ( Anodized )
Color :
Silvery or according to customer requirements
Wind Load :
60 m / s
Snow Load :
1.4 KN / M2
PV Modules :
Framed, unframed
Module Orientation :
Portait and Landscape
Standards :
AS/NZS 1170
DIN 1055
GB50009-2012
IBC2009
TUV
JIS C 8955 : 2011
International   Building Code IBC 2009
California   Building Code CBC 2010
Warranty
10 years
Designed Life Span
25 years
Packing Details :
Inner :
Bubble bag+inner box+Carton
Outer :
Wooden Box, Steel Pallet, MDF, etc
Project Case for This " W " Type, Screw Pile Solar Mounting Systems
Design case for " W " Type, Screw Pile Solar Mounting Systems with screw pile
3.2MW Ground Mount Structure with screw anchor project
Solar Panel ground mount structure with ground screw, 3.2 MW, South Africa .
PV modules ground mounting Hokkaido project
solar ground mounting Hokkaido project design with ground screws
Aluminum Racking Ground Mounting System Introduction
Solar aluminum ground mounting system
There are several types of ground mounting methods like :
concrete foundation mounted ,
pillar (pole) mounted ;
ground screw mounted ;
ground anchor (concrete pile) mounted …
This PV module ground mounting system is made of aluminum in material with ground screws for support
foundation .
Features of this solar panel aluminum ground mounting system :
– light in weight but strong in tensile force ;
– Quick and easy for installation ;
– Pre-assembled for labor cost saving ;
Can aluminum grounding mounting structure be used for farm ?
Yes, with taller pillar / pole , Solar Mounting System for Farm is definitely wonderful .
Farm Solar Mounting System
Our PV module ground mounting system can also be used for farms .
Features of our solar mounting system for farm :
– Durability ;
– Fast & easy for installing ;
– Tilt adjustable for seasons ;
The agriculture farm solar mounting system can maximize usage space of farm land .
Welcome to choose solar panel mounting structure for agriculture farm from www.SolarPartsComponents.com.