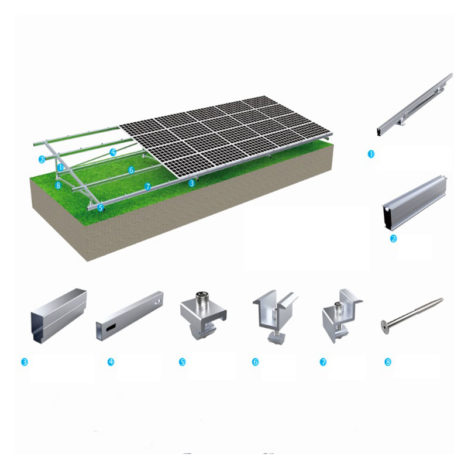 " N " type , Screw Pile, Solar Ground Mounting System
Product Type: Ground Solar Panel Mounting System

Product Model : Solar-Ground-Mounting-Systems-N-Type-Screw-Pile

Material: Aluminium, Steel

Max Wind Load : 60 m/s

Max Snow Load : 1.4 KN / M 2

Solar Module Orientation: Portait or Landscape

Application: Ground flied / Flat roof
Contact by Email
Product Description :
This " N " type solar ground mounting system is 100 % anodized aluminum structure with AL-6005-T5 international standard .
The so called N type means we using one piece of  the lateral brace across mounting structure  ,
The support brace together with frong column and back column make a shape like letter " N " .
We using A2-70 stainless steel fasten parts for anti-corrosive protection , suitable for open site installation .
The carbon steel screw piles can be firmly fixed to ground earth which can offer enough strength to support whole ground mounting system .
Several types of screw piles can be recommended according to real mounting situation .
Both framed / frameless PV modules can be used for pur N type solar ground mount system with screw piers ,
only mid clamps and end clamps are different .
This N type solar ground mounts kits with C steel screw piles have been strictly tested before shipping . 10 years warranty is guaranteened buying from www.SolarPartsComponents.com .
This mounting system can be applied for both commercial or home power station .
Advantages :
Light in weight and strong for wind and snow loading rating class ;
Beautiful and graceful for this N type mount system ;
Pre-assembled , time and cost effective ;
Horizontal / Vertical solar module orientation optional ;
Stainless Steel fastener material for this " N " type screw pile solar ground mounts system .
Parts and Components for " N " Type Screw Pile Solar Ground Mounting Systems :
pre-assembled bracket , alum rail , rail connector, enforce kits, fasten clamps, mid clamps, end clamps, ground screws .
Solar Ground Mounting Systems – " N " type , Screw Pile Installation Components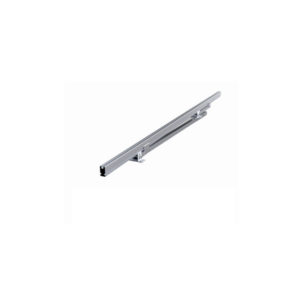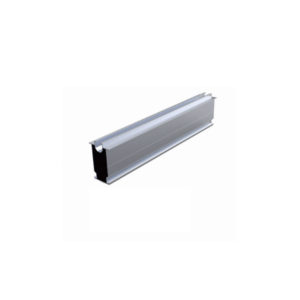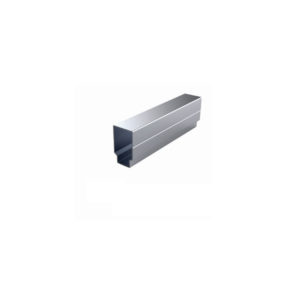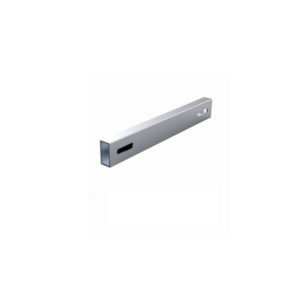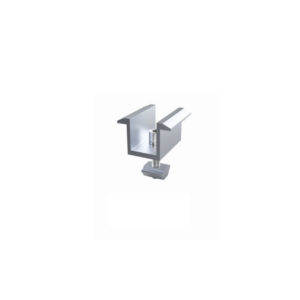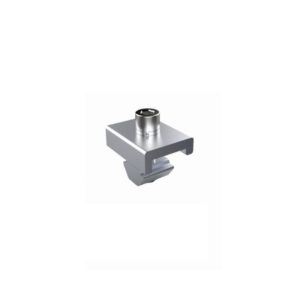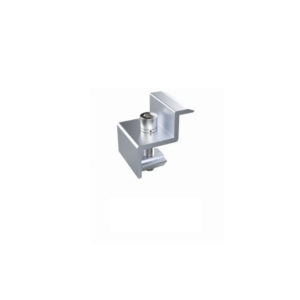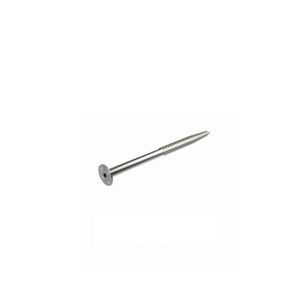 Solar Panel Mounting Systems N Type Installation :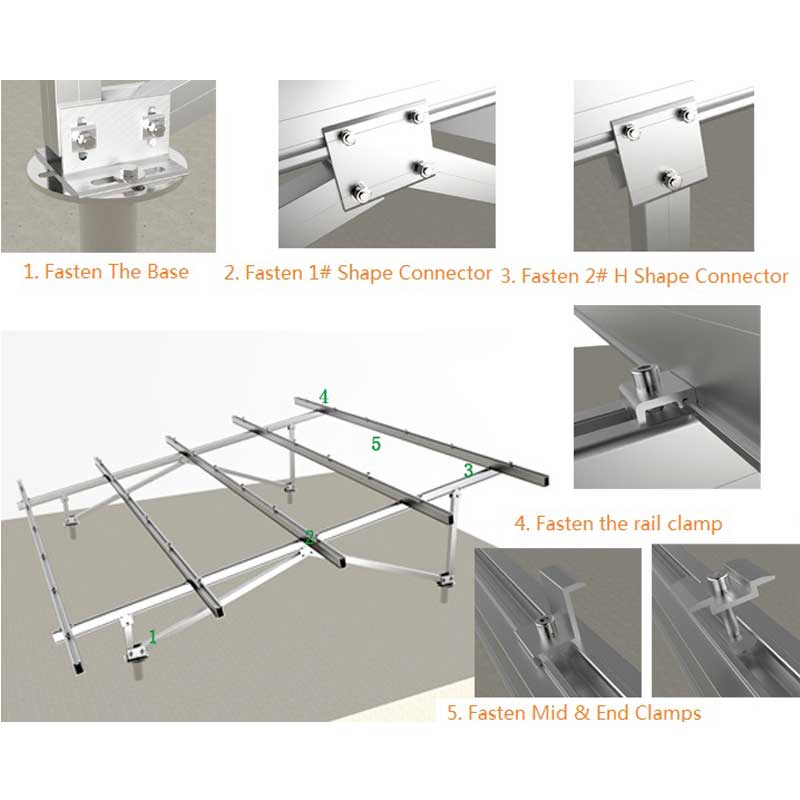 Solar Ground Mounting – "N" Type with ground screws Installing Steps
(1) Dig ground screws and fasten aluminum base ;
(2) Fasten No.1 H shape connector ;
(3) Fasten No.2 H shape connector and pre-assembled supporting beams ;
(4) Fasten the rail clamps / rails / rail splices ;
(5) Fasten Mid / End clamps ;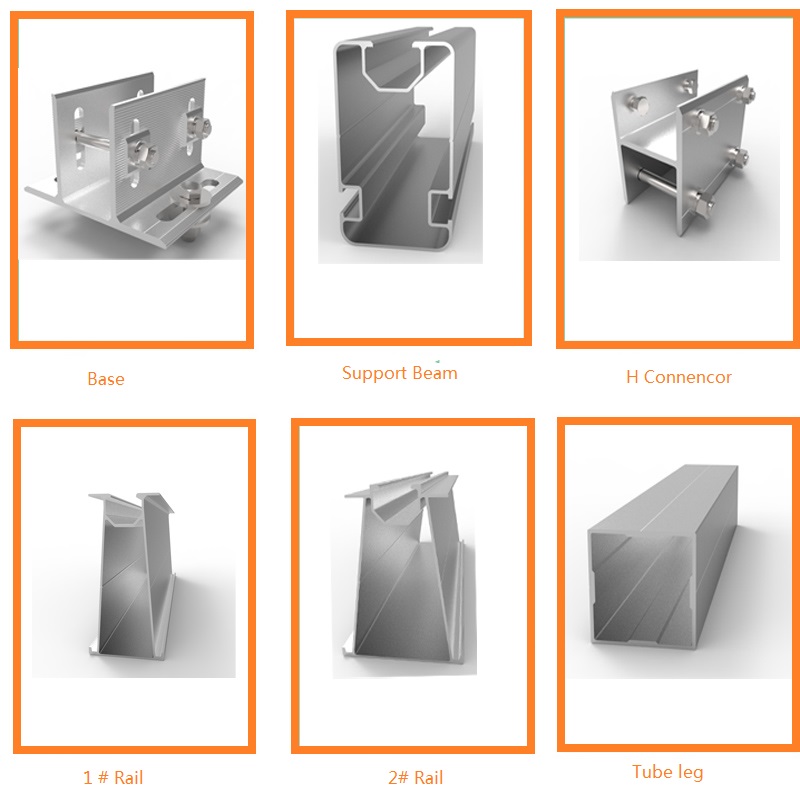 Brief Descriptions :
" N " Type Screw Pile Solar Mounted Systems for ground solar panel installation
Item type:
Ground Mounting Systems
Technical Parameters :
Type :
" N " ground solar mounting system
Installation Site :
Ground / Flat Roofing
Installation Angle :
0° ~ 30°
Profile Material :
AL 6005 – T5 ( Anodized ) / Q235B (Hot-Dip Galvanized)
Fasten Parts :
Aluminum / Carbon Steel Screw Pile
Small Components :
AL 6005 – T5 ( Anodized ) / SUS 304
Color :
Silvery or according to customer requirements
Wind Load :
60 m / s
Snow Load :
1.4 KN / M2
PV Modules :
Framed, Frameless
Module Orientation :
Portait and Landscape
Standards :
AS/NZS 1170
DIN 1055
GB50009-2012
IBC2009
TUV
JIS C 8955 : 2011
International   Building Code IBC 2009
California   Building Code CBC 2010
Warranty
10 years
Designed Life Span
25 years
Packing Details :
Inner :
Bubble bag+inner box+Carton
Outer :
Wooden Box, Steel Pallet, MDF, etc
Estonia Mounting Project with Solar Ground Mounting Systems
Project Case for This " N " Type, Screw Pile Solar Mounting Systems
Design case for " N " Type, Screw Pile Solar Mounting Systems with screw pile
4 × 2 , 4 × 4 Demo for Ground Mounting System "N" type with Ground Screws
Ground mounting system is applicable for photo-voltaic array systems to be installed on open fields .
This racking system is specially designed with features of high stability and safety .
Complied with computational structure mechanics and architectural design .
It is available to be modified to suit for different types of foundations, such as cement block with pre-buried screws,
directly buried or ground screws .
All materials used, such as hot-dip galvanized steel, stainless, sus304 and anodized aluminum alloy, are highly resistant
to corrosion thus are suitable for outdoor plants .
Component parts are pre-cut and pre-assembled before deliery, so it greatly helps customers to save onsite mounting
time and cost .
Following is our standard design for 4 × 2 and 4 × 4 solar panel installation :
(1) Module size : 1675 × 100 × 45 mm ;
(2) Tilt angle : 30 Degee ;
(3) Wind Loanding 38 m / s ;
(4) Installation site : open field ;
BOM list includes :
Rails, mid clamps, end clamps, U bolt , front leg , rear leg , strengthening bars, cross beams, L shape connectors, caps
…
Welcome to using our carbon steel mounting structure for your solar plant project with features of Easy Installation , Great Flexibility, High Accuracy, 20 years up Lifespan, Durability.