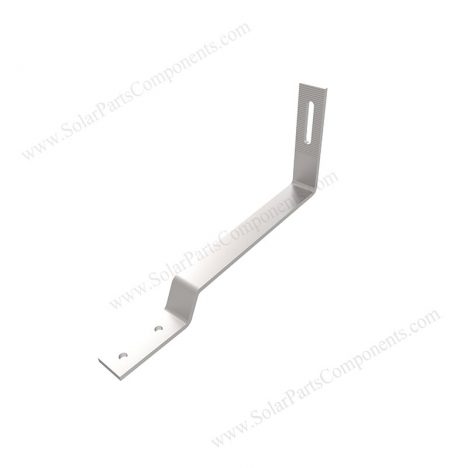 Flat Tile Roof Hooks, Non-Adjustable, Side Mounting
Product Type: Solar Flat Tile Roof Hooks

Product Model: SPC-IK-12

Material: A2 Stainless Steel

Max Wind Load : 60 m/s

Max Snow Load : 1.4 KN / M 2

Application: Flat Tile Roof Installation
Contact by Email
Product Description :
Non-Adjustable solar roof hooks for flat tiles .
The installation is for Side rail mounting – 90 degree vertical .
90° Flat Tile Roof Hook is fixed height of 38 mm .
We connect wood beams by hexagon Spring Washer screws during hook base holes.
The diameter of mounting screw holes is 9 mm .
Our stainless 304 flat tile hooks are excellent corrosion resistance and value , which contains 18 percent chromium and 8 percent nickel.
( Fe, <0.08% C, 17.5-20% Cr, 8-11% Ni, <2% Mn, <1% Si, <0.045% P, <0.03% S )
The solar flat roof hooks are strictly complied with industry size standards and waterproof well.
Before determine right tile hooks for your project, our samples can be quickly expressed as requirements, since we have stock and warehouse for regular models.
This solar tile roofing hook which has slot at upper side, works with 99% aluminum racks by using 5/16 Inch or 3/8 Inch bolts.
Advantages of  solar tile hook SPC-IK-12:
Fast Installation with pre-assembling packing ;
Specially design for flat tile roofing structure for Side mounted rails ;
Ten Years Quality Gurantee for our flat roofing hooks ;
Parts and Components for this Solar Flat Tile Roof Hooks, Non-Adjustable, Side Mounting :
stainless flat tile roof hook ;
Hexagon socket head bolts;
T sliding nut block;
Spring Washer
Sharp-point screw
For the flat tile roofing, there are wooden beams under the tiles. So we need to use wooden screws  to fix the bottom of the hook to the wooden beam. We should let the top of the hooks out of the tile, and connect it to the rail with clamps.
Contact Solar Parts & Components factory for more details.
Brief Descriptions :
Solar Mounting Components – Flat Tile Roof Hooks, Non-Adjustable, Side Mounting, SPC-IK-12
Item type:
Solar Flat Tile Roof Hooks
Type :
Flat Roofing Hooks
Installation Site :
Pitched Roof
Profile Material :
SUS 304 Stainless Steel
Fasten Parts :
Stainless Steel / Aluminum T Sliding Nut
Color :
Silvery or according to customer requirements
Wind Load :
60 m / s
Snow Load :
1.4 KN / M2
PV Modules :
Framed, Frameless
Module Orientation :
Portait and Landscape
Standards :
AS/NZS 1170
DIN 1055
GB50009-2012
IBC2009
TUV
JIS C 8955 : 2011
International   Building Code IBC 2009
California   Building Code CBC 2010
Warranty
10 years
Designed Life Span
25 years
Packing Details :
Inner :
Bubble bag+inner box+Carton
Outer :
Wooden Box, Steel Pallet, MDF, etc
Installation Manual for Solar Flat Tile Hooks SPC-IK-12
How to install solar panels on flat tile roof?
Solar roof hooks with side mounting system will be an ideal solution,
Flat tile roof hook #12 installation
Installation instructions for stainless steel hook#12
Solar flat tile roof hook non-adjustable for side mounted
solar panel mounting hooks for flat concrete rooftop ?
Components for this flat roofing bracket
Solar Panel Hooks for Flat Roofing ,
BOM for our solar flat roof hooks :
(1) One units of stainless steel A2-70 bracket ;
(2) One piece of M8 bolt ;
(3) One piece of aluminum sliding nut ;
(4) Two pieces of 3/8″ SUS 304 washer ;
(5) Two pieces of 3/8″ timber screws ;
Welcome to purchase flat roof bracket for your PV module installation .
Hot sale solar panel hooks for flat tile roofing
Factory direct solar tile roof hooks wholesale for flat tile roofing .
Installation Guide for Solar Roof Hooks Model : SPC-IK-12,
This SUS304 stainless steel bracket fits flat tile roof profiles, side mounted.
More details, Kindly click below >>>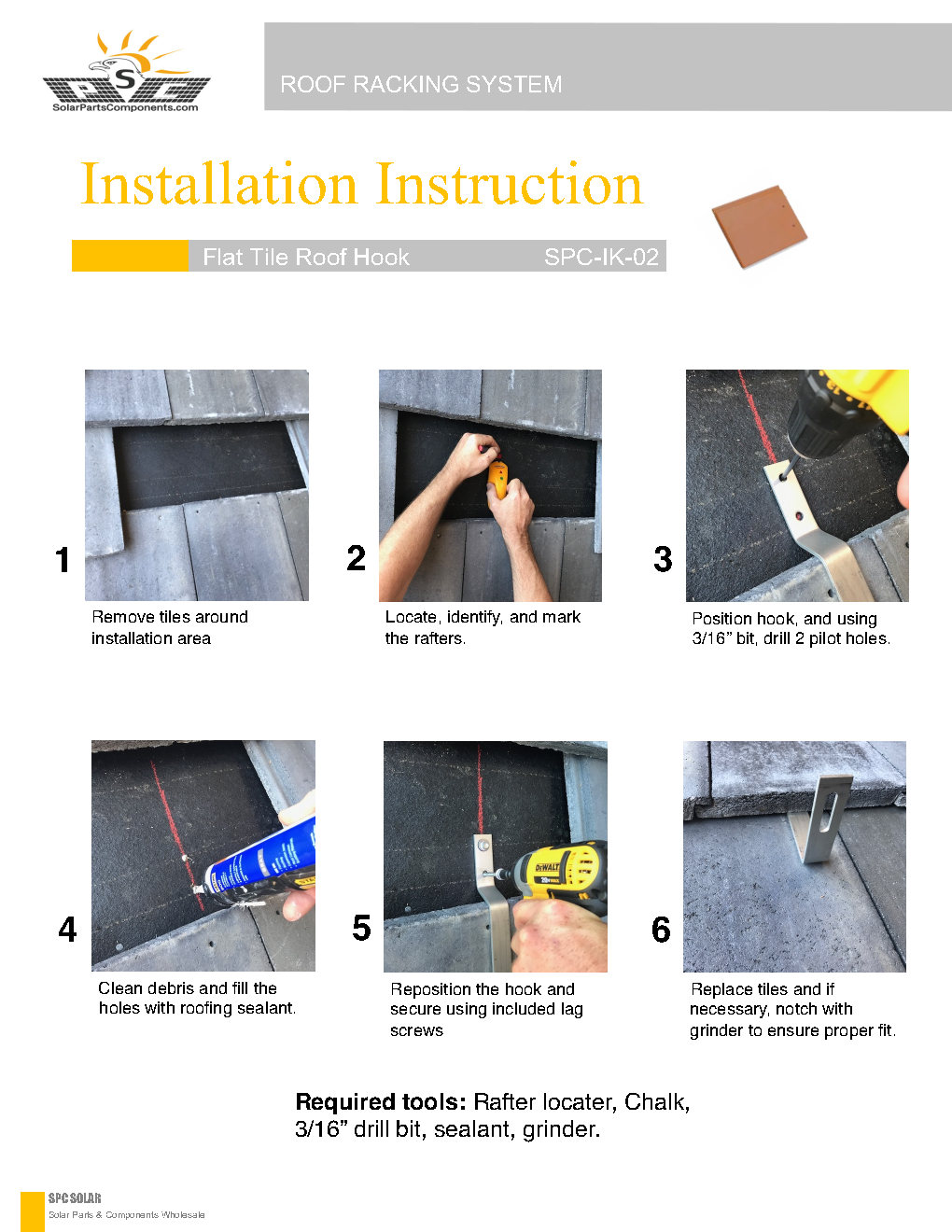 Drawing for this Non-Adjustable, Side Mounts Flat Tile Roof Hooks
Drawings / Sizes / Dimension for this solar roof hooks -SPC-IK-12
More details, Kindly click below >>>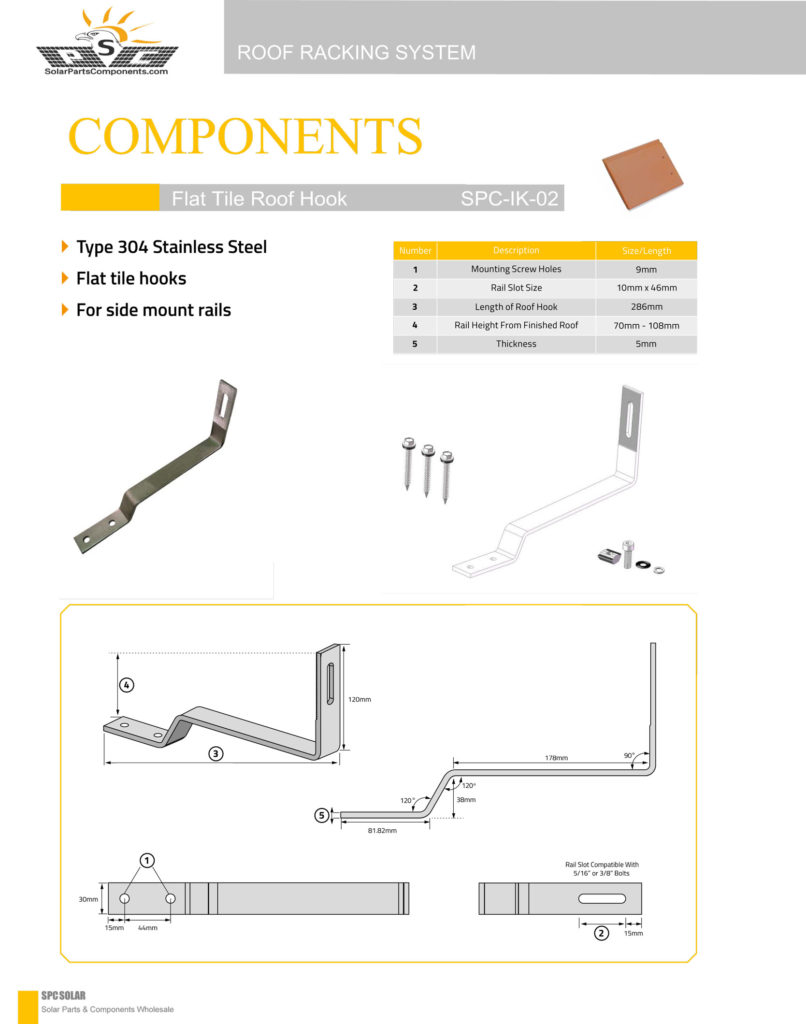 solar flat tile roof mounting brackets factory direct