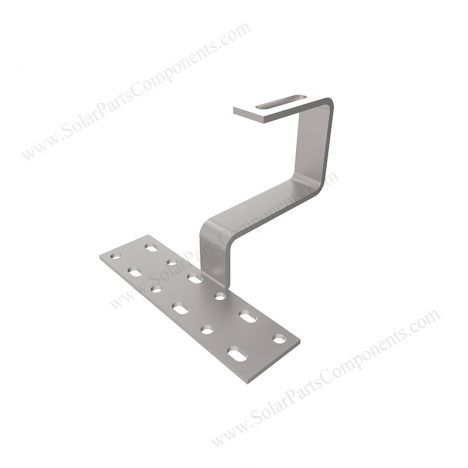 Curved Tile Roof Hooks, Non-adjustable, Bottom Mounting
Product Type: Solar Curved Tile Roof Hooks

Product Model:SPC-IK-07

Material:  304 Stainless Steel

Max Wind Load : 60 m/s

Max Snow Load : 1.4 KN / M 2

Application: Pitched Tile Roof Installation
Contact by Email
Product Description :
Our non-adjustable solar hooks are designed for bottom mounting, it's 180 degrees parallel with solar panels.
This curved tile roofing hooks are fixed in height and made of SUS 304 stainless steel.
Choosing our matched bolts, nuts, screws , installers can finished pitched Roman tile projects quickly and labor effective.
Our optional solar component T mid-blocks is made of premium Alum with anodizing surface finishint.
This not adjustable solar tile hook can be applied for sloping roofing which is builded by Curved tiles, Spanish tiles, Roman tiles, Clay tiles …
Whatever for vertical or horizontal PV panels installation .
None adjustable solar PV structure should be accompanied with projects with whole solar kits .
Advantages :
Simply Installing : Pre-assembly with international standard , turnkey-job ;
QC Guarantee : Strict Quality Controlling keep reliable service ;
Rich Experience : Professional manufacturing solar components more than 6 years;
Long life span : Offer 10-Years Warranty for our Bottom mounted rails roofing hooks .
Parts and Components for Solar Curved Tile Roof Hooks, Non-adjustable, Bottom Mounting :
Stainless no adjustment 304 hook with standard slot;
hexagon carriage bolt bolts and nuts ;
T sliding nut block ( Optional );
Hex Sharp-point screw with washer .
If you're interested in solar mounting system, we'd love to discuss with you about more and answer any questions you might have. As a professional manufacturer of PV mounting system, SPC is a great option for you.
Click here for more details and information:
www.SolarPartsComponents.com
Brief Descriptions :
Solar Mounting Components – Curved Tile Roof Hooks, Non-adjustable, Bottom Mounting , 180°
Item type:
Solar Curved Tile Roof Hooks
Type :
Roof Hooks
Installation Site :
Pitched Roofing
Profile Material :
SUS 304 Stainless Steel
Fasten Parts :
Stainless Steel / Aluminum 6005-T5
Color :
Silvery or according to customer requirements
Wind Load :
60 m / s
Snow Load :
≤ 1.4 KN / M2
PV Modules :
Framed, Frameless
Module Orientation :
Portrait and Landscape
Standards :
AS/NZS 1170
DIN 1055
GB50009-2012
IBC2009
TUV
JIS C 8955 : 2011
International   Building Code IBC 2009
California   Building Code CBC 2010
Warranty
10 years
Designed Life Span
25 years
Packing Details :
Inner :
Bubble bag+inner box+Carton
Outer :
Wooden Box, Steel Pallet, MDF, etc
Installation Manual for Solar Roof Hooks SPC-IK-07
Can we customized solar panel roof tile hooks, 5000 pieces?
Inquiry:
Hello
I need 5000 pieces from solar panel tile hook as the specification below:
ABMESSUNGEN IN MM/MEASUREMENTS IN MM
A
B
C
D
t
Loch Ø

Hole Ø

Platte

plate

150
60
4 ±0,1
9
Haken

hook

106
130
65
30
5 ±0,1
11*30
ARTIKELINFORMATIONEN/ARTICLE INFORMATION for this customized solar roof tile hooks:
Art.-Nr.
Artikelbezeichnung

article description

VPE/PU
kg/St.

kg/piece

150x60W
Dachhaken klein

roof hook small

20
0,577
TECHNISCHE DATEN/TECHNICAL DATA for customized solar panel tile hooks:
Beschreibung

description

handelsübliche Edelstahldachhaken

customary stainless steel roof hooks

Einsatzbereich

range of use

Ziegeldächer ab 20º Dachneigung

tiled roofs from 20º roof pitch

Material

material

Edelstahl A2 1.4301

stainless steel A2 1.4301

Ausführung dispatch
gestanzt, gebogen und sandgestrahlt

stamped, bended and sandblasted
It should be customized in sizes.
If you have exact same, similiar version will be possible.
we'll need them in 2 months, how long take delivering on ship??
What about transport fee on it??
We'd like buy SAMPLE first and then a come back to you for 5000 pieces in quantity.
Regards
Mit freundlichen Grüßen
Wolfgang Maier
Gewerbegebiet Mitterhof
84307 Eggenfelden
Answer:
Dear Maier
Nice to receive your enquiry about our solar roof hook series .
Yes, since we have to make a new moulding for this customized type solar tile hooks.
As per size you given,
Base on 5,000 units in Quantity,
our wholesale factory price has replied by email for you .
If you can use ours,the price can be lower .
the plate size of yours is 150 X 60, ours is  140 X 50
If you accept our plate base as our size : 140X50mm, our producing time is 3 – 4 weeks against payment .
The sea freight to  munich seaport also replied by email .
Thank you & let me know if you are interested in this service !
SOLAR RACKING PARTS & COMPONENTS FACTORY
solar curved tile roof hooks factory
Q:
I am looking for curve tile roof hooks, please send pricing and delivery to Vancouver Canada.
Brackets for tile roof mounting system SPC-IK-07.
A:
Hi, do you need whole mounting system or just need bracket curve tile roof hooks, non-adjustable SPC-IK-07.
please share me pruchase quantity or more details about your solar curve tile roof mounting system.
Q:
Only looking for curve tile roof hooks, need 8,000 units,shipping to Vancouver, Canada region,
balance of system needs to be source in Canada.
A:
Well understand, I have sent you our price of 8,000 tile roof hookS SPC-IK-07 and shipping cost to you mailbox.
Please kindly check.
solar tile roof hooks non-adjustable
Solar tile roof hook #07 is a non-adjustable bottom-mounted tile roof hook. The high-quality stainless steel roof attachment made by SPC makes it easy to install solar energy on tiled roofs without cutting tiles. The number of roof hooks required for a particular system design can always be easily calculated and meets building standards.
Feature:
Practical and compatible with a variety of roof solar modules;
Stainless steel fasteners, safe and beautiful, corrosion resistant;
Complete roof accessory solutions for tile roofs;
Fasteners for solar tile roof installation system;
Not adjustable, stable and firm;
solar tile roof hooks for mounting system
Our solar tile roof hooks are made of stainless steel, which has strong corrosion resistance, durability and high safety.
Solar Roof Hook For Spanish Tile
How to install solar roof hooks on Spanish Tile?
This post introduces the features of hook, and explains how it works for installation.
Solar Tile Roof Hooks Non-adjustable Bottom Mounts
Solar Tile Roof Hooks Non-adjustable, is designed for bottom mount style.Tile roof hook can minumuze penetration on tile roof PV modules mounting, it is mounted to the subsctructures under the tiles.Use our high quality solar tile roof hooks eliminate the need of cutting and welding on site,provide more simple and fast solar roof installation.
Deimension of the bottom plate is 180mm x 50mm x 4mm, the height of the bar is 40mm.
Solar tile roof hook supplier,for more details, welcome contact us.
Tile roof hook #07 installation
Installation instructions for stainless steel hook#07
Solar Roof Tile Hooks, Model:SPC-IK-10-S , Bottom Mounted
Solar Roof Tile Hooks, Model:SPC-IK-10-S , Bottom Mounted, Size & profile details
Drawing for Solar Roman Tile Roof Hooks Drawing - Non-adjustable, Bottom Mount
Size & profile details for tile roof mounting hooks for solar panels SPC-Tile-Hooks-CNB001
Drawing for Solar Panel Curved Tile Roof Hooks Drawing - SPC-Tile-Hooks-CNB013
Size & profile details for
Non-adjustable, Bottom Mounted Solar Panel Curved Tile Roof Hooks
Model : SPC-Tile-Hooks-CNB013
Tailored size solar roof hooks for Denmark
Today we got an enquiry from Mr. Andreas Wagner , DE.
He is looking for customized sized solar roof hook products with the following specifications:
Stainless steel roof hook for solar systems for roman / Spanish / curved clay tile roofing .
Optional solar components for PV module mounting roof hooks : lag (wood) screws, washers, stainless steel bolts, nuts
.