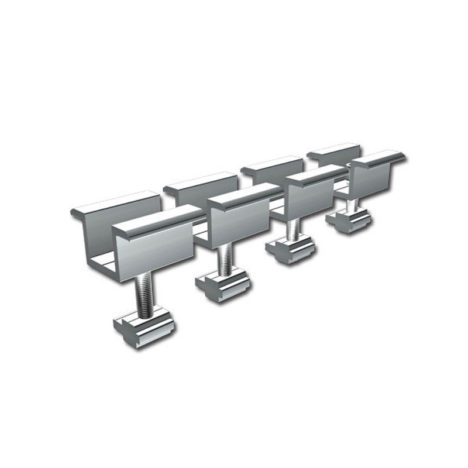 Mid Clamp Solar Mounting Components
Product Type: Solar Panel Mounting Systems Hardware

Product Model:Solar-Mounting-Components-Mid-Clamp

Material: Aluminium, Steel

Max Wind Load : 60 m/s

Max Snow Load : 1.4 KN / M 2

Application: Frame Solar Panels Installation
Contact by Email
Product Description
Our mid clamp solar mounting components are using high quality anodized aluminum (AL6005-T5) which is complied with international stardards.
Great tensile strenth and excellent anticorrosion.
This solar mounting mid clamps are designed for frame solar panels, the thickness can be from 35 mm to 50 mm.
It's used in the middle of two panels, fasten well and good corrosion resistance.
The mid clamp is a must for PV module installation, our specially designed can making it significantly stronger.
The fasten bolt is made of stainless steel , the standard length  can be customized according to solar panel's thickness.
Advantages
Standard size of mid clamp facilitate PV module installing;
Easy & fast mid clamp hardware installation with pre-assemble packing ;
Affordable in budget cost for aluminium brackets ;
10-years Warranty for our solar clamp components, Quick response for after-sale service .
Our aluminum mid clamps can be widely-used for residential, commercial, remote area and marine applications. .
Material List for Mid Clamp Solar Mounting Components :
Upper part of aluminum groove extrusion;
Lower part of aluminum sliding block;
T sliding nut block;
Hexagonal Socket head bolt;
Spring Washer
We are one of the best solar mounting systems and accessories manufacturers in China. Great quality and prices you can be assured, Welcome to our online website: www.solarpartscomponents.com.
Brief Descriptions :
Solar mounting mid clamps for frame solar panels installation
Item type:
Solar Mounting Components
Technical Parameters :
Installation Site :
Ground or Roof solar panel mounting
Profile Material :
AL 6005 – T5 ( Anodized )
Fasten Parts :
SUS 304 Steel
Color :
Silvery or according to customer requirements
Wind Load :
60 m / s
Snow Load :
1.4 KN/ M2
PV Modules :
Framed
Module Orientation :
Portrait and Landscape
Standards :
AS/NZS 1170
DIN 1055
GB50009-2012
IBC2009
TUV
JIS C 8955 : 2011
International   Building Code IBC 2009
California   Building Code CBC 2010
Warranty
10 years
Designed Life Span
25 years
Packing Details :
Inner :
Bubble bag+inner box+Carton
Outer :
Wooden Box, Steel Pallet, MDF, etc
Need solar mid clamps with nut for steel rail
Client:
We sould buy the following solar clamps but please give us a better price as we have a price lower from a competitor.
mid clamp 250 pcs
end clamp 50 pcs
Nuts should be used for steel rails. Please see photo below.
Panel thickness 40mm.
Also what is the length of the clamps? We want them 70mm at least
How soon can you load?
Thanks
Andreas
Answer:
Dear Andreas
Base on the thickness of solar panels 40mm.
We will offer matched hexagon socket screw for PV modules .
Following are configuration of mid & end clamps .
(1) Our standard mid clamp kit includes :
– one piece of aluminum section ;
– one piece of spring washer;
– one piece of hexagon socket screw ;
– one piece of aluminum stainless steel nut ;
(2) Our standard end clamp kit includes :
– one piece of aluminum section ;
– one piece of spring washer;
– one piece of hexagon socket screw ;
– one piece of aluminum stainless steel nut ;
Thank you order from us.
Solar Clamp With Nuts Factory!
Could solar mid / end clamps can be M6 size?
Q:
Please quote your best C+F Jeddah/Price for M6 hole solar mounting clamps.
A:
Appreciated for inquiry about customized mid clamps with M6 holes.
Yes, we can make as drawing sizes.
More details, kindly check>>>
Thank you,
Solar Clamp Factory Direct
Sales Team
Middle clamp solar mounting components factory
Q:
I am looking for Middle clamp solar mounting components (with Bolt and nut) 
Do you have a distributor in South Africa?
A:
Thank you for your inquiry on our solar mounting components-mid clamp.
We are solar clamp factory direct, you can buy from us for competitive price.
May I know your pruchase quantity and the dimension of your PV modules.
Q:
I need about 880 mid clamps and 200 end clamps, thickness of the panel is 35mm.
A:
I have sent our offer to your mailbox, kindly check.
Have a nice day!
SPC Team
Inquire of middle clamps made of Aluminum
Q:
Good day!
Please provide us with your best quotation for middle clamps made of Aluminum considering:
Frame height is 40mm.
Quantity 11500pcs.
Delivery terms: Queen Alia Airport, Amman, Jordan.
Delivery time.
Kindly note that we need these mid clamps without the screw & without the nut (only the clamp).
B.R.
Hadeel
A:
Dear Hadeel
Well understanding your requirements.
Please refer to our Model: SPC-CMC-2387-40-Mid-Clamp-Model as image below:
our factory price of Aluminum middle clamps without bolt & nut has sent by email.
For shipment,we recommend you ship by LCL together for these mid clamps.
Because the air fly cost is not economic.
Thank you !
Alum Mid Clamp Manufacturer
What is solar mid clamp and end clamp used for?
This post states the different and similar features and usages when solar panels installation.
Showing the importance of them, more details please check >>>
Solar panel inter clamp series, pre-assembled, easy installation .
Our aluminum inter clamp series can work with all PV modules .
Since there are different thickness for solar panels in the market, our inter clamps can range from 30 mm to 50 mm.
Just give me PV module size details, we can offer matched inter clamp kit with slide nuts and bolts well . All of our inter or
end clamps are made of first grade AL6005-T5 material with anodized finished .
Factory direct solar panel inter clamp series :30 / 35 / 40 / 45 / 50 mm and more height available, AL-6005-T5 aluminum
anodized finishes
OEM Solar Mounting Mid Clamps Wholesale
OEM Solar Mounting Mid Clamps Wholesale
Drawing for this Solar Panel Mid Clamps
Sizes, profile and drawing details for this pv module mid clamp
Aluminum solar mounting clamps for frame panel
Solar mounting clamps for panel are suitable for framed solar panels, the main materials are made of aluminum alloy and stainless steel.
35 mm and 40 mm Solar Panel Clamps Supplier
Can our solar clamps be customized ?
Custom Clamps Fabrication Acceptable
As a factory direct which has been in 10 years of experience for solar parts & components.
we can customized solar mid / end clamps as your drawings, if you have any special requirement we can
follow yours too .
One Inquiry about our solar clamps with T bolts :
"
I would like to purchase 20 each of mid clamps and end clamps. The desired clamp length is 120 mm. Would
need T-bolt since I am looking to use the clamps in T-slot frame. The dimensions of T bolt would be M6 *10.
Please send me a quote along with this email if you have stock. "
As per customized solar clamps ,
(1) 120mm mid clamp with M6*10mm T-bolt ;
(2) 120mm end clamp with M6*10mm T-bolt;
Welcome to purchase PV Mounting Clamps from www.SolarPartsComponents.com
How to use solar mid clamps for rail racking ?
For safely and firmly fix solar PV modules to building / ground ,
many installers use aluminum rail racking systems due to strong strength, low weight, elegant appearance .
Solar mid & end clamps play an important role for holding solar panels to rail racking .
Mid clamps sit between two PV modules while end clamps sit at the end of row arrays .
Following is illumination details for how to fix our mid clamps with our #1 alu rail :
BOM :
– plain clamp ;
– hex socket stainless steel screw M8 ;
– sliding nut ;
– aluminum rail section #1 ;
Framed mono / polycrystalline solar panels with different thickness :
(1) 30mm models with M8 ×40 mm Bolts ;
(2) 35mm models with M8 ×45 mm Bolts ;
(3) 40mm models with M8 ×50 mm Bolts ;
(4) 45mm models with M8 × 55mm Bolts ;
(5) 50mm models with M8 ×60 mm Bolts ;
…
Most of solar panel manufacturers have installation manual which show clamping zones , do mount on these zones for
wind / snow loading condition .
Since different area clamping may vary maximun wind load from 1500 pa – 2400 pa range .
Symmetrically clamping is another key point during position mid / end clamps .
Please do check whether your solar panels are properly clamped after each GREEN SUNNY job done !