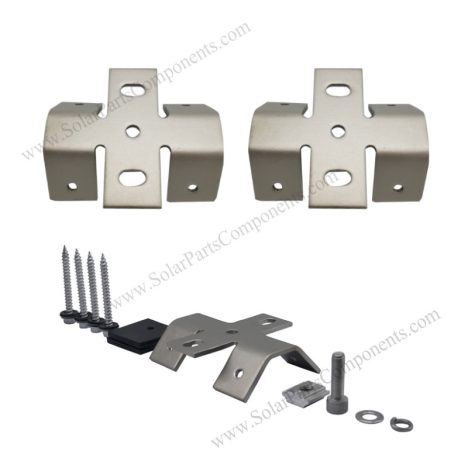 Metal Roof Clamps
Product Type: Solar Roofing Mounts

Product Model: SPC-CK-03B

Material: Stainless Steel

Max Wind Load : 60 m/s

Max Snow Load : 1.4 KN / M 2

Solar Module Orientation: Landscape / Horizontal

Application:  Metal Rooftop
Contact by Email
Product Description :
By using our bottom mounted clamps it will be very easy to install solar panels on metal rooftops.
It's made of SUS304 high grade material which can offer long service life after PV module installation.
The perfect sizes of this solar metal roof clamp which match to trapezoidal / corrugated roof ridges provides great performance after attached to PV modules.
The mounted type is horizontal / bottomed installed which means this racking clamps are attached to bottom of rails.
Besides this solar panel metal roof clamps,different kinds of clamps avaialbe for various roof sheet shape like: trapezoidal, corrugated, standing seam…
It is time to add solar panels on your roof with our mounting bracket, make your investment a great return.
High quality rubber gasket seals on the back of our clamps will prevent roof leak after installing work is complete.
Features of this metal roofing clamps for solar panel:
(1) State of art, Stainless Steel made ;
(2) Strong holding strength with self-tapping screws;
(3) Not deteriorate with ages;
(4) Four pieces of factory applied EPDM rubber gaskets included;
(5) Preassembled arrive with fast installation steps;
This solar metal roof clamps, bottom mounted comes with with:
one (1) stainless-steel clamp,
Four(4) butyl pads,
Four (4) M8-1.25selftapping screws,
Nut / washer / bolts are optional.
This metal roofing clamps for solar panel can be used for both residental / commercial / industrial solar power projects.
A wide broad line of solar metal roof clamps are vailable from www.SolarPartsComponents.com
Brief Descriptions:
Mounting systems for metal roofing solar panel installation
Item type:
SPC-CK-03B
Technical Parameters:
Type:
Metal Solar Panel Mounting Clamp
Installation Site:
Metal roof top
Installation Angle:
0° ~ 60°
Profile Material:
SUS 304
Fasten Parts:
Stainless Steel
Color:
Silvery or according to customer requirements
Wind Load:
60 m / s ( 130 mph )
Snow Load:
1.4 KN / M2  ( 30 psf )
PV Modules:
Framed, frameless
Module Orientation:
Portrait and Landscape
Standards:
AS/NZS 1170
DIN 1055
GB50009-2012
IBC2009
TUV
JIS C 8955 : 2011
International   Building Code IBC 2009
California   Building Code CBC 2010
Warranty
10 years
Designed Lifespan
25 years
Packing Details:
Inner:
Bubble bag+inner box+Carton
Outer:
Wooden Box, Steel Pallet, MDF, etc
How are solar panels secured to the roof?
The solar panels are fixed above the roof with clamps and rails.
The following metal roof clamps for solar panel is suitable for metal roofs and can play a supporting role.
Q:
Hello,
Could you give us a quotation for:
1000x Metal roof clamps for solar panel, bottom mounted SPC-CK-03B
A:
Appreciated for your inquiry for our metal roof clamp SPC-CK-03B.
Base on 1000 in quantity, our factory price see at attached.
May I know how soon will you need these clamps?
Should I calculate shipping cost to your address
or just to your nearest sea port
Please advise.
Feel free add my whatsapp for better communication.
Q:
Thank you for your kind reply!
When can I received?
A:
We will shipment as soon as possible.
Thank you!
Is there a minimum requirement for the thickness of the metal sheet?
"
Hello,
I do have a question about your solar metal roof clamps: SPC-CK-03B.
Product Type: Roof Mounting Systems for Trapezoidal Metal Sheet product.
Is there a minimum requirement for the thickness of the metal sheet?
I couldn't find any info about that on your website 
Hope to hear from you soon.

Sunny Regards,
Lismawati
Marketing Manager
"
"
Hi Lismawati
There's no special requirements for thickness of metal roof as long as they are made of qualified manufacturer.
We are project base mounting system factory, you can send me more details of the cases. I will let our engineer evaluate them if necessary.
The regular thickness of metal sheet is around 0.5mm,
if the thickness is less than 0.4mm, we recommend screw the clamp on the rafter through the metal sheet.
It wounld be great if you can share me your Roof mounting info: pciture or drawing of your metal sheet or your metal roof clamp.
I will let our engineer check it out for you.
IF have any more question, please do not feel hesitate to contact me.
May you have great days.
SPC solar sales team
"
Need more info of metal roof bracket hooks: SPC-CK-03B
für welches Trapezblech sind die Metalldachklemmen für Solarpanel, SPC-CK-03B ausgelegt.
The feature of SPC-CK-03B
What is the advantage of the metal roof clamps for solar panel, bottom mounted SPC-CK-03B?
Metal roof clamps for solar panel are not restricted by the support structure,
because the use of color steel tile houses for the basic industrial plant,
and such houses are steel structure support, the span of the support beam is larger,
the number of tracks are limited, the stability of the solar system has a certain impact,
the product solves this problem.
Interested in metal roof clamp 5000 pieces
Q:
Hi,
We are interested in the the metal roof clamp found on your website.
Can you send us a the technical information?
Is it guaranteed rust-proof material?
Is it included with a bolt in the center?
What is your price for 5000 pieces of metal roof clamp kit for solar racks?
Can you call me please to discuss this offer?
Met vriendelijke groeten,
Bert Steelant | Project Manager
0032471351046
Industriepark Oost 26, Beernem, Belgium
A:
Dear Bert
Nice to receive your enquiry about our metal roof clamps for solar racking.
Please refer to specification as below:
Yes, our material is SUS304 stainless steel for this clamp , 15 years' warranty.
Base on 5,000 units in Quantity,
as per phone call we discussed our factory price offer is on the way through email.
Our whole metal roof clamp kit includes:
(1) SPC-MRC-BM-001  Metal Roof Clamp  ;
(2) Fasten parts ;
-M6.3 x 25 Screws x 4 pcs;
-EPDM Pads x 4 pcs ;
-M8 x 25 Hexagon socket head cap screw bolts (SUS304) x 1 pcs ;
-D8 Plain washers ( SUS 304 ) × 1 pcs;
-D8 Spring washers ( SUS 304 ) x 1;
-M8 Hexagon nut X1 pcs;
You can buy metal bracket only or whole set with fasten components from us.
Thank you & look forward for your reply .
Have a nice day.
Best regards,
Solar Mounting Parts & Components Factory
Product Description :

By using our bottom mounted clamps it will be very easy to install solar panels on metal rooftops.

It's made of SUS304 high grade material which can offer long service life after PV module installation.

The perfect sizes of this solar metal roof clamp which match to trapezoidal / corrugated roof ridges provides great performance after attached to PV modules.

The mounted type is horizontal / bottomed installed which means this racking clamps are attached to bottom of rails.

Besides this solar panel metal roof clamps,different kinds of clamps avaialbe for various roof sheet shape like: trapezoidal, corrugated, standing seam…

It is time to add solar panels on your roof with our mounting bracket, make your investment a great return.

High quality rubber gasket seals on the back of our clamps will prevent roof leak after installing work is complete.

Features of this metal roofing clamps for solar panel:

(1) State of art, Stainless Steel made ;

(2) Strong holding strength with self-tapping screws;

(3) Not deteriorate with ages;

(4) Four pieces of factory applied EPDM rubber gaskets included;

(5) Preassembled arrive with fast installation steps;

This solar metal roof clamps, bottom mounted comes with with:

one (1) stainless-steel clamp,
Four(4) butyl pads,
Four (4) M8-1.25selftapping screws,
Nut / washer / bolts are optional.

This metal roofing clamps for solar panel can be used for both residental / commercial / industrial solar power projects.

A wide broad line of solar metal roof clamps are vailable from www.SolarPartsComponents.com

Brief Descriptions:
Mounting systems for metal roofing solar panel installation
Item type:
SPC-CK-03B
Technical Parameters:
Type:
Metal Solar Panel Mounting Clamp
Installation Site:
Metal roof top
Installation Angle:
0° ~ 60°
Profile Material:
SUS 304
Fasten Parts:
Stainless Steel
Color:
Silvery or according to customer requirements
Wind Load:
60 m / s ( 130 mph )
Snow Load:
1.4 KN / M2  ( 30 psf )
PV Modules:
Framed, frameless
Module Orientation:
Portrait and Landscape
Standards:
AS/NZS 1170
DIN 1055
GB50009-2012
IBC2009
TUV
JIS C 8955 : 2011
International   Building Code IBC 2009
California   Building Code CBC 2010
Warranty
10 years
Designed Lifespan
25 years
Packing Details:
Inner:
Bubble bag+inner box+Carton
Outer:
Wooden Box, Steel Pallet, MDF, etc

How are solar panels secured to the roof?

The solar panels are fixed above the roof with clamps and rails.

The following metal roof clamps for solar panel is suitable for metal roofs and can play a supporting role.

 

Q:

Hello,

Could you give us a quotation for:

1000x Metal roof clamps for solar panel, bottom mounted SPC-CK-03B

A:

Appreciated for your inquiry for our metal roof clamp SPC-CK-03B.

Base on 1000 in quantity, our factory price see at attached.

May I know how soon will you need these clamps?

Should I calculate shipping cost to your address

or just to your nearest sea port

Please advise.

Feel free add my whatsapp for better communication.

Q:

Thank you for your kind reply!

When can I received?

A:

We will shipment as soon as possible.

Thank you!

Is there a minimum requirement for the thickness of the metal sheet?

"

Hello,

I do have a question about your solar metal roof clamps: SPC-CK-03B.

Product Type: Roof Mounting Systems for Trapezoidal Metal Sheet product.

Is there a minimum requirement for the thickness of the metal sheet?

I couldn't find any info about that on your website 

Hope to hear from you soon.


Sunny Regards,

Lismawati

Marketing Manager

"

"

Hi Lismawati

There's no special requirements for thickness of metal roof as long as they are made of qualified manufacturer.

We are project base mounting system factory, you can send me more details of the cases. I will let our engineer evaluate them if necessary.

The regular thickness of metal sheet is around 0.5mm,

if the thickness is less than 0.4mm, we recommend screw the clamp on the rafter through the metal sheet.

It wounld be great if you can share me your Roof mounting info: pciture or drawing of your metal sheet or your metal roof clamp.

I will let our engineer check it out for you.

IF have any more question, please do not feel hesitate to contact me.

May you have great days.

SPC solar sales team

"

Need more info of metal roof bracket hooks: SPC-CK-03B

für welches Trapezblech sind die Metalldachklemmen für Solarpanel, SPC-CK-03B ausgelegt.

The feature of SPC-CK-03B

What is the advantage of the metal roof clamps for solar panel, bottom mounted SPC-CK-03B?

Metal roof clamps for solar panel are not restricted by the support structure,

because the use of color steel tile houses for the basic industrial plant,

and such houses are steel structure support, the span of the support beam is larger,

the number of tracks are limited, the stability of the solar system has a certain impact,

the product solves this problem.

Interested in metal roof clamp 5000 pieces

Q:

Hi,

We are interested in the the metal roof clamp found on your website.

Can you send us a the technical information?

Is it guaranteed rust-proof material?

Is it included with a bolt in the center?

What is your price for 5000 pieces of metal roof clamp kit for solar racks?

Can you call me please to discuss this offer?

Met vriendelijke groeten,

Bert Steelant | Project Manager

0032471351046

Industriepark Oost 26, Beernem, Belgium

A:

Dear Bert

Nice to receive your enquiry about our metal roof clamps for solar racking.

Please refer to specification as below:

Yes, our material is SUS304 stainless steel for this clamp , 15 years' warranty.

Base on 5,000 units in Quantity,

as per phone call we discussed our factory price offer is on the way through email.

Our whole metal roof clamp kit includes:

(1) SPC-MRC-BM-001  Metal Roof Clamp  ;

(2) Fasten parts ;

-M6.3 x 25 Screws x 4 pcs;

-EPDM Pads x 4 pcs ;

-M8 x 25 Hexagon socket head cap screw bolts (SUS304) x 1 pcs ;

-D8 Plain washers ( SUS 304 ) × 1 pcs;

-D8 Spring washers ( SUS 304 ) x 1;

-M8 Hexagon nut X1 pcs;

You can buy metal bracket only or whole set with fasten components from us.

Thank you & look forward for your reply .

Have a nice day.

Best regards,

Solar Mounting Parts & Components Factory