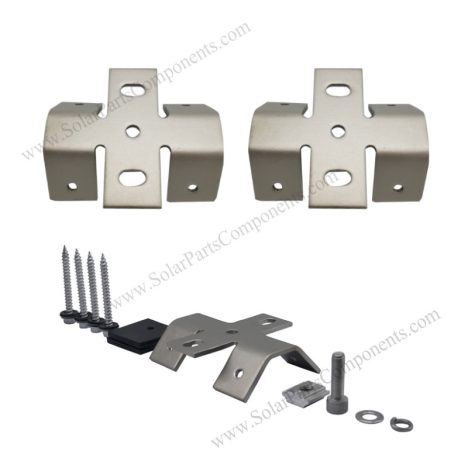 Metal Roof Clamps
Product Type: Solar Roofing Mounts

Product Model: SPC-CK-03B

Material: Stainless Steel

Max Wind Load : 60 m/s

Max Snow Load : 1.4 KN / M 2

Solar Module Orientation: Landscape / Horizontal

Application:  Metal Rooftop
Contact by Email
Product Description :
By using our bottom mounted clamps it will be very easy to install solar panels on metal rooftops.
It's made of SUS304 high grade material which can offer long service life after PV module installation.
The perfect sizes of this solar metal roof clamp which match to trapezoidal / corrugated roof ridges provides great performance after attached to PV modules.
The mounted type is horizontal / bottomed installed which means this racking clamps are attached to bottom of rails.
Besides this solar panel metal roof clamps,different kinds of clamps avaialbe for various roof sheet shape like: trapezoidal, corrugated, standing seam…
It is time to add solar panels on your roof with our mounting bracket, make your investment a great return.
High quality rubber gasket seals on the back of our clamps will prevent roof leak after installing work is complete.
Features of this metal roofing clamps for solar panel:
(1) State of art, Stainless Steel made ;
(2) Strong holding strength with self-tapping screws;
(3) Not deteriorate with ages;
(4) Four pieces of factory applied EPDM rubber gaskets included;
(5) Preassembled arrive with fast installation steps;
This solar metal roof clamps, bottom mounted comes with with:
one (1) stainless-steel clamp,
Four(4) butyl pads,
Four (4) M8-1.25selftapping screws,
Nut / washer / bolts are optional.
This metal roofing clamps for solar panel can be used for both residental / commercial / industrial solar power projects.
A wide broad line of solar metal roof clamps are vailable from www.SolarPartsComponents.com ,
Versatile designed on different structure and architectural profiles by our engineers from SPC solar factory.
Brief Descriptions:
Mounting systems for metal roofing solar panel installation
Item type:
SPC-CK-03B
Technical Parameters:
Type:
Metal Solar Panel Mounting Clamp
Installation Site:
Metal roof top
Installation Angle:
0° ~ 60°
Profile Material:
SUS 304
Fasten Parts:
Stainless Steel
Color:
Silvery or according to customer requirements
Wind Load:
60 m / s ( 130 mph )
Snow Load:
1.4 KN / M2  ( 30 psf )
PV Modules:
Framed, frameless
Module Orientation:
Portrait and Landscape
Standards:
AS/NZS 1170
DIN 1055
GB50009-2012
IBC2009
TUV
JIS C 8955 : 2011
International   Building Code IBC 2009
California   Building Code CBC 2010
Warranty
10 years
Designed Lifespan
25 years
Packing Details:
Inner:
Bubble bag+inner box+Carton
Outer:
Wooden Box, Steel Pallet, MDF, etc
Product Description :

By using our bottom mounted clamps it will be very easy to install solar panels on metal rooftops.

It's made of SUS304 high grade material which can offer long service life after PV module installation.

The perfect sizes of this solar metal roof clamp which match to trapezoidal / corrugated roof ridges provides great performance after attached to PV modules.

The mounted type is horizontal / bottomed installed which means this racking clamps are attached to bottom of rails.

Besides this solar panel metal roof clamps,different kinds of clamps avaialbe for various roof sheet shape like: trapezoidal, corrugated, standing seam…

It is time to add solar panels on your roof with our mounting bracket, make your investment a great return.

High quality rubber gasket seals on the back of our clamps will prevent roof leak after installing work is complete.

Features of this metal roofing clamps for solar panel:

(1) State of art, Stainless Steel made ;

(2) Strong holding strength with self-tapping screws;

(3) Not deteriorate with ages;

(4) Four pieces of factory applied EPDM rubber gaskets included;

(5) Preassembled arrive with fast installation steps;

This solar metal roof clamps, bottom mounted comes with with:

one (1) stainless-steel clamp,
Four(4) butyl pads,
Four (4) M8-1.25selftapping screws,
Nut / washer / bolts are optional.

This metal roofing clamps for solar panel can be used for both residental / commercial / industrial solar power projects.

A wide broad line of solar metal roof clamps are vailable from www.SolarPartsComponents.com ,

Versatile designed on different structure and architectural profiles by our engineers from SPC solar factory.

Brief Descriptions:
Mounting systems for metal roofing solar panel installation
Item type:
SPC-CK-03B
Technical Parameters:
Type:
Metal Solar Panel Mounting Clamp
Installation Site:
Metal roof top
Installation Angle:
0° ~ 60°
Profile Material:
SUS 304
Fasten Parts:
Stainless Steel
Color:
Silvery or according to customer requirements
Wind Load:
60 m / s ( 130 mph )
Snow Load:
1.4 KN / M2  ( 30 psf )
PV Modules:
Framed, frameless
Module Orientation:
Portrait and Landscape
Standards:
AS/NZS 1170
DIN 1055
GB50009-2012
IBC2009
TUV
JIS C 8955 : 2011
International   Building Code IBC 2009
California   Building Code CBC 2010
Warranty
10 years
Designed Lifespan
25 years
Packing Details:
Inner:
Bubble bag+inner box+Carton
Outer:
Wooden Box, Steel Pallet, MDF, etc