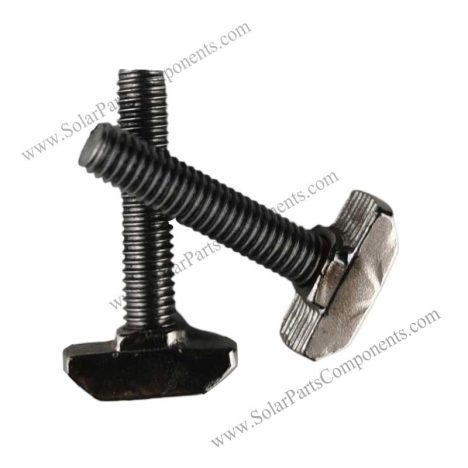 Solar panel M6 T Bolt
Product Type: Solar Mounting Component

Product Model: M6 T bolt

Material: stainless stell

Max Wind Load : 60 m/s

Max Snow Load : 1.4 KN / M 2

Solar Module Orientation: Landscape / Horizontal

Application:  solar panel mounting
Contact by Email
Product Description:
As one of the most common fasten part for solar mounting, this solar M6 T bolts is made of high quality stainless steel,anti-corrosion and reusable. The T bolt can be used with mid and end clamps to the rails and fix the solar panel,also can be used with metal roof clamp, L feet to connect the aluminum profile.
SS A2-70 solar panel M6 T Bolt has a T shape head. It can work with both usual nut and flange nut to joint and fasten the target object.
The length of M6 T Bolts for solar can be 25mm/30mm/40mm/50mm…also can be customized.
Use the T bolt make the solar panel mounting more fast and easy,save on site installation time.
Features of this Solar M6 T Bolts:
Stainless steel, high durability;
Highly corrosion resistance;
Easy toinsert into T slot of profile;
Sturdy construction and long service life;
Both Metric and British standard thread are available;
Our factory specialized in manufacture solar bolts and screw for more than 10 years experience.All the bolts and screws are available for customized.All our products are appreciated for their features like longer life, easy to use, sturdy designs, corrosion resistance, high strength, high functionality, and crack-free nature. For more information visit our website: www.SolarPartsComponents.com.
Brief Descriptions:
Solar Mounting Components –M6 T bolts
Item type:
Solar rail mounting accessory
Type:
Solar M6 T bolts
Installation Site:
PV Modules Mounting
Profile Material:
Stainless steel
Color:
Plain
PV Modules:
Framed/frameless
Module Orientation:
Landscape and Portrait
Standards:
AS/NZS 1170
DIN 1055
GB50009-2012
IBC2009
TUV
JIS C 8955: 2011
International   Building Code IBC 2009
California   Building Code CBC 2010
Warranty
10 years
Designed Lifespan
25 years
Packing Details:
Inner:
Bubble bag + inner box + Carton
Outer:
Wooden Box, Steel Pallet, MDF, etc
M6 T Bolt for solar panel
Solar M6 T Bolts 1/4" x 20t size
Q;
I am looking to purchase some solar bolts
Bolt dia 6mm
Length 35mm
Head 20mm x 8mm
About the thread I need British standard.
Can you produce in 1/4 x 20t size and what is the MOQ
Regards
A:
Yes, we can offer Solar M6 T Bolts 1/4" x 20t size as you required.
Please refer to the details as below:
May I know how much do you need?
Q:
That looks good for me, please quote me your best price for 200,000 pieces,
Include shipping cost to Latsia, Nicosia,Cyprus.
A:
Please refer to the Invoice, any doubt just let me know.
Our produce time is around 2-3 weeks.
Q:
Well understand, I have sent invoice to finance department. Waiting for their approval. As soon as I receive approval, I will let you know.
[contact-form-7 id="4″]
Product Description:

As one of the most common fasten part for solar mounting, this solar M6 T bolts is made of high quality stainless steel,anti-corrosion and reusable. The T bolt can be used with mid and end clamps to the rails and fix the solar panel,also can be used with metal roof clamp, L feet to connect the aluminum profile.

SS A2-70 solar panel M6 T Bolt has a T shape head. It can work with both usual nut and flange nut to joint and fasten the target object.

The length of M6 T Bolts for solar can be 25mm/30mm/40mm/50mm…also can be customized.

Use the T bolt make the solar panel mounting more fast and easy,save on site installation time.

 

 

Features of this Solar M6 T Bolts:

 

Stainless steel, high durability;

Highly corrosion resistance;

Easy toinsert into T slot of profile;

Sturdy construction and long service life;

Both Metric and British standard thread are available;

Our factory specialized in manufacture solar bolts and screw for more than 10 years experience.All the bolts and screws are available for customized.All our products are appreciated for their features like longer life, easy to use, sturdy designs, corrosion resistance, high strength, high functionality, and crack-free nature. For more information visit our website: www.SolarPartsComponents.com.

Brief Descriptions:
Solar Mounting Components –M6 T bolts
Item type:
Solar rail mounting accessory
Type:
Solar M6 T bolts
Installation Site:
PV Modules Mounting
Profile Material:
Stainless steel
Color:
Plain
PV Modules:
Framed/frameless
Module Orientation:
Landscape and Portrait
Standards:
AS/NZS 1170
DIN 1055
GB50009-2012
IBC2009
TUV
JIS C 8955: 2011
International   Building Code IBC 2009
California   Building Code CBC 2010
Warranty
10 years
Designed Lifespan
25 years
Packing Details:
Inner:
Bubble bag + inner box + Carton
Outer:
Wooden Box, Steel Pallet, MDF, etc

M6 T Bolt for solar panel

Solar M6 T Bolts 1/4" x 20t size

Q;

I am looking to purchase some solar bolts

Bolt dia 6mm

Length 35mm

Head 20mm x 8mm

About the thread I need British standard.

Can you produce in 1/4 x 20t size and what is the MOQ

Regards

A:

Yes, we can offer Solar M6 T Bolts 1/4" x 20t size as you required.

Please refer to the details as below:

May I know how much do you need?

Q:

That looks good for me, please quote me your best price for 200,000 pieces,

Include shipping cost to Latsia, Nicosia,Cyprus.

A:

Please refer to the Invoice, any doubt just let me know.

Our produce time is around 2-3 weeks.

Q:

Well understand, I have sent invoice to finance department. Waiting for their approval. As soon as I receive approval, I will let you know.

[contact-form-7 id="4″]