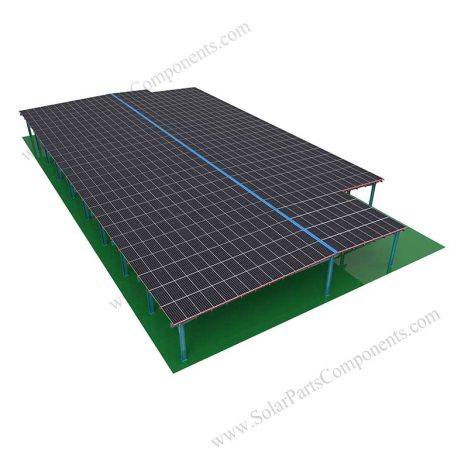 BIPV solar roof mounts SuperDyma
Product Type: Rooftop Mounting Racking

Product Model: SPC-BIPV-Roof

Material:ZM275 SuperDyma steel

Max Wind Load : 60 m/s

Max Snow Load : 1.4 KN / M 2

Solar Module Orientation: Landscape / Horizontal

Application:  Rooftop
Contact by Email
Product Description:
BIPV solar roof structure ZM275 is perfect designed for energy solar PV mounting system, because the PV modules act as the building roof. This design is cost effective and looks contemporary/ modernistic instead of traditional tile or metal deck roofing. This concept is commonly applied for shed, car porch, bus station, factory and etc. They act as filter of the ultraviolet and infrared radiations, both harmful for the health, besides generating clean and free energy thanks to the sun.
Our BIPV solar roof mounts SuperDyma is approaching a plug-and-play level of installation ease, it reduces the cost of packaging and labor.
The W shape trough is made of ZM275 SuperDyma steel, a new type of high-corrosion-resistance coated steel,even can instead of stainless steel or aluminum in some fields. PV modules attach to the W shape trough with clamps directly. Easy and fast to mount.  It provides well waterproofing effect, prevent the roof well from rain leaking.
Components for BIPV solar roof installation ZM275 SuperDyma: PV modules, upper cover,W shape trough, mid clamps,U lateral trough, padding block, baffles, bolts, nuts, adhesive tapes … 
Features of this BIPV solar roof structure ZM275:
ZM275 SuperDyma steel,high-corrosion-resistance;
Can be fully customized;
Waterproof the roof;
High corrosion resistance;
Elegant appearance;
Stronger racking and support.
As a professional solar racking factory, we carry a number of PV modules mounting system which are meet for different installation site, like BIPV roof mounts, ground mounts, roof mounts…  Welcome to contact us from our website: www.SolarPartsComponents.com.
Brief Descriptions:
Solar pane mounting systems- BIPV solar roof mounts

Item type:
SPC-BIPV-Roof
Type:
Rooftop Installation
Installation Site:
Metal Roof
Profile Material:
ZM275 SuperDyma steel
Color:
Silvery
PV Modules:
Framed or frameless
Fasten Parts:
Stainless Steel/Aluminum
Module Orientation:
Landscape/Portrait
Wind Load:
60m/s
Snow Load:
1.4KN/M²
Standards:
AS/NZS 1170
DIN 1055
GB50009-2012
IBC2009
TUV
JIS C 8955: 2011
International   Building Code IBC 2009
California   Building Code CBC 2010
Warranty
10 years
Designed Lifespan
25 years
Packing Details:
Inner:
Bubble bag + inner box + Carton
Outer:
Wooden Box, Steel Pallet, MDF, etc
Product Description:

BIPV solar roof structure ZM275 is perfect designed for energy solar PV mounting system, because the PV modules act as the building roof. This design is cost effective and looks contemporary/ modernistic instead of traditional tile or metal deck roofing. This concept is commonly applied for shed, car porch, bus station, factory and etc. They act as filter of the ultraviolet and infrared radiations, both harmful for the health, besides generating clean and free energy thanks to the sun.

Our BIPV solar roof mounts SuperDyma is approaching a plug-and-play level of installation ease, it reduces the cost of packaging and labor.

The W shape trough is made of ZM275 SuperDyma steel, a new type of high-corrosion-resistance coated steel,even can instead of stainless steel or aluminum in some fields. PV modules attach to the W shape trough with clamps directly. Easy and fast to mount.  It provides well waterproofing effect, prevent the roof well from rain leaking.

Components for BIPV solar roof installation ZM275 SuperDyma: PV modules, upper cover,W shape trough, mid clamps,U lateral trough, padding block, baffles, bolts, nuts, adhesive tapes … 

Features of this BIPV solar roof structure ZM275:

ZM275 SuperDyma steel,high-corrosion-resistance;
Can be fully customized;
Waterproof the roof;
High corrosion resistance;
Elegant appearance;
Stronger racking and support.

As a professional solar racking factory, we carry a number of PV modules mounting system which are meet for different installation site, like BIPV roof mounts, ground mounts, roof mounts…  Welcome to contact us from our website: www.SolarPartsComponents.com.

Brief Descriptions:
Solar pane mounting systems- BIPV solar roof mounts

Item type:
SPC-BIPV-Roof
Type:
Rooftop Installation
Installation Site:
Metal Roof
Profile Material:
ZM275 SuperDyma steel
Color:
Silvery
PV Modules:
Framed or frameless
Fasten Parts:
Stainless Steel/Aluminum
Module Orientation:
Landscape/Portrait
Wind Load:
60m/s
Snow Load:
1.4KN/M²
Standards:
AS/NZS 1170
DIN 1055
GB50009-2012
IBC2009
TUV
JIS C 8955: 2011
International   Building Code IBC 2009
California   Building Code CBC 2010
Warranty
10 years
Designed Lifespan
25 years
Packing Details:
Inner:
Bubble bag + inner box + Carton
Outer:
Wooden Box, Steel Pallet, MDF, etc