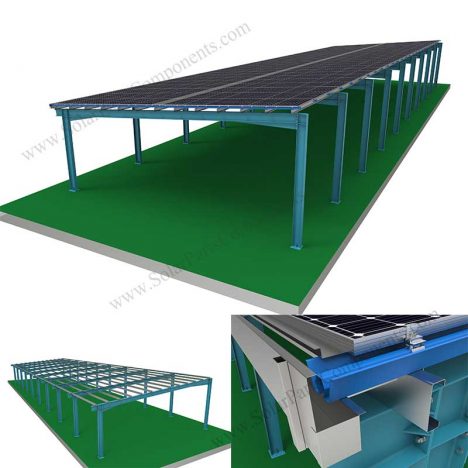 BIPV Industry Roof Racks
Product Type: BIPV Industry Racking

Product Model: SPC-BIPV-IN1

Material: Carbon Steel

Max Wind Load : 60 m/s

Max Snow Load : 1.4 KN / M 2

Solar Module Orientation: Landscape / Horizontal

Application:  Industrial workshop / factory roofing
Contact by Email
Product Description:
BIPV (Building Integrated Photovoltaic) roofing are more and more popular for new industry buildings whatever for totally newly consctruction or remodelling. It's not only generate sun power but as a part of building.
As a skylight roofing, the sunlight can go through from top this would save lighting electric comsumption as well as integrated roofing systems.
Existing buildings usually metal rooftop can be converted into BIPV roofing which can increase appearance of old workshop and work as solar power plant.
BIPV roofing for industrial workshop will grow up in market as decreasing module cost and country policy supports.
The industry can use electricity in advance expecially for paper, steel, chamical, ceramic, textile … plants.
Installing solar panels on flat roof or pitched roof top of workshop / factory integrated with many advantages:
1. Aesthetically in appearance like skylight roof;
2. Utilized large scale industrial roofing;
3. Mature and well-accepted tech in architecture;
4. Full waterproof;
5. Drill free and quick installing on site with tool;
6. Excellent snow load and wind resistance;
7. 10 year product guarantee;
8. Reduced electric cost and reduced carbon emission.
Parts and Components for BIPV roofing for industry:
– Roof clamps;
– Rail and splices;
– water beam;
– "W" channel;
– Mid / end clamps;
– Walking boards;
As solar power industry develops, pv modules would be more economic and high in efficiency.
BIPV roofing will be a new way of renewable power plant installation areas. Solar panels will replace directly for metal roofs in exciting design outlook.
Welcome to equip BIPV mounting system for your factory workshop and make money with good investment.
Brief Descriptions:
Solar Roofing Mounting Systems – BIPV Roofing for Industry / Factory / Workshop
Item type:
Solar BIPV Roof Mounting
Type:
SPC-BIPV-IN1
Installation Site:
Flat Roofing
Profile Material:
HDG Steel
Fasten Parts:
Stainless Steel
Color:
Silvery
Wind Load:
60 m / s
Snow Load:
1.4 KN / M2
PV Modules:
Framed
Module Orientation:
Portrait and Landscape
Standards:
AS/NZS 1170
DIN 1055
GB50009-2012
IBC2009
TUV
JIS C 8955: 2011
International   Building Code IBC 2009
California   Building Code CBC 2010
Warranty
10 years
Designed Lifespan
25 years
Packing Details:
Inner:
Bubble bag+inner box+Carton
Outer:
Wooden Box, Steel Pallet, MDF, etc
Product Description:

BIPV (Building Integrated Photovoltaic) roofing are more and more popular for new industry buildings whatever for totally newly consctruction or remodelling. It's not only generate sun power but as a part of building.

As a skylight roofing, the sunlight can go through from top this would save lighting electric comsumption as well as integrated roofing systems.

Existing buildings usually metal rooftop can be converted into BIPV roofing which can increase appearance of old workshop and work as solar power plant.

BIPV roofing for industrial workshop will grow up in market as decreasing module cost and country policy supports.
The industry can use electricity in advance expecially for paper, steel, chamical, ceramic, textile … plants.

Installing solar panels on flat roof or pitched roof top of workshop / factory integrated with many advantages:

1. Aesthetically in appearance like skylight roof;

2. Utilized large scale industrial roofing;

3. Mature and well-accepted tech in architecture;

4. Full waterproof;

5. Drill free and quick installing on site with tool;

6. Excellent snow load and wind resistance;

7. 10 year product guarantee;

8. Reduced electric cost and reduced carbon emission.

Parts and Components for BIPV roofing for industry:

– Roof clamps;
– Rail and splices;
– water beam;
– "W" channel;
– Mid / end clamps;
– Walking boards;

As solar power industry develops, pv modules would be more economic and high in efficiency.

BIPV roofing will be a new way of renewable power plant installation areas. Solar panels will replace directly for metal roofs in exciting design outlook.

Welcome to equip BIPV mounting system for your factory workshop and make money with good investment.

Brief Descriptions:
Solar Roofing Mounting Systems – BIPV Roofing for Industry / Factory / Workshop
Item type:
Solar BIPV Roof Mounting
Type:
SPC-BIPV-IN1
Installation Site:
Flat Roofing
Profile Material:
HDG Steel
Fasten Parts:
Stainless Steel
Color:
Silvery
Wind Load:
60 m / s
Snow Load:
1.4 KN / M2
PV Modules:
Framed
Module Orientation:
Portrait and Landscape
Standards:
AS/NZS 1170
DIN 1055
GB50009-2012
IBC2009
TUV
JIS C 8955: 2011
International   Building Code IBC 2009
California   Building Code CBC 2010
Warranty
10 years
Designed Lifespan
25 years
Packing Details:
Inner:
Bubble bag+inner box+Carton
Outer:
Wooden Box, Steel Pallet, MDF, etc