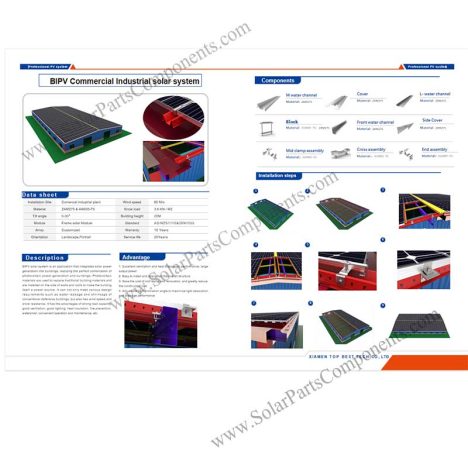 BIPV Commercial solar system waterproof structure
Product Type: Framed Solar Racking

Product Model: SPC-BIPVC

Material: ZAM275 & Al6005-T5

Max Wind Load : 60 m/s

Max Snow Load :3.6 KN / M2

Solar Module Orientation: Landscape / Horizontal
Contact by Email
Turn Your Rooftop into a Photovoltaic Power Station
The national environmental protection movement continues to upgrade, and enterprise problems such as high resource consumption, high energy consumption, and serious pollution have become increasingly serious.
The development of industrial and commercial rooftop integrated photovoltaic power generation has become an inevitable choice for green enterprises that are energy-saving, emission-reducing, low-carbon and environmentally friendly.
Photovoltaic power generation can optimize the energy consumption structure of enterprises, allowing enterprises to use clean energy production so that the business owners can enjoy the eight major benefits.
Benefits for Business Owners
Continuous benefits from photovoltaic power generation
Savings on rooftop maintenance cost and time
Extensions of rooftop life expectancy from 10 years to 25 years
Great improvement of the roof thermal insulation effect
Peak load shaving to increase investment income in electricity price
Contribute to the society and relieve the pressure of peak power consumption
Become low-carbon & environmentally friendly enterprise and get carbon emission credits
Increasing social popularities and attentions of green buildings
Our BIPV not only meets the design requirements of conventional buildings such as anti-leakage, anti-settling, anti-expansion, etc., but also has many other advantages such as high wind and snow loads, good lighting and ventilation, excellent heat preservation and heat insulation, strong vibration and waterproofing, and easy operation and maintenance in the later period.
Product Details:
BIPV Commercial solar system is an application that integrates solar power generation into buildings, realizing the perfect combination of photovoltaic power generation and buildings. Photovoltaic materials are used to replace traditional building materials and are installed on the side of walls and roofs to make the building itself a power source. It can not only meet various design requirements such as water leakage and shrinkage of conventional defensive buildings, but also has wind speed and snow resistance. It has the advantages of strong load capacity, good ventilation, good lighting, heat insulation, fire prevention, waterproof, convenient operation and maintenance, etc.
Advantages of our BIPV Commercial solar system:
Excellent ventilation and heat dissipation performance, large output power
Easy to install and strengthen the overall structure
Save the cost of roof laying and renovation, and greatly reduce the construction cost
Adjustable high inclination angle to maximize light absorption and drainage performance
Welcome to contact us anytime, our company website: www.solarpartscomponents.com
Datasheet
Description:
BIPV Commercial solar system
NO.:
SPC-BIPVC
Product Type:
Building Integrated PV system
Installation location:
Commercial industrial plant
Installation angle:
0-30 degrees
Material :
ZAM275 & Al6005-T5
Module:
Frame solar Module
Warranty:
10 Years
Lifetime:
20 Years
Orientation:
Landscape,Portrait
Wind speed:
60 M/s
Snow load:
3.6 KN / M2
Building height;
20M
Standard:
AS/NZS1170 & DIN 1055
New M Water channel-easier for installastion and drainning
Recently Chinese solar market very popular for BIPV ( Building Intergrated Photovoltaic) solution, but over the world still many solar markest haven't launch BIPV solution,
Topbest recently launch new M waterproof channel with holes, a BIPV structural waterproof solar mounting system, first complete BIPV M waterchannel with holes in China Which is easier for installastion in site.
The Picture below is BIPV(One project in China), using common solar module above roof, is most popular rooftop solution in C&I solar markets.
The project is about providing a roof over the lift lobby and staircase of the residential building by installing solar BIPV panels over it. There were complaints of bad daylight, heat, high electricity bills and water leakage issues on the roof.
Now, with the BIPV Roof, the solar panel is the roof. Benefits include:
1. Energy generation with the solar panels placed as roof.
2. Better daylight as compared to traditional metal/RCC roofs.
3. The solar panels are directly placed as a roof using our BIPV system, saving the cost of installing metal roofs and separate mounting mechanism for the solar panels on it.
4. Solving the water leakage issue in the lift lobby and staircase.
5. Solving the heat issue with lower temperature in the lobby and staircase as compared to the temperature on the terrace.
6. Savings in the electricity bills.
We make sure that our products not only prove beneficial for commercial spaces, but also be convenient and useful for residential purposes.
You can convert your normal roof to an energy-generating BIPV Roof.
To know how your space can be utilized with BIPV solar panels, reach out to us at
Turn Your Rooftop into a Photovoltaic Power Station

The national environmental protection movement continues to upgrade, and enterprise problems such as high resource consumption, high energy consumption, and serious pollution have become increasingly serious.
The development of industrial and commercial rooftop integrated photovoltaic power generation has become an inevitable choice for green enterprises that are energy-saving, emission-reducing, low-carbon and environmentally friendly.
Photovoltaic power generation can optimize the energy consumption structure of enterprises, allowing enterprises to use clean energy production so that the business owners can enjoy the eight major benefits.

Benefits for Business Owners

Continuous benefits from photovoltaic power generation
Savings on rooftop maintenance cost and time
Extensions of rooftop life expectancy from 10 years to 25 years
Great improvement of the roof thermal insulation effect
Peak load shaving to increase investment income in electricity price
Contribute to the society and relieve the pressure of peak power consumption
Become low-carbon & environmentally friendly enterprise and get carbon emission credits
Increasing social popularities and attentions of green buildings

Our BIPV not only meets the design requirements of conventional buildings such as anti-leakage, anti-settling, anti-expansion, etc., but also has many other advantages such as high wind and snow loads, good lighting and ventilation, excellent heat preservation and heat insulation, strong vibration and waterproofing, and easy operation and maintenance in the later period.

Product Details:

BIPV Commercial solar system is an application that integrates solar power generation into buildings, realizing the perfect combination of photovoltaic power generation and buildings. Photovoltaic materials are used to replace traditional building materials and are installed on the side of walls and roofs to make the building itself a power source. It can not only meet various design requirements such as water leakage and shrinkage of conventional defensive buildings, but also has wind speed and snow resistance. It has the advantages of strong load capacity, good ventilation, good lighting, heat insulation, fire prevention, waterproof, convenient operation and maintenance, etc.

Advantages of our BIPV Commercial solar system:

Excellent ventilation and heat dissipation performance, large output power
Easy to install and strengthen the overall structure
Save the cost of roof laying and renovation, and greatly reduce the construction cost
Adjustable high inclination angle to maximize light absorption and drainage performance

Welcome to contact us anytime, our company website: www.solarpartscomponents.com

Datasheet
Description:
BIPV Commercial solar system
NO.:
SPC-BIPVC
Product Type:
Building Integrated PV system
Installation location:
Commercial industrial plant
Installation angle:
0-30 degrees
Material :
ZAM275 & Al6005-T5
Module:
Frame solar Module
Warranty:
10 Years
Lifetime:
20 Years
Orientation:
Landscape,Portrait
Wind speed:
60 M/s
Snow load:
3.6 KN / M2
Building height;
20M
Standard:
AS/NZS1170 & DIN 1055

New M Water channel-easier for installastion and drainning

Recently Chinese solar market very popular for BIPV ( Building Intergrated Photovoltaic) solution, but over the world still many solar markest haven't launch BIPV solution,
Topbest recently launch new M waterproof channel with holes, a BIPV structural waterproof solar mounting system, first complete BIPV M waterchannel with holes in China Which is easier for installastion in site.

The Picture below is BIPV(One project in China), using common solar module above roof, is most popular rooftop solution in C&I solar markets.

The project is about providing a roof over the lift lobby and staircase of the residential building by installing solar BIPV panels over it. There were complaints of bad daylight, heat, high electricity bills and water leakage issues on the roof.

Now, with the BIPV Roof, the solar panel is the roof. Benefits include:
1. Energy generation with the solar panels placed as roof.
2. Better daylight as compared to traditional metal/RCC roofs.
3. The solar panels are directly placed as a roof using our BIPV system, saving the cost of installing metal roofs and separate mounting mechanism for the solar panels on it.
4. Solving the water leakage issue in the lift lobby and staircase.
5. Solving the heat issue with lower temperature in the lobby and staircase as compared to the temperature on the terrace.
6. Savings in the electricity bills.

We make sure that our products not only prove beneficial for commercial spaces, but also be convenient and useful for residential purposes.

You can convert your normal roof to an energy-generating BIPV Roof.

To know how your space can be utilized with BIPV solar panels, reach out to us at