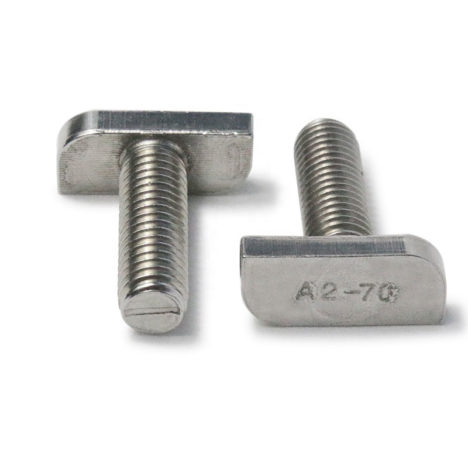 Solar Mounting System Kit
Product Type: T-Bolt for Solar Panel Mounting Systems

Product Model: Solar-Panel-T-Bolts-for-PV-Module-Rails

Material: SUS 304 Steel

Max Wind Load : 60 m/s

Max Snow Load : 1.4 KN / M 2

Solar Module Orientation: Portrait or Landscape

Application: PV module installation
Contact by Email
Product Description :
T-Bolt is a kind of fastener used for solar panel mounting systems .
SPC are specialized in manufacturing high quality solar mounting parts & components, our T bolts are all made of SUS 304 (A2-70)
material which is anti-rusty, suitable for PV module installation .
T head thread size : 5/8″ ;
T-Bolt length 5″ ;
Finish: Milling / Customized;
Advantages for solar panel T bolt :
1. Quick Mounting;
2. Durable Quality with stainless steel material ;
3. Fast delivery ;
T-bolt kit of Parts and Components :
(1) 1 unit of Stainless T bolt screw ;
(2) 1 unit of M 8 flange nut ;
Installation Guide for solar mounting system T bolts :
Together with matched nuts / mid clamps / end clamps / grounding lugs / ribbed washers …
Sliding into aluminum rails,
fasten whole kit with PV module , DONE !
We have our own R&D team , Quality inspection tools, stable production Capacity which can Guarantee each units of solar panel t bolt
kit can meet Customers requirements .
Brief Descriptions :
Solar Mounting Components – T Bolts
Item type:
Solar Panel T Bolts
Type :
PV Moduel Installation Parts
Installation Site :
Aluminum Rails
Profile Material :
SUS 304 Stainless Steel
Fasten Parts :
Stainless Steel M8 Nuts
Color :
Milling Finish
Wind Load :
60 m / s
Snow Load :
1.4 KN / M2
PV Modules :
Framed, Frameless
Module Orientation :
Portait / Landscape
Standards :
AS/NZS 1170
DIN 1055
GB50009-2012
IBC2009
TUV
JIS C 8955 : 2011
International   Building Code IBC 2009
California   Building Code CBC 2010
Warranty
10 years
Designed Life Span
25 years
Packing Details :
Inner :
Bubble bag+inner box+Carton
Outer :
Wooden Box, Steel Pallet, MDF, etc
Can you help me with a source for Solar T bolt 5 " X 1 1 " ?
Q:
Hi, Can you help me with a source for Solar T bolt 5\16″ X 1 1\4 " ?
I need 50000 T Bolts 5\16″ X 1 1\4 " with flange nuts for solar panels mounting.
Thank you. John
A:
Dear John
Appreciated for your inquiry for our solar mounting T bolt 5\16″ X 1 1\4 " with a flange nuts.
Yes, we can supply, we are solar bolts & nut manufacturer with more than 10 years experience.
Please refer to the attachment for our quotation for 50000 T bolts and flange nuts.
FYI.
Thank you and have a good day!
Solar T bolt Factory
Would it be possible for a price on the T bolts 30mm for solar rails ?
QUESTION:
Would it be possible for a price on the T bolts 30mm long in size pls.
How much would it be for 1000 units of these solar T-bolts ??
Photos as below:
Thanks
Chris
ANSWER:
Dear Chris
Appreicated for your inquiry about our T bolts.
Base on 1000 units, our factory price and TNT express cost to UK has sent by email for you.
(Our paypal account is [email protected])
Please advise.
Thank you !
Have a nice day.
Solar T Bolts Wholesale
Do you accept small order for SOLAR T bolts ?
Do you accept small order for SOLAR MOUNTING KITS ? – solar T bolts,
yes, we could.
How to choose T-bolts?
SPC provides a wide range of size for T-bolts, how to choose a appropriate style for your installation?
T Slot Bolts for Solar Panel Rail Installation Drawing and Sizes
T Slot Bolt Kit Sizes for Solar PV Modules Mounting System
T slot bolts can be widely used for solar panel mounting systems .
It's designed to fit for aluminum rail slots .
Our standard A2/70 T bolt thread size is M8 × 1.25 in stainless steel .
We offer m8 nut with flange our without flange for our T bolts .
(304 Stainless Steel ,M8 * 1.25,Thread Size: M8,Thread Pitch mm: 1.25 ,Width, mm: 13, Height., mm: 8 ,Flange Dia., mm: 17.9, Flange Thickness, mm: 1.31 ,Specifications Met: DIN 6923)
With our aluminum mid / end clamps, our T bolt kits can fix solar panel quick & firmly by sliding in to slot of rails .
Our head size can be customized to match different mounting system like UniRac / IronRidge … High compatible .
Advantages & Features for our solar T bolts :
(1) This T-fasten bolt is made of SUS304 ;
(2) A2-70 T-head bolt M6,M8, M10, M12,M16,M20 …
(3) Our T-Bolt and nut can be preassembled ;
Factory direct high quality stainless steel T-Bolts & nuts for PV Module installation struction.
Welcome to purchase our T slot bolt and nut to install PV panels to solar racking rails .
stainless steel T bolts for solar mounting system
Can Solar T-Bolt Kits by Nylok / Nylock / Nyloc finished ?
Yes, our solar mounting bolts & components can be OEM with Nylok finished .
Nylok T Bolts & Screws for solar mounting components factory direct !
Solar Parts & Components factory can offer customized nylok finished for bolt and screws .
In solar mounting systems, vibration resistance is very important especially in strong wind and snow climate .
As Nylok T bolts & Screws for PV Module Mounting factory,
Our nylok treatment for bolts and screws can be very useful, they can keep whole PV module mounting structure in stable & long life service .
Advantages & Features for our nylok / nylock / nyloc fasten parts :
(1) self-locking ;
(2) Anti vibration / anti loosening ;
(3) Can be reused ;
(4) Blue color ;
(5) Non-toxic, widely for mounting components ;
The nylok parts can be worked well during -50°C to 120°C circumstance with blue color .
Factory direct Nylok T bolts / srews with nylock / nyloc blue treatment for solar panel mounting system .
Solar stainless steel fastener T bolt
SPC specializes in manufacturing high-quality solar installation parts and components. T-bolts are a type of fastener used in solar panel installation systems. They are made of rust-proof stainless steel SUS 304 (A2-70) and are suitable for photovoltaic module installation. Pre-installed components save time.
Feature:
1.Anti-rust stainless steel A2-70;
2. Perfect components;
3. Lifespan up to 25 years
4.Easy installation
5. Pre-assembled