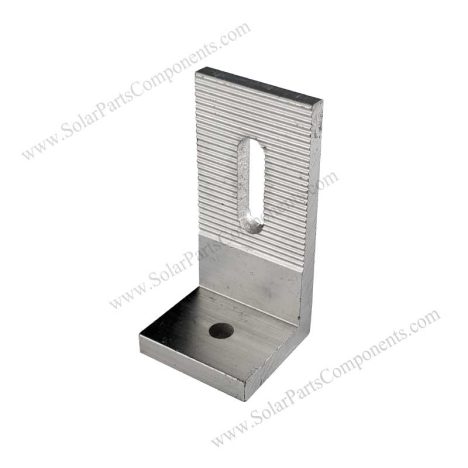 Solar L brackets with good material for anodized
Product Type: solar mounting component

Product Model: SPC-CK-10

Material: Aluminium

Max Wind Load : 60 m/s

Max Snow Load : 1.4 KN / M 2

Solar Module Orientation: Landscape / Horizontal

Application:  solar roofing mounting
Contact by Email
Product Description:
Solar L brackets are simple in structure, sturdy and durable, and the installation of support and hanger bolts and wood screws is also very simple. Therefore, there is no pressure to install solar energy on the metal roof. The advantages of easy installation, durability and environmental protection are the best choice for placing solar panels on metal roofs.
Solar installers will drill holes in the roof so that they can install brackets for solar panels. If installed improperly, the solar panel system will cause leakage or other roof problems. Don't worry, our L feet and hanger bolts are equipped with rubber gaskets to effectively waterproof.
The Solar L brackets are suitable for almost all common panels on the market. This unique system is made of structural grade anodized aluminum and stainless-steel fasteners, which can withstand the harshest environmental conditions and provide a durable structure suitable for high wind and snow load environments.
Feature:
Be suitable for the metal roofing of solar mounted;
Simple and quick fix on the metal roof;
A good performance of corrosion resistance due to the anodized treated on the surface;
A long life span and good effective cost;
Pass the strong wind and high snow load test and meet the standards;
If you're interested in solar mounting system, we'd love to discuss with you about more and answer any questions you might have. As a professional manufacturer of PV mounting system, SPC is a great option for you.
Contact with us and we will reply to you immediately.
www.SolarPartsComponents.com
Brief Descriptions:
Solar mounting component- Solar L brackets
Item type:
Solar mounting component
Type:
SPC-CK-10
Installation Site:
Metal roofing mounted
Profile Material:
Aluminum alloy 6005-T5
Fasten Parts:
Stainless Steel
Color:
Silvery
Wind Load:
60 m / s
Snow Load:
1.4 KN / M2
PV Modules:
Framed, Frameless
Module Orientation:
Landscape / Portrait
Standards:
AS/NZS 1170
DIN 1055
GB50009-2012
IBC2009
TUV
JIS C 8955: 2011
International   Building Code IBC 2009
California   Building Code CBC 2010
Warranty
10 years
Designed Lifespan
25 years
Packing Details:
Inner:
Bubble bag+inner box+Carton
Outer:
Wooden Box, Steel Pallet, MDF, etc
Product Description:

Solar L brackets are simple in structure, sturdy and durable, and the installation of support and hanger bolts and wood screws is also very simple. Therefore, there is no pressure to install solar energy on the metal roof. The advantages of easy installation, durability and environmental protection are the best choice for placing solar panels on metal roofs.

Solar installers will drill holes in the roof so that they can install brackets for solar panels. If installed improperly, the solar panel system will cause leakage or other roof problems. Don't worry, our L feet and hanger bolts are equipped with rubber gaskets to effectively waterproof.

The Solar L brackets are suitable for almost all common panels on the market. This unique system is made of structural grade anodized aluminum and stainless-steel fasteners, which can withstand the harshest environmental conditions and provide a durable structure suitable for high wind and snow load environments.

Feature:

Be suitable for the metal roofing of solar mounted;
Simple and quick fix on the metal roof;
A good performance of corrosion resistance due to the anodized treated on the surface;
A long life span and good effective cost;
Pass the strong wind and high snow load test and meet the standards;

If you're interested in solar mounting system, we'd love to discuss with you about more and answer any questions you might have. As a professional manufacturer of PV mounting system, SPC is a great option for you.

Contact with us and we will reply to you immediately.

www.SolarPartsComponents.com

Brief Descriptions:
Solar mounting component- Solar L brackets
Item type:
Solar mounting component
Type:
SPC-CK-10
Installation Site:
Metal roofing mounted
Profile Material:
Aluminum alloy 6005-T5
Fasten Parts:
Stainless Steel
Color:
Silvery
Wind Load:
60 m / s
Snow Load:
1.4 KN / M2
PV Modules:
Framed, Frameless
Module Orientation:
Landscape / Portrait
Standards:
AS/NZS 1170
DIN 1055
GB50009-2012
IBC2009
TUV
JIS C 8955: 2011
International   Building Code IBC 2009
California   Building Code CBC 2010
Warranty
10 years
Designed Lifespan
25 years
Packing Details:
Inner:
Bubble bag+inner box+Carton
Outer:
Wooden Box, Steel Pallet, MDF, etc