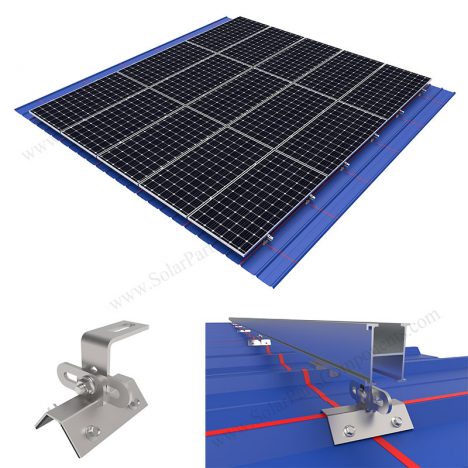 Solar Metal Roof Mounting Systems
Product Type: Roof Mounting Systems for Trapezoidal Metal Sheet

Product Model: SPC-RF-CK02-HR

Material: Stainless steel,Aluminium

Max Wind Load : 60 m/s

Max Snow Load : 1.4 KN / M 2

Solar Module Orientation: Portait or Landscape

Application:  Rooftop
Contact by Email
Product Description:
Trapezoidal metal roof mount with brackets are roof attachment with adjustable height and width of trapezoidal ridge peaks, used to install solar energy systems on trapezoidal metal roofs. The bracket is suitable for most trapezoidal metal roofs with different widths. The bracket has horizontal and vertical adjustment capabilities, and is equipped with 4 stainless steel self-tapping screws with EPDM sealing washers.
The SPC universal clamp provides solar installation solutions for trapezoidal metal roofs. The inner side of the universal clamp is attached with a rubber washer, which can effectively prevent the screw from being corroded by water and can be connected to the trapezoidal metal roof. Compatible with most rails and general rails.
The trapezoidal metal roof with clamps are adjustable roof attachment for installing solar mounting system on trapezoidal metal roofs. No need to use messy sealant is very economical and easy to install. The slotted top hole can accommodate the standard self-tapping screws, which simplifies alignment and maximizes the flexibility of connecting accessories.
Feature of trapezoidal metal roof solar mounting system, SPC-RF-CK02-HR:
1. Adjustable roof attachment solution, Multifunctional for most of trapezoid shape metal sheet;
2. Suitable for most trapezoidal metal roofs of different widths, Width adjustable to fit ridge of metal rooftop;
3. Adjustable height provides convenience for on-site installation, Height adjustable to keep all rails parallelly;
4. Reduce costs and reduce installation time, Quick installation with a few steps only;
5. Efficient and economical universal clamps;
6. Stainless steel for clamps, high quality;
7. 10 Years warranty with 25 years lifespan design;
The mounting bracket of trapezoidal sheet metal roof with hooks are used for the installation of solar panel modules and other applications on trapezoidal metal roofs. It has a flexible application support with adjustable height, and the height of the solar panel from the roof after installation can be selected, which saves the time for on-site adjustment and installation. It is compatible with the most common solar mounting rails and can be quickly installed on the rails.
The solar mounting bracket universal fixture is a quick-installation accessory for trapezoidal roofs, without a tedious installation process, and can be pre-installed in the factory, saving on-site installation time. If you have any needs, please feel free to contact us: www.solarpartscomponents.com.
Brief Descriptions:
Solar Trapezoidal Metal Roof Mounting System, SPC-RF-CK02-HR
Item type:
Solar Panel Mounting On Metal Roof
Type:
SPC-RF-CK02-HR
Installation Site:
Tile Roofing 0 °~ 60°
Profile Material:
SUS304 Stainless Steel, Aluminum Rail
Fasten Parts:
Stainless Steel / Aluminum T Sliding Nut
Color:
Sand blasting
Wind Load:
60 m / s
Snow Load:
1.4 KN / M2
PV Modules:
Framed, Frameless
Module Orientation:
Portrait and Landscape
Standards:
AS/NZS 1170
DIN 1055
GB50009-2012
IBC2009
TUV
JIS C 8955: 2011
International   Building Code IBC 2009
California   Building Code CBC 2010
Warranty
10 years
Designed Lifespan
25 years
Packing Details:
Inner:
Bubble bag+inner box+Carton
Outer:
Wooden Box, Steel Pallet, MDF, etc
Solar Roof Mounting System Installation, SPC-RF-CK02-HR
Need some adjustable clamps for trapezoidal metal roof mounts
Client:
Hello, how are you?
We would like to ask you for some adjustable clamps for trapezoidal metal roof mounting system.
This metal roof clamp….you have the adjustable model?  If so…we would like to receive 1000 sets.
they are preassembled.
Could you prepare for us asap?
Beatriz Barral
Dpto. de Compras
Purchasing Department
Answer:
Dear Beatriz
Yes, they will come with EPDM rubber pads.
The prices and freight of 1000 adjustable clamps for metal roof installation has sent by email.
Thank you
Metal Rooftop Mounting System Factory
Solar multifunctional Roof clamp Mounting System SPC-RF-CK02-HR
Stainless steel multifunctional roof clamp installation steps