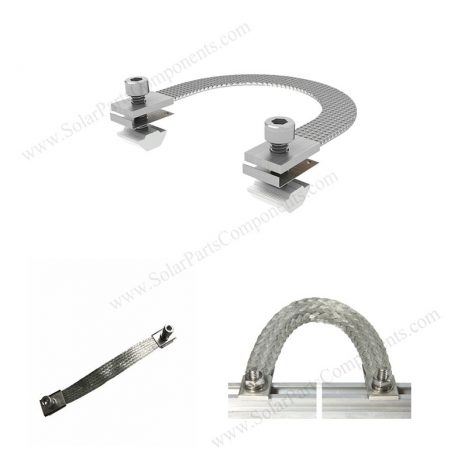 Solar Groundting Components
Product Type: Solar Panel Grounding Systems Hardware

Product Model:SPC-BJ-01

Material: Copper, Steel

Application: Solar Panels Earthing
Contact by Email
Product Description
Solar grounding bonding jumper (SPC-BJ-01) is used to establish electrical connections between two stainless steel conductive sheets. The bonding jumper is composed of tinned braided copper wire, and WEEB is connected to both ends of the jumper. WEEB provides reliable air-tight electrical connections, while braided copper wires allow thermal expansion.
The assembly forms a flexible electrical connection between the rails connected by the bracket. Use one at each joint. Gluing the photovoltaic module to the bonding jumper eliminates the need to wire the modules separately: just ground the installation structure. It is a reliable conductor to ensure the required conductivity between the rails that need electrical connection. A high-quality grounding installation system plays an important role in the normal operation of sensitive solar electronic equipment.
The cooper bonding jumper connect mounting rails and help PV moudules grounding to earth.
The bonding jumper for solar mounting system is designed to be easy to install and has excellent durability. The best quality materials are used in the manufacturing process to ensure the best performance under the most extreme environmental conditions.
Feature of this solar bonding jumper SPC-BJ-01:
1. Highly pre-assembled connection system;
2. Fixed design, quick assembly;
3.Has extremely high corrosion resistance;
4. Made of high-strength copper;
5. Complete jumper assembly;
The solar grounding kit bonding jumper is used to bond solar modules to aluminum brackets and mounting rails. Then ground the solar module and the support system, and ground and interconnect the entire assembly into a single grounding system. The use of bonding jumper eliminates the need to use embedded lugs and/or self-tapping screws on each module. The use of this component also eliminates the need for continuous wiring for each module.
The mounting bonding jumper photovoltaic module grounding provides an innovative and cost-effective solution. The solar product lineup can reduce the installation balance of the system cost by simplifying the installation. Our products have perfect durability and compatibility. Bind the jumper assembly to the top mounting slot of the rail and tighten it with flange nuts. The tip of the grounded washer and the grounded T-bolt will penetrate the anodized layer of the guide rail and form a ground path leading to the guide rail and through the connecting jumper.
Brief Descriptions:
Solar Mounting Components – Copper Solar Bonding Jumper
Item type:
Solar Grounding Jumper
Type:
Earthing Hardware
Installation Site:
PV Module Mounting
Profile Material:
Copper
Color:
Plain
PV Modules:
Framed, Frameless
Module Orientation:
Portrait and Landscape
Standards:
AS/NZS 1170
DIN 1055
GB50009-2012
IBC2009
TUV
JIS C 8955 : 2011
International   Building Code IBC 2009
California   Building Code CBC 2010
Warranty
10 years
Designed Lifespan
25 years
Packing Details:
Inner:
Bubble bag+inner box+Carton
Outer:
Wooden Box, Steel Pallet, MDF, etc
How to using this Copper Solar Bonding Components ?
Copper bonding strap is used for the connection between the rails, which plays a conductive role.