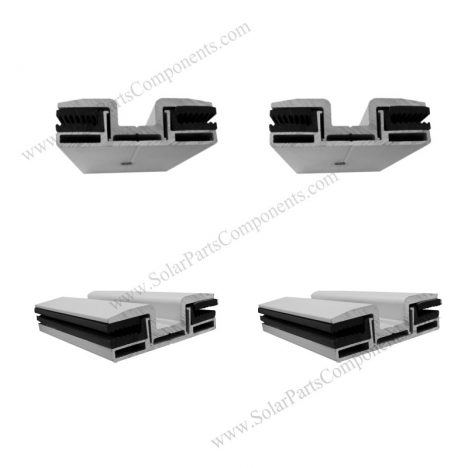 Frameless Solar Panel Mid Clamps
Product Type: Unframed Solar Racking

Product Model: SPC-FSPM-80-150MM

Material: Aluminum alloy, rubber

Max Wind Load : 60 m/s

Max Snow Load : 1.4 KN / M 2

Solar Module Orientation: Landscape / Horizontal

Application:  Unframed / Bifacial / Frameless modules
Contact by Email
Product Description:
Frameless solar panel mid clamps is an important component in solar mounting installation, using for frameless solar panel, secure 2 solar panels to the mounting rails.
frameless solar panel mounting mid clamps (Model: SPC-MC-L80) are made of Anodized Aluminum AL6005 T5 and SUS304 fasteners. Our mid clamps contain EDPM pads, avoid damage the glass and can suck them firmly.
As solar power components supplier, our Mid clamps can offer a comprehensive method for fasten frameless pv modules. Frameless solar module mid clamps are easy to adjust the height according the thickness of the panel.
Features of this frameless solar panel mid clamps:
(1) Made of Anodized Aluminum 6005 T5, A2-70 fasteners;
(2) Clamping between 2 frameless solar panels or glass PV panels strongly;
(3) Pre-assembled;
(4) Easy to install;
(5) Strength and durability;
Wide application for solar frameless panels installation, be used connect two panels / glass firmly.
Welcome to consulate and purchase more other economical solar energy mounting solutions, mid / end clamps and accessories, our website is: www.solarpartscomponents.com.
Brief Descriptions:
Solar Mounting Components – Frameless solar panel mid clamps
Item type:
Solar Panel Components
Type:
Solar Panel Fasten Hardware
Installation Site:
Ground/Roof solar Panel Mounting
Profile Material:
AL 6005-T5 (Anodized)
Color:
Silvery/customer requirements
PV Modules:
Frameless or Glass
Module Orientation:
Landscape and Portrait
Standards:
AS/NZS 1170
DIN 1055
GB50009-2012
IBC2009
TUV
JIS C 8955 : 2011
International   Building Code IBC 2009
California   Building Code CBC 2010
Warranty
10 years
Designed Lifespan
25 years
Packing Details:
Inner:
Bubble bag+inner box+Carton
Outer:
Wooden Box, Steel Pallet, MDF, etc
Product Description:

Frameless solar panel mid clamps is an important component in solar mounting installation, using for frameless solar panel, secure 2 solar panels to the mounting rails.

frameless solar panel mounting mid clamps (Model: SPC-MC-L80) are made of Anodized Aluminum AL6005 T5 and SUS304 fasteners. Our mid clamps contain EDPM pads, avoid damage the glass and can suck them firmly.

As solar power components supplier, our Mid clamps can offer a comprehensive method for fasten frameless pv modules. Frameless solar module mid clamps are easy to adjust the height according the thickness of the panel.

Features of this frameless solar panel mid clamps:

(1) Made of Anodized Aluminum 6005 T5, A2-70 fasteners;

(2) Clamping between 2 frameless solar panels or glass PV panels strongly;

(3) Pre-assembled;

(4) Easy to install;

(5) Strength and durability;

Wide application for solar frameless panels installation, be used connect two panels / glass firmly.

Welcome to consulate and purchase more other economical solar energy mounting solutions, mid / end clamps and accessories, our website is: www.solarpartscomponents.com.

Brief Descriptions:
Solar Mounting Components – Frameless solar panel mid clamps
Item type:
Solar Panel Components
Type:
Solar Panel Fasten Hardware
Installation Site:
Ground/Roof solar Panel Mounting
Profile Material:
AL 6005-T5 (Anodized)
Color:
Silvery/customer requirements
PV Modules:
Frameless or Glass
Module Orientation:
Landscape and Portrait
Standards:
AS/NZS 1170
DIN 1055
GB50009-2012
IBC2009
TUV
JIS C 8955 : 2011
International   Building Code IBC 2009
California   Building Code CBC 2010
Warranty
10 years
Designed Lifespan
25 years
Packing Details:
Inner:
Bubble bag+inner box+Carton
Outer:
Wooden Box, Steel Pallet, MDF, etc