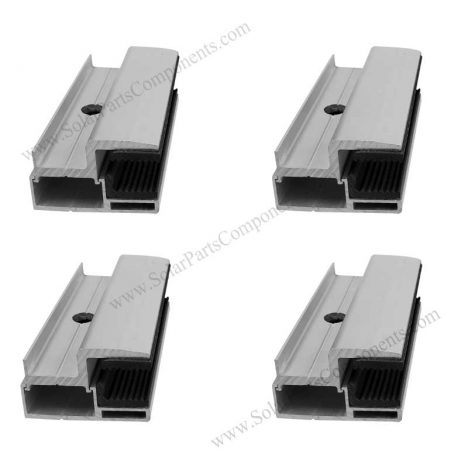 Bifacial Solar Panel End Clamps
Product Type: Solar Mounting Clamps

Product Model: SPC-FSPE-80-150MM

Material: Aluminum / EPDM rubber

Max Wind Load : 60 m/s

Max Snow Load : 1.4 KN / M 2

Solar Module Orientation: Landscape / Horizontal

Application:  Frameless / Unframed / Bifacial PV Module
Contact by Email
Product Description:
Our bifacial solar panel end clamps are using high quality anodized aluminum (AL6005-T5) which is complied with international standards.
This bifacial solar module end clamps are designed for frameless solar panels. It's used in the end of panels, fasten well and good anti-corrosion. The side with rubber is clamped in the solar panel and the other side is fastened with the rail.
For the color, we have natural silvery, but we can meet your requirements. The bifacial solar module end clamps play an important role in frameless solar panel. And it is suitable for whatever roofing or ground solar panel mounting systems. This component can prevent the solar panel moving effectively.
Features of this bifacial solar panel end clamps:
(1) Fasten the solar panel and make it stronger;
(2) Be pre-assembled before delivery;
(3) Flexibility and convenient;
(4) Good corrosion resistance;
(5) Be easily installed;
(6) High quality anodized aluminum;
(7) Suitable for a variety of roofs;
(8) Rubber in middle protect solar panels well.
SPC provides you with various solar end clamps in a high quality, high strength and cost effective.
Besides, we design and engineer all kinds of solar mounting components. Do not hesitate to contact us for more details for your projects from www.SolarPartsComponents.com
Brief Descriptions:
bifacial solar panel end clamps for frameless solar panels
Item type:
SPC-FSPE-80-150MM
Type:
PV module Fasten Clamps
Installation Site:
frameless solar panel mounting
Profile Material:
AL6005-T5(Anodized)
Color:
Silvery or customized
PV Modules:
Frameless
Module Orientation:
Portrait and Landscape
Standards:
AS/NZS 1170
DIN 1055
GB50009-2012
IBC2009
TUV
JIS C 8955 : 2011
International   Building Code IBC 2009
California   Building Code CBC 2010
Warranty
10 years
Designed Lifespan
25 years
Packing Details:
Inner:
Bubble bag +inner box +Carton
Outer:
Wooden Box, Steel Pallet, MDF, etc
Required for bifacial solar panel clamps
How to buy bifacial solar module clamps ?
"
Dear Sir /Madam ,
We require a quotation for bifacial thin film clamps with a bellow quantity :
(1) Bifacial thin film Mid clamp, 450 PCS;
– cutting length: 80mm width;
– material: anodized aluminum 6005-T5;
– M8*45 Allen bolt + spring washer + nut;
– EPDM = 4 pcs (10-15 thickness panel)
(2) Bifacial film End clamp, 250 PCS;
– cutting length: 80mm width;
– material: anodized aluminum 6005-T5;
– M8*45 Allen bolt + spring washer + nut;
– EPDM = 2 pcs (10-15 thickness panel)
please provide us a quotation with freight cost (door-to-door , AMMAN –JORDAN) with fast delivery .
If you can find solution how to reduce shipment price that would be great.
Because we do need these bifacial solar panel clamps urgently.
Best regards ,
Eng.Nuha AL-Kharabsheh
"
"
Dear Nathan
Nice to receive inquiry about our bifacial solar panel module clamps
The factory prices have sent to email.
Totally around 100 kgs for these 600 units of frameless clamps.
Well understanding are high in express cost for these bifacial thin film clamps.
If you have your own ship agent, you can let your ship forwarder collect them from our factory.
Or
You can buy more of other items like tile hooks / brackets / bolts … ship LCL by sea.
It will be much effective for freight.
The above is our advise for shipment solution.
SPC solar sales team
"
Product Description:

Our bifacial solar panel end clamps are using high quality anodized aluminum (AL6005-T5) which is complied with international standards.

This bifacial solar module end clamps are designed for frameless solar panels. It's used in the end of panels, fasten well and good anti-corrosion. The side with rubber is clamped in the solar panel and the other side is fastened with the rail.

For the color, we have natural silvery, but we can meet your requirements. The bifacial solar module end clamps play an important role in frameless solar panel. And it is suitable for whatever roofing or ground solar panel mounting systems. This component can prevent the solar panel moving effectively.

Features of this bifacial solar panel end clamps:

(1) Fasten the solar panel and make it stronger;

(2) Be pre-assembled before delivery;

(3) Flexibility and convenient;

(4) Good corrosion resistance;

(5) Be easily installed;

(6) High quality anodized aluminum;

(7) Suitable for a variety of roofs;

(8) Rubber in middle protect solar panels well.

SPC provides you with various solar end clamps in a high quality, high strength and cost effective.
Besides, we design and engineer all kinds of solar mounting components. Do not hesitate to contact us for more details for your projects from www.SolarPartsComponents.com

Brief Descriptions:
bifacial solar panel end clamps for frameless solar panels
Item type:
SPC-FSPE-80-150MM
Type:
PV module Fasten Clamps
Installation Site:
frameless solar panel mounting
Profile Material:
AL6005-T5(Anodized)
Color:
Silvery or customized
PV Modules:
Frameless
Module Orientation:
Portrait and Landscape
Standards:
AS/NZS 1170
DIN 1055
GB50009-2012
IBC2009
TUV
JIS C 8955 : 2011
International   Building Code IBC 2009
California   Building Code CBC 2010
Warranty
10 years
Designed Lifespan
25 years
Packing Details:
Inner:
Bubble bag +inner box +Carton
Outer:
Wooden Box, Steel Pallet, MDF, etc

Required for bifacial solar panel clamps

How to buy bifacial solar module clamps ?

"

Dear Sir /Madam ,

We require a quotation for bifacial thin film clamps with a bellow quantity :

(1) Bifacial thin film Mid clamp, 450 PCS;

– cutting length: 80mm width;
– material: anodized aluminum 6005-T5;
– M8*45 Allen bolt + spring washer + nut;
– EPDM = 4 pcs (10-15 thickness panel)

(2) Bifacial film End clamp, 250 PCS;

– cutting length: 80mm width;
– material: anodized aluminum 6005-T5;
– M8*45 Allen bolt + spring washer + nut;
– EPDM = 2 pcs (10-15 thickness panel)

please provide us a quotation with freight cost (door-to-door , AMMAN –JORDAN) with fast delivery .

If you can find solution how to reduce shipment price that would be great.

Because we do need these bifacial solar panel clamps urgently.

Best regards ,
Eng.Nuha AL-Kharabsheh

"

"
Dear Nathan

Nice to receive inquiry about our bifacial solar panel module clamps

The factory prices have sent to email.

Totally around 100 kgs for these 600 units of frameless clamps.

Well understanding are high in express cost for these bifacial thin film clamps.

If you have your own ship agent, you can let your ship forwarder collect them from our factory.

Or

You can buy more of other items like tile hooks / brackets / bolts … ship LCL by sea.

It will be much effective for freight.

The above is our advise for shipment solution.

SPC solar sales team

"