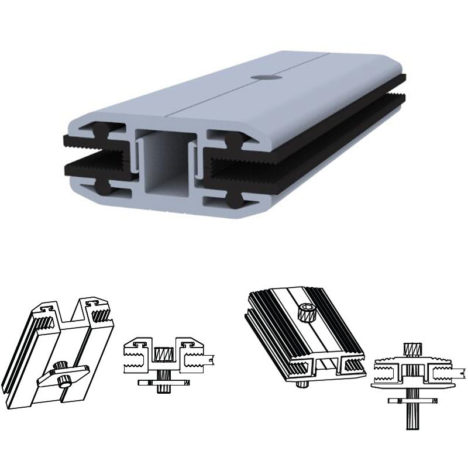 Frameless Solar Panel Mid Clamps
Product Type: Solar Panel Mounting Systems Hardware

Product Model: Frameless-Solar-Panel-Mid-Clamps

Material: Aluminium, Steel

Max Wind Load : 60 m/s

Max Snow Load : 1.4 KN / M 2

Application: Frameless / Glass Solar Panels Installation
Contact by Email
Product Description :
Our standard length of frameless solar panel mid clamps can be 60 mm, 80 mm, 100 mm , other sizes can be
bespoken .
This alum mid clamps are specially designed for frameless solar panels / glass solar PV panels .
These middle clips can connect frameless PV modules together firmly with aluminum rails .
Our mid clamps can bear 1.4 KN/ M2 snow load and 60 m / s wind speed .
The anodized treatment is strictly controller for 8 μm above .
This thin film solar panel mid clamps can be compatible for most models in the market .
Our mid clamp for solar panels have EPDM pads which can suck solar modules firmly .
Advantages :
Made of anodized aluminum AL 6005-T5 , SUS 304 fasteners ;
Fix solar panels in the middle strongly for roofing or grounding installtion;
Suitable for 5 mm – 10 mm thickness solar panels ;
Factory direct frameless mid clamps with fast delivery .
Material List of Mid Clamps for Frameless Solar Panel Mounting :
Upper part of aluminum mid clamp;
Lower part of aluminum mid clamp;
Rubber Strips ;
T sliding nut block;
Hexagonal Socket head bolt;
Spring Washer
Brief Descriptions :
Solar mounting mid clamps for frameless solar panels installation
Item type:
Solar Mounting Components
Technical Parameters :
Installation Site :
Ground or Roof solar panel mounting
Profile Material :
AL 6005 – T5 ( Anodized )
Fasten Parts :
SUS 304 Steel
Color :
Silvery or according to customer requirements
Wind Load :
60 m / s
Snow Load :
1.4 KN/M2
PV Modules :
Frameless / Glass
Module Orientation :
Portait and Landscape
Standards :
AS/NZS 1170
DIN 1055
GB50009-2012
IBC2009
TUV
JIS C 8955 : 2011
International   Building Code IBC 2009
California   Building Code CBC 2010
Warranty
10 years
Designed LifeSpan
25 years
Packing Details :
Inner :
Bubble bag+inner box+Carton
Outer :
Wooden Box, Steel Pallet, MDF, etc
Can our frame-less bi-facial PV module Mid clamps be customized ?
Yes, our frameless bifacial PV module mid / end clamps can be customized .
As good aesthetics and performance for frameless PV modules, more and more solar projects use bifiacial solar panels today especially for roof tops / carport …
SPC also release mid and end clamps to fit frameless modules for very convenient and quick installation .
Our frameless clamp length can be customized according to different frameless PV modules sizes ;
Our frameless clamp color can be customized base on roof structure like : grey color in default / black color / RED / GREEN / BLUE … They can help your whole solar installation project in very good appearance .
Our unframed clamps accessories can be customized too .
Since clamps are fixed with aluminum rails, we can offer different A2-70 hex screw size like : M8 X 40 , M8 X 30 … and different nuts & bolts …
Features of frameless bifacial PV module clamps :
– 80 / 120 / 150 / 200 MM sizes available;
– Silvery / Black color ;
– Good quality anodized finished AL-6005-T5 Aluminum Material ;
– Application : 3mm – 6mm super thin solar panels / 5 mm – 10.5 mm frameless bifacial panels;
Welcome to customized frameless bifacial PV module MID / END clamps from www.SolarPartsComponents.com
Thin Film Laminate Solar Panel Mid Clamp Series
Mounting clamps for thin film laminate solar panel Installing
As Thin film frameless laminated solar panels are more and more popular in today's solar energy market .
Base on different thickness from different PV module manufacturer range from 3 mm – 10 mm .
We design two series of laminate clamps for solar panel installation as photo below:
One set is designed for 3 mm – 8mm thickness glass PV modules (Left one);
The other set is designed for 5 mm – 10mm thickness glass PV modules (Right one);
Normal color is silvery, we also can do black color as sample we sent .
The standard bolt & nut is hexagon bolt with T sliding nut (for rails);
We also can offer hexagon bolt and hexagon nut ;
We can customize for clients base on aluminum rail extrusion profile given .
More features of this laminate solar panel mid / end clamp series :
– High quality clamps for AL6005-T5 made ;
– EPDM rubber seal inside ;
– Short time delivery ;
– Flexible for different thickness of laminated frameless PV module ;
More details for our mid & end clamps, kindly contact us by [email protected]
Factory direct mid / end clamps for thin film PV laminate solar panel installation.
Manual to fix Glass Solar Panel Mid Clamps on aluminum Rails
specification of frameless glass solar pv module mid clamps mounting instruction,
Glass Solar Module Mounting Mid Clamps
Glass Solar Module Mounting Mid / End Clamps :
More detail kindly check >>>
This mid / end clamps are designed for frameless Glass Solar PV Modules ,
– 80mm / 120mm / 150mm / 200mm / Customized length for options ;
– Suitable for thin-film solar panels / double glass solar panel / frame-less PM modules installation ;
– Body Color : Mill finish / black / others ;
– Thickness Range : 5 mm – 12 mm glass thin film solar module ;
– Material: Anodized 6005-T5 Aluminum + EPDM rubber strips inside ;
– Fasten Parts : SUS 304 hex bolts (A2-70) ;
– Cost effective / Great Value ;
– Wind Speed: Up to 200 KM/Hour ;
– Snow Load: Up to 1.4 KN/M2
– Warranty: 12 years in material, 25 years lifespan
Can Glass PV Module Mounting Mid Clamps be black in color ?
Yes, We can produce BLACK frameless solar panel mid clamps .
Although our default finish color is grey / silvery,
We can customized black / white color if solar mounting project required .
– EPDM rubber inside holding of glass PV module well ;
– Compact & Elegant design ;
– Pre-assembled service available ;
– Anodized in Silvery / Black / White …
– Manufacturer Direct , Price competitive ;
– Quick & Safe Installing ;
Solar Parts Component Factory can offer Mid / End clamps for your framed / frameless module installation .
Frameless mid clamps installation on composition shingle roof
Frameless / thin-film clamps can be well used for composition asphalt shingle roof mounting project .
Frameless Solar Panel Solutions with our thin film interior / mid clamps
interior / mid clamps for unframed PV module mounting ,
Frameless PV module clamps for double glass / thin film solar panels
Double glass solar panels Mid clamps with EPDM rubber pads
Thin Film Solar Panel Mid Clamp Series Factory Direct
Thin Film Solar Panel Clamp Series
Drawing for this Frameless Mid Clamp Solar Mounting Components ?
Sizes, profile and drawing for frame less PV module mid bracket ,
Can special nuts match for bifacial module mid clamps ?
Yes, we can design customized nut with frameless mid clamps for bificial modules .
Need solar panel EPDM pads for frameless panel mid clamps?
Yes, frameless module mid clamp rubber pads are essential for prevent breakage .
thin-film module mid clamp wholesale
Factory direct thin-film module mid clamp with wholesale price
frameless glass clamps
EPDM black rubber pads inside clamps to well protect glass modules from damage, and keep it fixing without moving