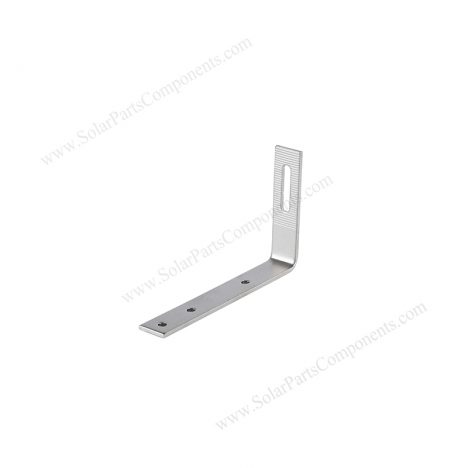 Non-adjustable Solar Asphalt Roof Hook
Product Type: Solar asphalt roof hook

Product Model: SPC-IK-14

Material: SUS 304 Steel

Max Wind Load : 60 m/s

Max Snow Load : 1.4 KN / M 2

Solar Module Orientation: Vertical or Horizontal

Application: Flat Roof
Contact by Email
Product Description :
Solar Mounting Components – asphalt tile roof hook #14, non-adjustment, side mounted
Asphalt shingle roof hooks are the most versatile mounting brackets suitable for asphalt shingle roofs.
Hooks designed for asphalt shingle roofs provide the best, simple solution.
Non-adjustable side mounting, pre-assembled components, quick installation, save time and labor.
It is a new breakthrough in the installation of photovoltaic modules on different roofs, which not only ensures the beauty of the roof, but also maximizes the benefits of solar installation.
Advantages :
1.Flexibility and security ;
2.Withstand strong wind speed and snow load ;
3.Pre-assembled components ;
4.Specially designed for the structure of asphalt shingles with side-mounted rails;
5.Ten-year warranty;
Installation Instruction for asphalt tile roof hook #14:
Asphalt tile roof hook #14 is designed to fit most flat roof.
1. Choose a suitable installation location, locate and mark the rafters.
2. Place the Hook and pre-drilled two holes with the 3/16"Drill Bit.
3. Remove the Hook, clear the debris, and fill the pre-drilled holes with sealant.
4. Place and mount the Hook using the Solar Screws.
For the asphalt tile roofing, it is simple and convenient for installing, our solar tile roof hooks can be fixed directly to the surface, because there is a layer of asphalt on the tile roofing.
Welcome to contact us from www.SolarPartsComponents.com
Item No:
SPC-IK-14
Item type:
Solar asphalt tile roof hook #14
Installation Site:
Flat roof
Installation Angle:
0°~60°
Profile Material:
SUS 304 Stainless Steel
Fasten Parts:
Stainless Steel
Color:
Silvery or according to customer requirements
PV Modules:
Framed, Frameless
Module Orientation:
Portrait and Landscape
Warranty
10 years
Designed Lifespan
25 years
Packing Details
Unit size:
120×28.5×200mm [4 3/4″ ×1″ ×7 3/4″]
Unit weight:
307 (g)/0.68 [lb] /pcs
Carton size:
550×210×185mm [21 3/4″ ×8 1/4″ ×7 1/4″]
Carton weight:
18,970 (g)/41.82 [lb] /CTN (60 PCS / CTN)
Installation Manual for Solar Shingle Roof Hooks SPC-IK-14
Asphalt tile Roof Hook factory direct
Asphalt tile Roof Hook for side mounting factory direct
Asphalt tile Roof Hook manufacture factory with more than 12 years experience.
This model asphalt tile roof hook SPC-IK-14 is designed for mounting rail side mounted.
SUS304 material, strong and high anti wind speed.
Dimension of this roof hook:
The base part: 200mmx30mmx5mm
Bar:120mmx 5mm
Long Hole: 9 x 27mm (M8)
Asphalt tile Roof Hook professional factory
Asphalt shingle roof hook #14 installation
Installation instructions for stainless steel hook#14
solar roof mounting hook for asphalt tie roof
It is an economical tile roof accessory solution and one of the important mounting accessories for asphalt tile roofs.