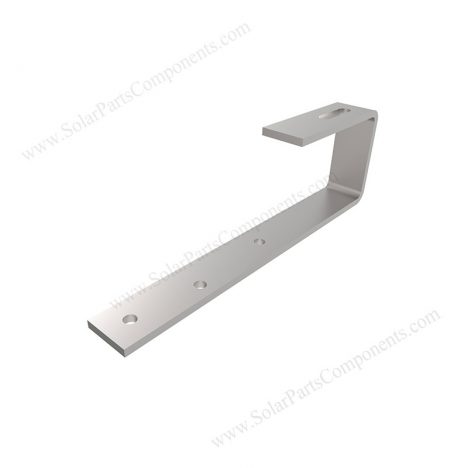 Non-adjustable Solar Asphalt Roof Hook
Product Type: Solar asphalt roof hook

Product Model: SPC-IK-13

Material: SUS 304 Steel

Max Wind Load : 60 m/s

Max Snow Load : 1.4 KN / M 2

Solar Module Orientation: Vertical or Horizontal

Application: Flat Roof
Contact by Email
Product Description :
Solar Mounting Components – asphalt tile roof hook #13, non-adjustment, bottom mounted
Non-adjustable asphalt roof solar roof hook.
The installation of asphalt shingle solar panels is very simple.
The installer will drill wood screws on your roof and install panel brackets at these locations.
The space around the bracket is both sealed and surrounded by waterproof plate to complete the work.
The parts are pre-assembled and the entire installation system is highly efficient and cost-saving.
Advantages of solar asphalt shingle hooks,SPC-IK-13 :
1. Applicable to all standard asphalt tile roofs
2. Stainless steel material, corrosion resistance
3. High-quality fasteners and hardware
4. Warranty up to 25 years
5. Quick installation and durable
Installation Instruction for asphalt tile roof hook #13:
asphalt tile roof hook #13 is designed to fit most flat roof.
1. Choose a suitable installation location, locate and mark the rafters.
2. Place the Hook and pre-drilled two holes with the 3/16"Drill Bit.
3. Remove the Hook, clear the debris, and fill the pre-drilled holes with sealant.
4. Place and mount the Hook using the Solar Screws.
For the asphalt tile roofing, it is simple and convenient for installing, our solar tile roof hooks can be fixed directly to the surface, because there is a layer of asphalt on the tile roofing.
Welcome to contact us from www.SolarPartsComponents.com
Item No:
SPC-IK-13
Item type:
Solar asphalt tile roof hook #13
Installation Site:
Flat roof
Installation Angle:
0°~60°
Profile Material:
SUS 304 Stainless Steel
Fasten Parts:
Stainless Steel
Color:
Silvery or according to customer requirements
PV Modules:
Framed, Frameless
Module Orientation:
Portrait and Landscape
Warranty
10 years
Designed Lifespan
25 years
Packing Details
Unit size:
255×29×74mm [10″ ×1 1/4″ ×3″]
Unit weight:
399 (g)/0.88 [lb] /pcs
Carton size:
550×210×185mm [21 3/4″ ×8 1/4″ ×7 1/4″]
Carton weight:
24,490 (g)/53.99 [lb] /CTN (60 PCS / CTN)
solar asphalt shingle hooks
Installation Manual for Solar Asphalt Roof Hooks SPC-IK-13
The installation method of Asphalt tile Roof Hook for solar mounting system.
Asphalt tile Roof Hook for solar mounting system,SPC-IK-13's installation, only need to put the hook on the correct installation position above the asphalt shingle,
fix the hook on the main beam with 3 ST6.3*80 wood screws, and apply sealant on the position of the wood screws to prevent rain leakage;
Then install the track on the No. 13 stainless steel hook with the M8*25 clamp bolt assembly.
Asphalt tile Roof Hook for solar mounting system factory
Q:
Hello,I am looking at your Asphalt tile Roof Hook for solar mounting system and would like some pricing.
I plan to install 320 panels, attached is the information about this project.
Ben
A:
Thank you for your interested in our Asphalt tile Roof Hooks.
I have sent our design and BOM price to your email as your required.
Please advise.
Q:
It looks good. I will order them.
How can I install solar panel on asphalt tile Roof ?
"How can I install solar panel on asphalt tile roof? I need to relocate a JA Solar panel 1650x990x380 onto a flat asphalt tile roof. The panel would be mounted lanscape orientation.
Would the above Asphalt tile Roof Hook for solar mounting system be suitable and if so could I have a quote to buy? Carriage would be to KT8 0BP postcode.
Thank you for your help, kindly regards, Roger Godfrey."
"Glad to receive your inquiry about our Asphalt tile Roof Hook for solar mounting system. 
Yes our asphalt tile roof hook SPC-IK-13 can fit your panel asphalt roof mounting.
I have sent our quotation to your email.Please check."
Asphalt shingle roof hook #13 installation
Installation instructions for stainless steel hook#13
Asphalt tile Roof Hook manufacturer factory
SPC has 12 years exprience on producing tile roof hook.We carry a full range of solar roof hooks to meet different
types of tile roofing solar mounting.
This model:SPC-IK-13 ssphalt tile roof hook is designed for most of the asphalt tile roof.SUS304 material, high strength and anti wind speed.
Dimension of this roof hook:
The base part: 235mmx30mmx5mm
Bar:75mmx 5mm
Long Hole: Ø9 x 27mm (M8)
Asphalt tile Roof Hook professional factory
solar PV roof hook for asphalt shingle
Our material is stainless steel, strong corrosion resistance, high load capacity, can be installed very quickly.
Solar asphalt shingle roof mount hooks
This post introduces solar asphalt shingle roof hooks in details, showing its features and functions, including how it is working.